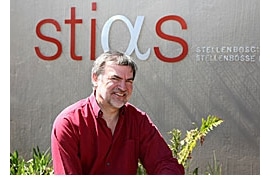 Prof Hendrik Geyer has been appointed the new Director of the Stellenbosch Institute for Advanced Study (STIAS). He succeeds Prof Bernard Lategan, who is retiring on 31 March 2008 and has been head of the institute since STIAS was established in 1999.
Prof Geyer is professor in Theoretical Physics and Director of the Institute for Theoretical Physics of Stellenbosch University (SU). He enjoys international recognition for his work on quantum mechanics and the quantum mechanical many-body problem.
As longstanding patron of the Chris Engelbrecht Summer School for Theoretical Physics he has succeeded in attracting many international leaders in this field to South Africa. Five of these experts later received the Nobel Prize. He was the main driving force behind the establishment of the National Institute for Theoretical Physics (NITheP), which is funded by the Department of Science and Technology and which also will be based at Mostertsdrift.
Prof Geyer is an elected Fellow of the Royal Society of South Africa, a research fellow of the Institute for Nuclear Theory of the University of Washington in Seattle, and recipient of the sought-after Alexander von Humboldt Award. He has broad, interdisciplinary interests and was involved in the establishment of a cross-faculty honours module, Philosophy for Scientists.
He has been involved in the popularisation of science for more than a decade — as a valued contributor to the Die Burger column, Wetenskap Vandag (Science Today), and as a regular panel member for the popular radio programme, Hoe verklaar jy dit? (How do you explain that?). He has a lively interest in the arts, especially classical music. His roots are in the rural Eastern Cape. He is married to Jane Herholdt and they have two daughters, Jani and Marisa.
Mr Desmond Smith, Chairperson of the STIAS Board of Directors, said that with his high regard as a scientist and extensive international contacts, Prof Geyer was excellently equipped to lead STIAS in the next phase of its development.
"There are exciting possibilities waiting on STIAS in the immediate future that will further extend the institute's strategic role in the sphere of science in both South Africa and on the continent. At the same time I would like to express our appreciation on behalf of all involved with STIAS, to Prof Bernard Lategan for his crucial role in the establishment of the institute and in creating its current standing."