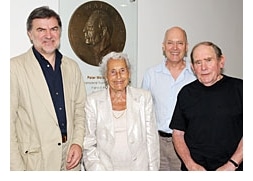 Prof Sydney Brenner, South African-born Nobel Prize winner for Medical Science in 2002, is a visiting fellow at STIAS. He was at Mostertsdrift recently to continue planning his extensive project proposal titled 'The Sciences of Humanity'.
Prof Brenner has been invited to take up a fellowship at STIAS early next year. He will lead this project in which several researchers from different disciplines will participate.
According to Prof Hendrik Geyer, recently appointed Director of STIAS, the proposed project fits perfectly with the key objectives of STIAS, namely to support especially interdisciplinary projects that have long-term goals. "Naturally Prof Brenner's involvement as project leader will give the project stature", Prof Geyer said.
Pictured here with Prof Brenner and his wife, May, are STIAS Director Prof Hendrik Geyer (left) and Prof Jannie Hofmeyr of the STIAS Research Programme Committee (at the back, right). (Photo: Anton Jordaan, SCPS)