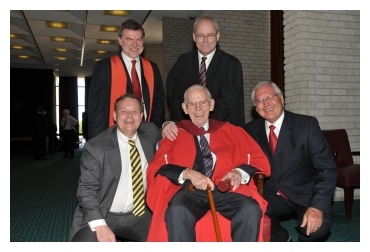 "International business leader, friend of Africa, benefactor of STIAS" reads the inscription for Dr Peter Wallenberg on a commemorative plaque in the STIAS Wallenberg Research Centre which carries the name of the STIAS benefactor. It was for these roles, and many more, that Stellenbosch University honoured Dr Wallenberg with an honorary doctorate at a recent graduation ceremony in December 2009. Naturally this occasion also made it possible to welcome Dr Wallenberg back at STIAS, and to bring him up to date with developments at STIAS since the Wallenberg Research Centre's inauguration in November 2007.
Peter Wallenberg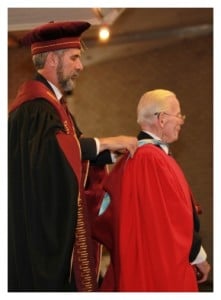 Peter Wallenberg is regarded internationally as one of the leading industrialists of our time. This modest and humble man has expanded the Wallenberg group into one of Europe's largest banking and industrial enterprises over the past forty years.
Peter Wallenberg was born in Stockholm on 29 May 1926 and, together with his brother Marcus, represented the fourth generation of a family that dominated the banking and industrial sectors in Sweden for more than one hundred and fifty years. He has a degree in law from the University of Stockholm and started his career in Atlas Copco, a company that forms part of the Wallenberg Group. He first represented the company in the USA, followed by stints in Africa, which was where his love for the continent first gained shape. The big turning point in Peter's life came in 1971, when his older brother Marcus died unexpectedly. Marcus was raised from the outset to follow in the footsteps of their famous father, Marcus Wallenberg Sr.
Marcus Wallenberg Sr. had built the family business into one of the leading banking and industrial groups in Sweden and even Europe. This industrial empire was placed under the control of the Wallenberg's umbrella company, Investor, through which shares (and often also control) were acquired in dozens of companies, including Ericsson, Electrolux, the Scandinavian airline, AstraZeneca (pharmaceutical products), Saab and Scania.
Peter Wallenberg quietly and thoroughly, and with great perseverance, started working himself into the complex world of the Wallenberg group and gradually emerged as an ever stronger leader. In 1982 he became chairman of the board of Investor, restructured the group and executed great reforms to make the holding company more effective and profitable. In contrast to what his critics predicted, he was the most successful leader (measured in financial results) that the clan had had up to that point. On his retirement, the companies in the Investor group represented an astonishing 40% of the value of the Swedish stock market.
Education lies close to Peter Wallenberg's heart. The foundations of his group have supported many educational projects over the years, from pre-school to tertiary level. He views high-level research as being of key importance, as is evident from, among others, his extensive financial support for the Wallenberg Research Centre at STIAS.
Over the past few years, Peter Wallenberg has developed a special interest in Stellenbosch University. He has already visited the campus on three occasions and believes that the University has a key role to play in the further development of the continent.
He has received nine honorary doctorates and has been honoured by way of decorations from all over the world.
In the light of his exceptional leadership characteristics, his excellent achievements as a banker and industrialist, his interest in and support of training and research, his association with Africa, his close ties with South Africa and in particular with Stellenbosch, it is only appropriate that Stellenbosch University honours him with an honorary doctorate.
(From the commendation for Dr Wallenberg)
The photos show Dr Wallenberg receiving his honorary degree, and relaxing afterwards with (back) Profs Hendrik Geyer (STIAS Director) and Göran Sandberg (Rector of Umeå University) and (front) Mr Peter Wallenberg, Jr and Prof Bernard Lategan (Founding Director of STIAS).