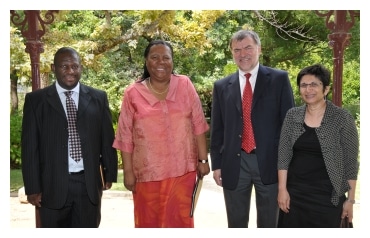 On Friday 12 February 2010 Minister Naledi Pandor and senior representatives from her office and the Department of Science and Technology visited STIAS where they met with Prof Hendrik Geyer (STIAS Director), members of the STIAS Research Programme Committee and the present group of STIAS Fellows.
This visit followed on discussions Prof Geyer had with Minister Pandor in November 2009 and in February with the Director-General, Dr Phil Mjwara, exploring the possibility of DST support for the STIAS research programme. During the visit to STIAS Minister Pandor and the DST group acquainted themselves with the STIAS facilities at Mostertsdrift and also used the opportunity to obtain some first-hand information and impressions from the Fellows presently working at STIAS.
Discussions continued over lunch during which Minister Pandor expressed her appreciation of the STIAS research programme with its particular emphasis on multi-disciplinary projects. She emphasised the importance of maintaining the independence of the "creative space for the mind" that STIAS provides and indicated that DST had initiated a process to evaluate support for the STIAS research programme avoiding any interference with its internal processes and choice of projects.
Caption: Minister Naledi Pandor and senior DST representatives at STIAS: Dr Gilbert Siko (Director: Science Platforms), Minister Naledi Pandor, Prof Hendrik Geyer (STIAS Director) and Ms Nasima Badsha (Ministerial Advisor). (Photo: Anton Jordaan)