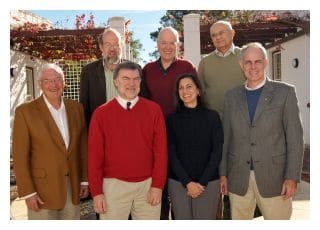 The STIAS Research Advisory Committee recently convened at Mostertsdrift for a planning session and to review the STIAS Research Programme. The present members are:
Prof Charles Ngwena, Law Faculty, University of the Free State
Prof Paul Cilliers, Centre for Studies in Complexity, Stellenbosch University
Prof Cheryl de la Rey, Vice-Chancellor, University of Pretoria
Dr Morné du Plessis, CEO, World Wildlife Fund (WWF) South Africa
Prof Hendrik Geyer, Stellenbosch University, MD, Director of STIAS
Prof Jan-Hendrik Hofmeyr, Centre for Studies in Complexity, Stellenbosch University
Prof Bernard Lategan, STIAS Founding Director
Prof Servaas van der Berg, SA Research Chair in the Economics of Social Policy, Stellenbosch University
Prof Andre van der Walt, SA Research Chair in Property Law, Stellenbosch University
Prof Charles van Onselen, Unit for Advanced Studies, University of Pretoria
seven of whom were able to attend the meeting.
Much of the discussion centred on broadening the input base from which STIAS Fellows and group projects are drawn. In this regard the recently established Society of STIAS Fellows is expected to play a much more active role in future. (By the end of 2010 the number of STIAS Fellows will already exceed 130.)
There was consensus that STIAS should bring its focus on interdisciplinarity to bear on issues around agro-food regime and food security, climate change and water related projects. A first step in this direction will be the group project on "Agro-food regimes, rural poverty and social change in Southern Africa" led in early 2011 by Prof Ben Cousins of the University of the Western Cape. It was also agreed that STIAS is now in a position to embark on much more direct interaction with research structures at a number of South African universities.
Caption: Members of the STIAS Research Advisory Committee at Mostertsdrift. Back: Profs Paul Cilliers, Jannie Hofmeyr and Charles van Onselen Front: Profs Bernard Lategan, Cheryl de la Rey, Hendrik Geyer and Dr Morné du Plessis (Photo: Anton Jordaan, SCPS)