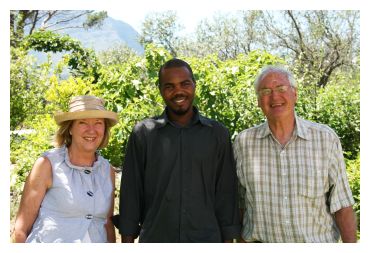 Many a visitor and STIAS Fellow have commented favourably on the well kept gardens at Mostertsdrift — the old-worldly and manicured Victorian garden around the STIAS Manor House, and the more recently established low-maintenance garden around the STIAS Wallenberg Research Centre. Prof Lynn Margulis who spent time at STIAS in November and December 2010 referred to "…the pleasure and privilege (to be) in this florid, luxuriant place…"
The man behind the maintenance, and increasingly the planning, of these gardens is Mr Yanga Nkathazo who started his gardening career at STIAS in 2003. Under the guidance of Dr Esther Lategan, Mr Nkathazo has been honing his skills to the point that he had recently successfully completed a course on Gardening and Horticulture at INTEC College.
For this achievement, and his outstanding service to STIAS at various levels over many years, including involvement in the security measures at Mostertsdrift, Mr Nkathazo recently received a 2010 Rector's Award for Exceptional Achievement.
Mr Nkathazo's work at STIAS has not been without some non-horticultural moments — e.g., when he had to assist workers from Cape Nature Conservation to capture a little grysbuck that started to find new rose shoots in the garden very much to its liking, or when he had to outwit a porcupine with similar dishonourable intentions, finallly capturing it in a cage and helping relocate it in Jonkershoek's greener pastures!
STIAS and visitors alike look forward to see the results of Mr Nkathazo's newly acquired knowledge becoming visible in Mostertsdrift's gardens!
Caption: Esther Lategan, Yanga Nkathazo and Bernard Lategan in the garden at Mostertsdrift during a recent informal celebration of Yanga's achievements. Views of the garden.