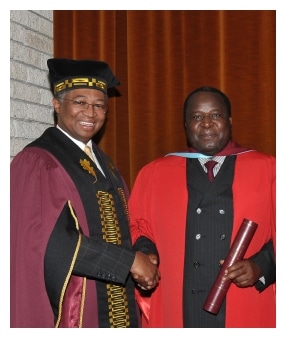 At the final Stellenbosch University graduation ceremony of 2010 STIAS Fellow Mr Tito Mboweni received an honorary doctorate, Doctor of Commerce (DComm) HONORIS CAUSA, from the University. Mr Mboweni's commendation read as follows:
"for his leadership in South Africa's economic policy, his eminent achievements as president of the Reserve Bank, and his reform of the labour/industrial legislation of South Africa and the resultant transformation of the labour market, overturning decades of discriminatory rules and practices.
Tito Mboweni has played a leading role in reshaping the South African economy. As the first Minister of Labour in the new democratic South Africa, his challenge was to redress the pattern of cooperation for South Africans in the labour market. To this end he introduced his informally dubbed 'six pack' of laws aimed at overturning decades of discriminatory labour market rules and practices.
During this period he also served on the ANC's national executive committee and in its Department of Economic Planning. In 1998 Mboweni accepted the major responsibility of becoming the Governor of the South African Reserve Bank.
Under his leadership, the bank brought South African monetary policy in line with that of the leading international central banks and signaled the importance of maintaining price stability as a central tenet of macro-economic policy in South Africa. The Reserve Bank under governor Mboweni has become significantly more predictable and transparent, a critical outcome in a new democratic dispensation.
Mboweni has also been recognised in national and international circles for his contributions, including his selection as one of the World Economic Forum's Global Leaders of Tomorrow, his installation as the Chancellor of the University of the North-West, and the awarding of two honorary degrees, of a honorary professorship at Stellenbosch University and of a fellowship at the Stellenbosch Institute for Advanced Study."
Earlier in 2010 Mr Mboweni had spent time at STIAS where he had been working on his memoirs, reflecting on 15 years in public service, and engaged with Prof Ursula van Beek's research group working on the STIAS project The global financial crisis and its consequences for democracy.
Caption: Prof Russel Botman, Rector and Vice-Chancellor of Stellenbosch University, congratulates Mr Mboweni after the graduation ceremony.