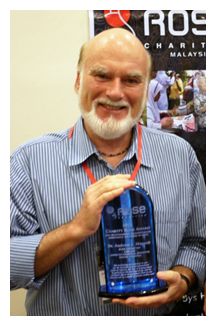 The 2012 "ROSE" award "For outstanding humanitarian assistance to those in need," was presented by Rose Charities International to Dr Andrew J Macnab (a current STIAS Fellow) on March 23 2012 at the charity's biannual international conference in Malaysia. Nominees included the founders and innovators of a number of significant charitable initiates worldwide.
In recognizing Dr Macnab and his Brighter Smiles Africa project, the Executive Director cited the importance of the beneficial effects of the program on the health of disadvantaged children, the educational relevance of the international partnership on which the program is based, the impact of recent publications documenting the efficacy of the interventions (written during successive STIAS Fellowships) and the contribution of the consensus statement from the recent colloquium on 'Health Promoting Schools' held at STIAS November 2011.
The citation on Dr Macnab's award reads:
"For unstinting commitment to care for the homeless and disenfranchised youth of Uganda, his love of helping others by passing on his own knowledge, and his continual efforts to contribute what he can where he can to a world of almost endless need."
Further information about the 'Health Promoting Schools' colloquium at STIAS can be found under the November 2011 STIAS news items.
Caption: Dr Andrew Macnab with the 2012 ROSE award