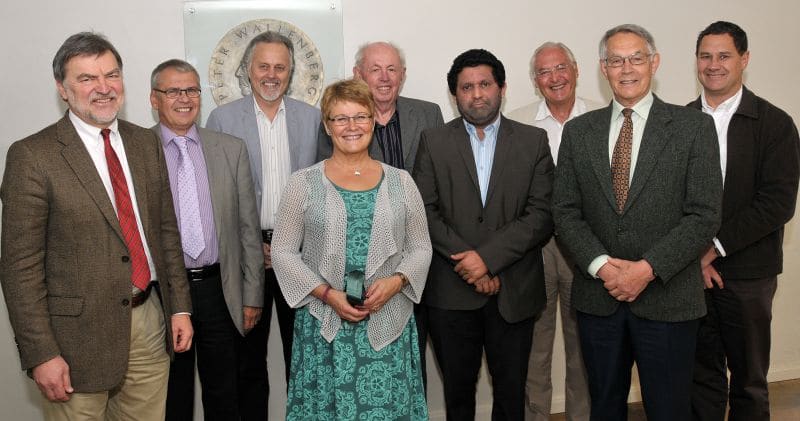 Ms Maud Olofsson, former Swedish Deputy Prime Minister (2006–2010) and Minister of Enterprise  and Energy (2006–2011), visited STIAS recently to assist in the planning of the first STIAS-Wallenberg Round Table Meeting, scheduled to take place in March 2013.
The Marianne and Marcus Wallenberg Foundation, key funders of the STIAS programme, is supporting an annual round table forum where representatives from South Africa, Sweden and a broader international community will engage in dialogue and debate around a central theme, typically one related to current global challenges, and in particular focusing on its local manifestation.
For 2013 the STIAS-Wallenberg Round Table Meeting is planned for Thursday 7 and Friday 8 March and will focus on the broad energy and electricity landscape in Southern Africa. The Round Table Meeting will be preceded by a three day planning workshop of a more technical nature (from 4 to 6 March).
The Wallenberg Foundation tasked Ms Olofsson to assist STIAS in developing strategies for the round table forums, which are intended to take place on an annual basis. Her involvement as Sweden's Minister of Energy equipped her with a wealth of experience and a network of international contacts which are especially valuable with regard to the focus on energy and electricity in the first STIAS Round Table.
During her week-long visit to STIAS from 8 to 12 October, she met with members of the local organising group on various occasions to flesh out a framework of themes and topics, as well as possible contributors, for both the workshop and the Round Table Meeting. Currently the broad strategy is to structure the workshop as a platform for a more technical discussion of the issues on which the latest research developments could have a bearing.  The outcomes of such discussions will then be used to inform the Round Table Meeting.  The Round Table Meeting is intended to use state of the art research findings to discuss options in a wider forum, involving actors from the public, private as well as civil society sectors.
Ms Olofsson will remain involved in the preparations for the workshop and round table on a continuous basis.
She was accompanied by her husband Rolf on her visit to STIAS (see photograph).
Any questions regarding the Round Table Meeting should be addressed to Johann Groenewald (e-mail: jpg[at]sun.ac.za).
Caption: Members of the local organising group met Ms Maud Olofsson on various occasions during her visit to STIAS. Meeting for lunch on October 11 with a number of STIAS and SU colleagues together with colleagues from UCT and the WWF: f.l.t.r. Hendrik Geyer, Rolf Olofsson, Anton Eberhard (UCT Graduate School of Business), Fritz Hahne, Saliem Fakir (WWF South Africa), Bernard Lategan, Johann Groenewald and Wikus van Niekerk. (Photo: Anton Jordaan)