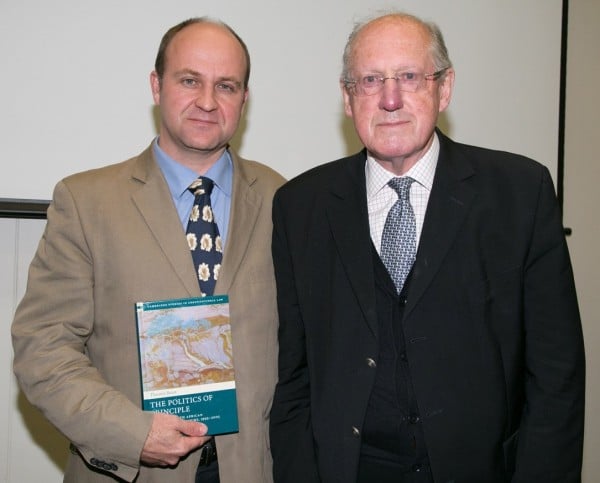 18 July 2013, Nelson Mandela's 95th birthday, was a most appropriate day for the launch of a book by Cambridge University Press dealing with the first South African Constitutional Court (1995 – 2005) when Justice Arthur Chaskalson was Chief Justice. The book, "The Politics of Principle" by 2012 STIAS Fellow, Theunis Roux (currently Professor of Law at the University of New South Wales in Sydney, Australia), was completed during Roux's visit to STIAS in 2012. Drawing on and synthesising various insights from judicial politics and legal theory, this study offers an interdisciplinary explanation for the Chaskalson Court's achievement. Rather than a purely political strategy of the kind modelled by rational choice theorists, the study argues, the Court's achievement is attributable to a series of adjudicative strategies in different areas of law. In combination, these strategies allowed the Court to satisfy institutional norms of public reason-giving while at the same time avoiding political attack.
Guest speaker, retired Justice Laurie Ackermann who is described by Justice Edward Cameron as 'one of the giants of the "Mandela Constitutional Court"' stated that "The Politics of Principle" was an important book on the South African Constitution that should be read not only by jurists, but also by those in other disciplines such as political science and economics who rightly believe that they have a distinct role to play in the unfolding of the Constitution and constitutional democracy itself. The book, he said, gave a new and challenging perspective on the work of the first Constitutional Court, also known as the "Chaskalson Court" and addressed complex topics.
In his response Theunis Roux pointed out that the book's central problematic was to explain why the South African Constitutional Court under Arthur Chaskalson was so highly regarded by the international legal community, and yet at the same time so effective in domestic political terms. These two things did not usually go together, at least not in new democracies, he said.