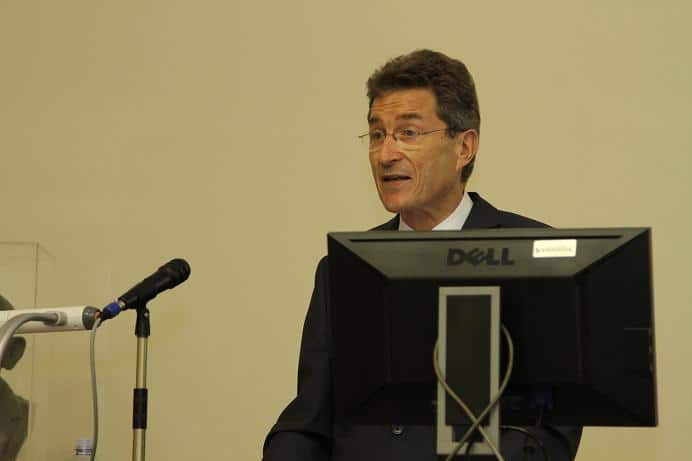 Global civil society campaigns play an important role in the promotion of human rights for all people.
This was one of viewpoints conveyed by Prof Wolfgang Huber, Honorary Professor of Theological Ethics at the Humboldt University in Berlin and at the Universities of Heidelberg and Stellenbosch, and also a fellow of the Stellenbosch Institute for Advanced Study (STIAS).  He was the speaker at the first public STIAS lecture of 2014 on Monday 17 February.
Huber said that while human rights are endangered at present, there are "many examples for the urgency and the relevance of initiatives emerging from civil society in favour of human rights".
In this regard, he referred to campaigns against child labour that brought trans-national corporations to more respect for children's rights; South Africa's Treatment Action Campaign; and the on-going campaigns  for non-citizen's rights in different parts of the world .
"A central issue with respect to human rights nowadays is the question which rights could and should be given to non-citizens, among whom we have to distinguish many different groups: stateless persons, asylum seekers, rejected asylum seekers, refugees, migrants and trafficked persons".
"The degree to which a society accepts and respects the rights of those groups depends to a high degree not only on their legal status in the respective country, but also on the willingness of civil society to take care of them."
Huber said civil society across the globe should create global or cosmopolitan awareness of human rights.
"Cosmopolitanism takes seriously, that everybody matters equally and that human persons have a right to have rights".
A cosmopolitan ethics, mutual recognition and compassion with all those who suffer are vital for the promotion of human rights globally, argued Huber.
"We cannot speak about rights without applying them to every human person," he said.
Prof Wolfgang Huber will be awarded an honorary doctorate by Stellenbosch University in April 2014.
Author: Alec Basson
Photo: Prof Wolfgang Huber delivering the STIAS lecture.
Photographer: Justin Alberts