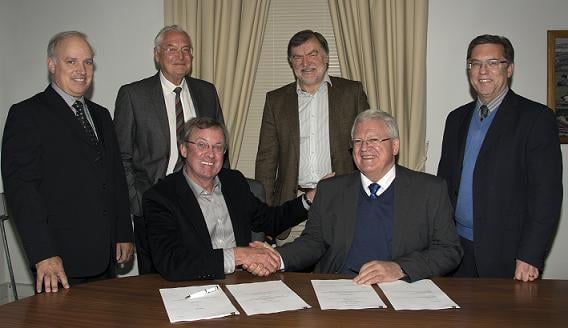 Author: Alec Basson
STIAS and Stellenbosch University (SU) signed a funding agreement on Thursday (28 August 2014) that heralds a new era in the relationship between the two institutions.
Prof Leopoldt van Huyssteen, acting Rector and Vice-Chancellor of SU, and Mr Desmond Smith, Chairperson of the STIAS Board, signed the agreement on behalf of the University and STIAS. The event took place at SU.
According to SU's Vice-Rector for Research and Innovation, Prof Eugene Cloete, who also attended the event, the Council of SU allocated funds which enable the University to award a grant to STIAS Trust for the next five years. This grant is equivalent to the one that the Knut and Alice Wallenberg Foundation made to STIAS in 2013 (see KAW grant for STIAS ).
"The basis of the agreement is the focus on Africa and the commitment of both institutions to fully develop the continent's next generation of academics."
"Increased contact with African networks and African researchers (i.a. STIAS's liaison with the African Academy of Sciences) is already turning Stellenbosch into a popular research destination."
Cloete said the agreement will help STIAS as an independent, national institute (see STIAS section 21 company) to raise additional funding and to establish an endowment fund to ensure its long-term sustainability.
Prof Hendrik Geyer, Director of STIAS, said the Institute will, in terms of the agreement, fund a number of Stellenbosch doctoral students, from African countries in particular, to promote the development of a new generation of top researchers. It will also continue to expand its African programme and its national role which includes adding value through it fellowship programme to research initiatives at other South African universities (see e.g. Second Annual Seminar on Constitutionalism in Africa ).
He pointed out that during the establishment phase of STIAS's research programme the Institution's national role was endorsed, among others, by the fact that SU academics were involved in the programme as project participants and project leaders, but not as fellows of STIAS.
"Participation in the STIAS programme is still by invitation, but it has recently been complemented by an open application process which also allows SU researchers to become STIAS fellows."
Geyer added that the term of the lease agreement of the Mostertsdrift property has been extended to 99 years, which offers STIAS the necessary tenure security to develop its research programme further.
Photograph: Front left Mr Desmond Smith and Prof Leopoldt van Huyssteen
Back left Mr Manie Lombard, Profs Bernard  Lategan, Hendrik Geyer and Eugene Cloete
Photographer: Anton Jordaan​