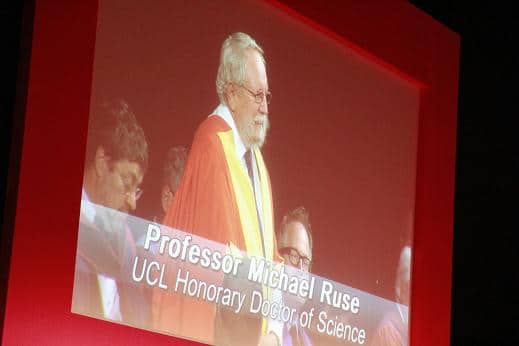 Michael Ruse, a current STIAS fellow working on the project Apocalyptic themes in the global warming debate, recently travelled to London where he received an honorary degree  from University College London (UCL). The degree Doctor of Science was conferred on him by President and Provost Professor Michael Arthur at the UCL graduation for the Faculty of Mathematics and Physical Sciences on 5 September 2014.
In reporting on the event, UCL's website acknowledges Professor Ruse's "long record as a publishing scholar in the area of Darwin, Darwinism, and history of nineteenth century science," as well as his influence to "[help] establish philosophy of biology as a discipline, and [his] important contributions to philosophy of science generally."
"In the past decade his research has concentrated on large questions at the interface between science and religion. Rather than presenting these as conflicting world views, Professor Ruse explores similarities and complementarities. A quaker and a prolific pubic speaker, Professor Ruse also promotes dialogue, respect, and self-reflection, rather than attack, when resolving disputes."
Speaking at the celebration, Professor Joe Cain, Head of  the Department of Science and Technology Studies at UCL was full of praise for Michael Ruse's enormous impact on the discipline:  "He has built programmes in Canada and the US. He started one of the most important journals in our profession. His books are required reading. He has been a life-long mentor to students and colleagues. He's a force of nature."
Michael Ruse's STIAS fellowship until early December 2014 is made possible by a generous grant to STIAS from the Donald Gordon Foundation. He will give a public STIAS lecture on Monday 13 October, details of which will be posted on the STIAS website in the near future.