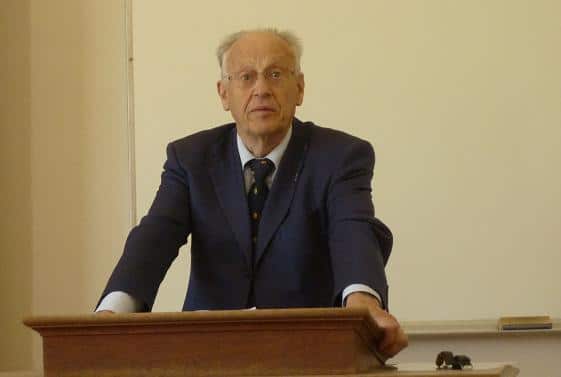 Photograph: Aryan Kaganof
Vincent Brümmer was recently awarded the 2015 Andrew Murray Prize for theology publications in Afrikaans for his book Vroom of Regsinnig? Teologie in die NG Kerk ("Piety versus Orthodoxy? Theology in the Dutch Reformed Church")  in which he "explores the relationship between two very different types of theology that have characterised theological thinking in the Dutch Reformed Church in South Africa during the past 150 years: mystical theology reflecting on the assumptions underlying the personal piety of believers, and confessionalism aimed at defending doctrinal orthodoxy."
The book was written during residential fellowships at STIAS in 2011 and 2012.
The awards committee commended the author for [succeeding] "in wrenching open a chunk of theology history in a fascinating and gripping manner. As a world famous philosopher of religion who has worked overseas (Europe) for the largest part of his career while firmly rooted in South Africa (Stellenbosch), he ventures into the field of Afrikaans church history. In a certain sense he, as 'inside-outsider', as Euro-African, views issues from angles from which Afrikaners do not normally view these. The richness in the experience of history as revealed by the author allows one to look at the DR Church and her future with new compassion. In and through this history of theology, the author also succeeds in placing the very essence of the DR Church on the agenda in an exceptionally vivid manner. He manages to portray the most important trends in the theological development of the DR Church (the so-called 'pious' trend versus the 'orthodox' trend) in a comprehensible manner and the reader realises that these two trends are fundamental to the current DR Church and a large number of theological questions concerning which the Church has to account for herself. As such, Vroom of regsinnig? represents an extraordinary gift to the DR Church … and to the Afrikaans language!"
Brümmer, who resides in the Netherlands, plans to travel to South Africa for the awards ceremony at the end of May.