STIAS fellows Grace A. Musila and Scarlett Cornelissen will this month join the cohort of fellows at respectively the National Humanities Center in North Carolina and the Radcliffe Institute for Advanced Study at Harvard University.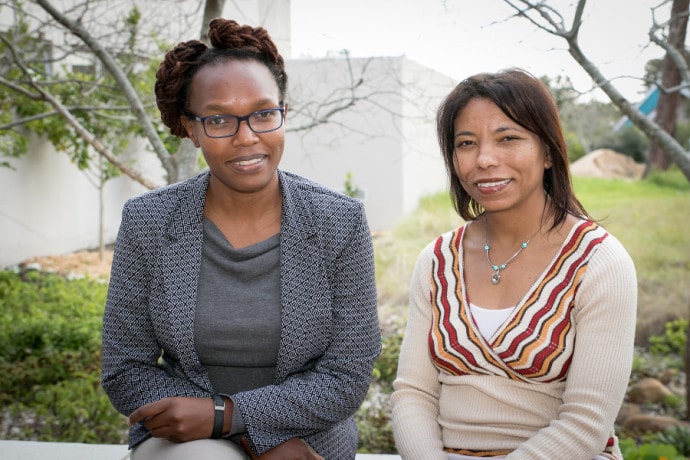 Musila and Cornelissen are the first STIAS fellows who will spend a part of their STIAS residency at a sister institute for advanced study. This follows an agreement between the directors of STIAS, Radcliffe and the NHC whereby STIAS would be supported to launch a pilot phase of its Iso Lomso programme  for early career development of African researchers.
"This is an important milestone for STIAS and we hope that Scarlett and Graces's residencies at the Radcliffe IAS and the National Humanities Center will pave the way for similar agreements with some of our sister institutes and other institutions in support of future Iso Lomso fellows", said STIAS director Hendrik Geyer.
Musila and Cornelissen are respectively associate professor of English and professor of political science at Stellenbosch University. Their STIAS residencies commenced in January 2016, and they will both spend three months in residence abroad.
Scarlett Cornelissen's STIAS project on Japanese firms, industrial systems and investments in Africa traces the underexplored history and current involvement of Japanese firms in Africa.
The project involves three components: it takes stock of the history of Japanese industry on the continent; looks at the role of specific firms and the institutional conditions of their entry into and operations in the African economy; and, finally, contextualizes these against the broader dimensions and changes over time in Japan's political economy.
"During my time at the Radcliffe Institute for Advanced Study, I will concentrate on collecting materials for the third component. For this, resources available both at the Radcliffe Institute as well as other entities on campus – such as the Harvard University Asia Center and the Edwin O. Reischauer Institute of Japanese Studies – will be invaluable", says Cornelissen who aims to publish her work in a new book.
In her project Grace Musila is criticising fictional representations of Blackness in literature, film and popular culture as a creative counter-discourse to a troubling resurgence of commodifications of Black pain for mass consumption. Her interest is in developing a literary register that disrupts conventional academic registers.
A core focus is on how Toni Morrison, Earl Lovelace and Yvonne Vera's fiction offer literary portraits of Black desires for, and attempts at, transgressive freedoms in contexts which quantify Black humanity and claims to dignity on the basis of economic and political power.
"I am delighted about the opportunity to spend some time at the National Humanities Center; where I can sound out my ideas on humanities' scholars; and get feedback on my readings of the writings of Lovelace and Morrison, as they engage with distinct histories of Blackness and freedom in the US and the Caribbean", said Musila ahead of her departure.
Both have expressed the value that exposure to an additional environment for advanced study may hold for their projects. Grace considers her work as of an experimental nature, and says she looks forward to getting feedback on its viability from senior humanities scholars at the National Humanities Center.
For Scarlett, Radcliffe offers a community of scholars representing diverse backgrounds and disciplines which she hopes will enrich her work while she participates in the intellectual life and culture of the Institute.
STIAS is proud to be represented by these outstanding young scholars and wishes both a meaningful and enjoyable residency at our partner institutes.
Read more:
www.radcliffe.harvard.edu/people/scarlett-cornelissen
nationalhumanitiescenter.org/meet-the-fellows
https://stias.ac.za/programmes/iso-lomso-fellowship/
PS: STIAS has recently completed a review process of 250 applications for its Iso Lomso programme and will soon announce the names of the successful applicants.