"Today's students are fighting a just cause but may lose that cause by ill-discipline and a lack of vision and restraint. The strategies used should advance transparency and accountability."
This is the opinion of Prof. Winston Nagan, Sam T. Dell Research Scholar Professor of Law and Director of the Institute of Human Rights, Peace and Development at the University of Florida and STIAS fellow, who presented the 6th STIAS public lecture entitled 'The Future of Higher Education. The salience of basic human rights values'.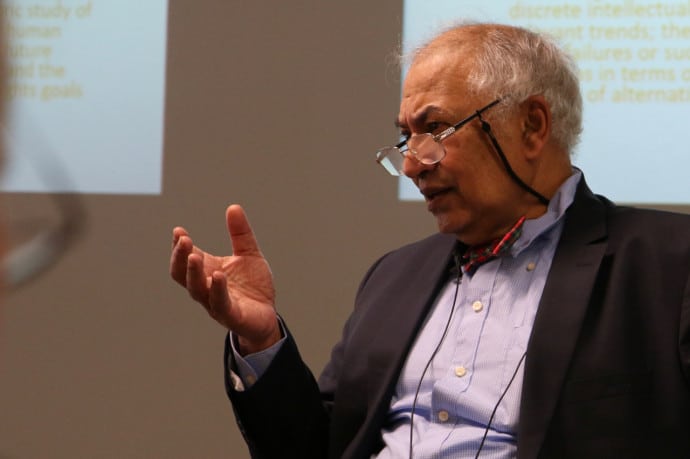 Prof. Nagan is an anti-apartheid, human rights and legal activist. He was born in South Africa and educated at the University of Fort Hare before leaving for exile in 1964 and studying law at Oxford and Yale.
Among many achievements, he serves on the Board of Directors of Amnesty International; was largely responsible for the ratification by the USA of the Convention outlawing torture, and for the Convention on Civil and Political Rights; helped establish the Human Rights and Peace Centre at Makerere University, Uganda; as well as the East African Journal of Peace & Human Rights. He was also active in the promotion of peace and justice during the war in Southeast Asia and is the principal drafter of the Declaration of the Fundamental Human Rights of the Shuar Nation of Ecuador.
"My interest in the articulation of the role of values and human rights is deeply influenced by my experiences in South Africa in particular at Fort Hare University," he said. "The idea that you couldn't discuss controversial matters was very offensive to me. As students we envisaged a future that was open and inclusive with human rights and dignity for all."
"Amongst students of all races of that time there was an unstated ethic," he continued. "The ethic of solidarity in working for a better future, however overwhelming the odds.  The students left an important legacy that should not be forgotten."
"What is not well known is the constructive role that students played," he continued. "For example in the midst of severely repressive state practices, the National Union of South African Students (NUSAS) maintained a strident and brave attitude rejecting racism and apartheid, especially in the context of higher education. NUSAS embraced the universal declaration of human rights as its value creed. Their activities in stressing the enlightened values of higher education earned them the label 'a cancer' in the body politic of South Africa. It was also NUSAS that generated an educational scheme for South African refugees in European universities and a higher educational scheme for political prisoners. It was the students who insisted on a non-racial dispensation in higher education."
Non-violence and accountability
Prof. Nagan believes that a constructive strategy focused on non-violence should underlie the future funding of higher education in South Africa which could focus on practical problems requiring maximum transparency, responsibility and accountability.
He believes this includes a recognition that students are the most important stakeholders in the future of higher education. "We may compare this to the struggle of students in my generation for maximum access and the struggle to keep our universities open."
Prof. Nagan's presentation focused on issues of scientific responsibility in teaching and research; the current challenges of student protests in South Africa and the implications this holds for higher education; and, a detailed discussion of the underlying values in higher education and how these may be strengthened by rooting them more concretely in the international bill of rights.
He pointed out that higher education should be for the wellbeing of the individual and society, and that "Universities are charged with the maintenance and extension of human enlightenment".
"However, restraint starts with the self," continued Nagan. "The moral principle is that if I want my life to be a successful experience, I must use caution about the strategies of political articulation that I use to ensure that I do not destroy the same ethical precept in others. We must therefore develop our strategies of action in ways that are constructive and enlightening."
"Non-violence should be the standard of action," he said.
Amongst the strategies proposed by Nagan are student engagement with faculty and administrators to insist on proper accounting, planning, and more aggressive fund raising to reach the goal of maximum tuition-free access; convening a national teach-in to engage all the fiscal authorities in deeper, more profound accountability for how the finances of this nation are managed; and, he added "they should demand an end to financial corruption at all levels".
He also advocated that students generate a national teaching on the economic philosophy embraced by the government – Neoliberalism – which he believes has led to accelerated unemployment and the expansion of inequality.
"Fundamentally Neoliberalism ignores the centrality of human capital in the framework of economic policy making," he said. "This implies that tuition assistance to students is not an investment, it is a gift. What this ignores is that investment in human capital is a major investment in the future well-being of the nation."
"We need a platform to integrate dignity, context, enlightenment, human rights and values into the discussions," he said. "We need to make values more explicit."
Projecting a more positive future
"The revolution has to come from a deeper understanding of the influences on higher education," he continued. "We have not adequately used human rights as a theory for enquiry."
He pointed out that the revolution requires a theory about human rights that is contextually located, focuses on the dynamics of decision making and generates institutional changes infused with human rights.
Prof. Nagan also discussed the challenges to current, outdated pedagogical approaches. "The methods of teaching are loaded with values," he said. "For example if you teach law as simply a strongbox of regulations you are not teaching thinking and consciousness."
"The model of oral delivery will have to be rethought," he said. "Human beings learn in different ways. To make teaching more person centred we need to focus on active learning; independent and creative thinking; experiential and collaborative learning."
He also pointed to the practical reality that due to rapid technological developments we are currently teaching for jobs that won't exist in 20 years' time.
"We need technological investment that is human centred – technology that is more sensitive to human dignity," he said. "We can't stop development but it must be human sensitive and justifiable."
"A key challenge here is how to restore life to higher education," he continued. "Our challenge is to give human rights values (including power, wealth, respect, enlightenment, health and well-being, skill, affection, gratitude and aesthetics) currency in higher education."
Michelle Galloway: Part-time media officer at STIAS
Photograph: Christoff Pauw