Abdallah Daar, convenor of the STIAS Health in Transition theme and Professor of Clinical Public Health, Global Health, and Surgery at the University of Toronto in Canada, has accepted a nomination as Permanent Visiting Fellow of STIAS; he joins a select group of fellows who "have an open invitation to work at STIAS whenever they can."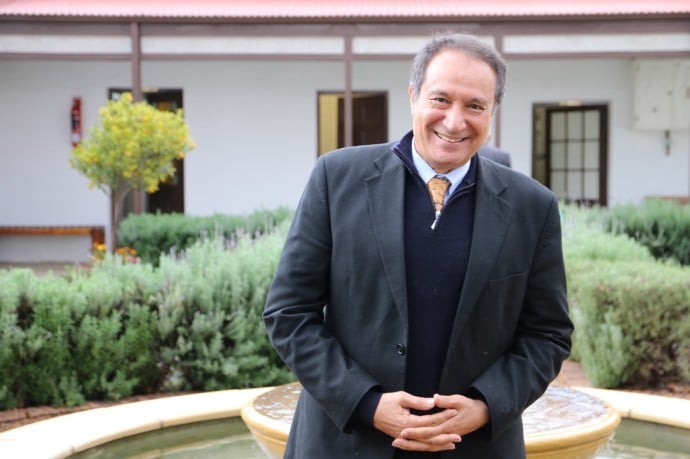 In accepting his nomination Abdallah Daar, who was born in Tanzania, said: "I perceive enormous positive changes in Africa, especially with regards to capacity building in scientific literacy and research."
Daar's most recent work at STIAS includes the design and launch of a new long-term research programme on the Developmental Origins of Health and Disease (DOHaD) and the opportunities created by the United Nation's Sustainable Development Goals (SDGs) to implement DOHaD-related policies and practices in Africa. The DOHaD & SDGs project kicked off with residencies by a team of STIAS fellows and a workshop in September 2016. A resulting Call to Action that sets out the main challenges and opportunities in the DOHaD and SDG discourse in the African context is currently being considered for publication in a leading journal.
In addition to his professorships at the University of Toronto, Abdallah Daar is a member of the UN Secretary-General's Scientific Advisory Board, a member (until recently) of UNESCO's International Bioethics Committee, chairperson of the International Scientific Advisory Board of Grand Challenges Canada and a board member of the World Diabetes Foundation.
His academic career started as a medical student at Makerere University in Kampala, Uganda, but before completing he had to leave because of Idi Amin's policies and the violence in Uganda that followed. He moved to the United Kingdom in 1972 and completed medical training at St. Thomas' Hospital Medical School, University of London.
He then moved to Oxford University, where he completed residency training in internal medicine and surgery, and obtained a D.Phil at the University of Oxford. He was a clinical lecturer at Oxford's Nuffield Department of Surgery for a number of years before moving to the Middle East where he was involved in founding two new medical schools in the UAE and Oman.  He was appointed professor of surgery at the Sultan Qaboos University in Oman. Since 2001 he has held numerous academic positions at the University of Toronto.
Abdallah Daar's professional affiliations and activities span many parts of the world and include numerous African involvements. He is the chairperson of the International Scientific Advisory Board of the Alliance for Accelerating Excellence in Science in Africa (AESA), an initiative if the African Academy of Sciences (AAS), which is based in Nairobi, Kenya.
He also holds advisory positions with the Nelson Mandela African Institute of Science and Technology in Arusha, Tanzania and has worked in developing Arts and Science academic programmes with the Aga Khan University. He was recently appointed as a member of the African Union's High Level Panel on Emerging Technologies.
Since a first residency as STIAS fellow in 2013 Abdallah Daar has been instrumental together with AAS Executive Director Berhanu Abegaz in launching a joint STIAS-AAS African Young Scientists series of annual summer schools, the first of which was held in Stellenbosch in June 2016. During 2017 the second joint school will focus on the DOHaD theme, to be held in November.
Daar concluded, saying, "I feel that with my background, my passion for Africa, and my ongoing engagements at STIAS, with the African Academy of Sciences, with the World Diabetes Foundation, and in individual African countries, that I could and indeed need to focus my creative energies on current and future work in Africa."
STIAS is honored by Abdallah Daar's acceptance of his nomination as Permanent Visiting Fellow of STIAS and indebted to his leadership role and active engagement with the STIAS programme.