The Partnership for Africa's Next Generation of Academics – PANGeA – has launched an early career fellowship programme with the aim of identifying future African academic leaders and providing them with access to specific training in university management and administration. The network will award 50 fellowships over the next four years to candidates who have completed their PhDs. The fellowship will comprise an eight-week residency at Stellenbosch University with workshops and training sessions organised and hosted by STIAS and the Graduate School of the Faculty of Arts and Social Sciences. The workshops will focus on topics relevant to academic support and administration including leadership, management, academic networking, grant-proposal writing, financial management and how to get published.
PANGeA was established in 2006 and expanded to a network of eight African universities with the aim of building research capacity on the continent. By 2016 the network had five cohorts of doctoral students, 70 registered PhDs and 49 graduates most of whom have resumed academic positions in their home countries.
Over 80% of these graduates completed their degrees in three years or less.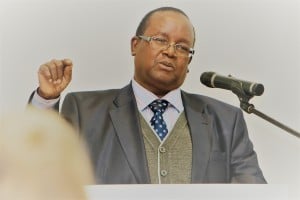 "This is a fantastic achievement," said newly elected PANGeA Chair Prof. Enos Njeru, Principal of the College of Humanities and Social Sciences at Nairobi University, Kenya. "PANGeA has a 10-year history of partnership and co-operation. Now the challenge is to do even more. We believe the environment is conducive to the launch of this new initiative."
"Administrative needs are on the rise and academics often don't have experience in finance and management."
"This is a network by Africans for Africans to pursue a truly African agenda," he continued.
"It's becoming more difficult to attract appropriate talent into academic careers," said Prof. Johann Groenewald, Coordinator: Strategic initiatives of STIAS. "Internationally there is a shift in funding from doctoral to post-doctoral to early career funding streams with the aim of attracting and sustaining talent."
"Early career development initiatives can shape and form the transition from a graduate to becoming a researcher and research leader."
"STIAS is grateful, delighted and proud to see the expansion of the PANGeA network," he continued. "It represents a strong expression of the desire of the higher-education sector to make a substantial imprint on the African continent."
Groenewald also mentioned the STIAS Iso Lomso research fellowships which also aim to boost the careers of African academics and have been met with an overwhelming response of 248 eligible applications from 30 countries.
"STIAS's role is to break down walls. To be a meeting point for minds in constructive dialogue. Our focus is on excellence, real-life, interdisciplinary research and on ensuring that research reaches policy and other decision makers," he said.  "We are keen to support PANGeA's latest initiative and invite the participants to avail themselves in future of the opportunities offered by STIAS."