"An expanding family demands (and deserves!) more resources and active communication channels to keep abreast of developments, mutual interests and challenges, as well as achievements. The ever growing STIAS family – now counting close to 700 fellows and many friends – is, of course, no exception", writes STIAS Director Hendrik Geyer in the foreword of the first STIAS Newsletter.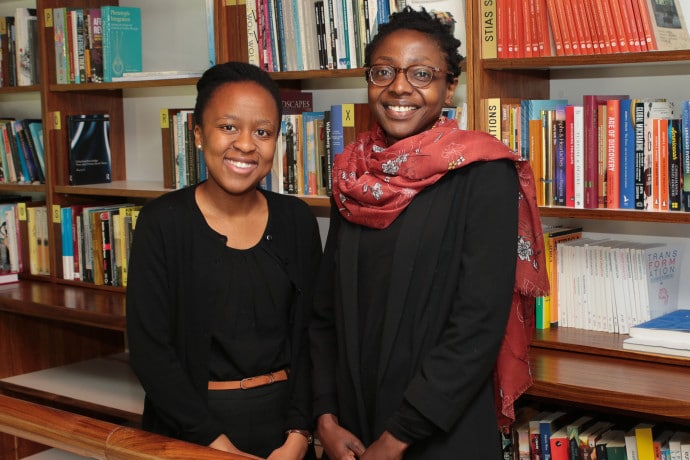 The special edition features in depth interviews with two Iso Lomso fellows, Malebogo Ngoepe and Aretha Phiri pictured above ("Female power amongst Iso Lomso fellows"), and long-time research fellow Abdallah Daar ("We need to think like one species").
A news roundup of 2017 covers the STIAS public lecture series, which culminated in a live-streamed lecture by Nobel laureate Joseph E. Stiglitz, as well as the Wallenberg Roundtable on m-health, other workshops and conferences, book launche events and two summer schools for young researchers co-hosted by STIAS in Stellenbosch and Bamako respectively.
We also look back at some of the notable early fellows of STIAS – Kip Thorne, Pumla Gobodo-Madikizela, Clifford Shearing, Leonard Susskind, Rosemary Coombe, Jean Comaroff, Ivan Vladislavic, and Chabani Manganyi.
Finally, A number of quotations reflect on what it means to become a STIAS fellow, for instance by Daniel Brooks, who writes: "My assessment of the fellows was that they are all explorers; and that is the greatest compliment a lifelong field biologist for whom Alexander von Humboldt is a hero can give. They combine openness, curiosity, an insatiable desire to learn from others and for themselves, great respect for what others know, self-imposed extreme standards of quality, and extremely high levels of self-confidence coupled with a belief that they have not yet done their best work."
The newsletter can be found at www.stias.ac.za/news-and-events/newsletters/