We have to recognise our debt to Nelson Mandela, said philosopher, political scientist and public intellectual Prof Achille Mbembe from the University of the Witwatersrand on Wednesday (18 July 2018). He was one of four experts who participated in a roundtable discussion at the Stellenbosch Institute for Advanced Study (STIAS) on the Stellenbosch campus. The other participants were Profs Sarah Nuttal, also from the University of the Witwatersrand, and Jean Comaroff and John Comaroff from Harvard University.
Forming part of Stellenbosch University (SU)'s Mandela Day celebration, the discussion was hosted by STIAS, the Chair for Studies in Historical Trauma and Transformation, and the Indexing Transformation Project at SU. The theme was After Mandela: Citizenship, Generation and Historical Time.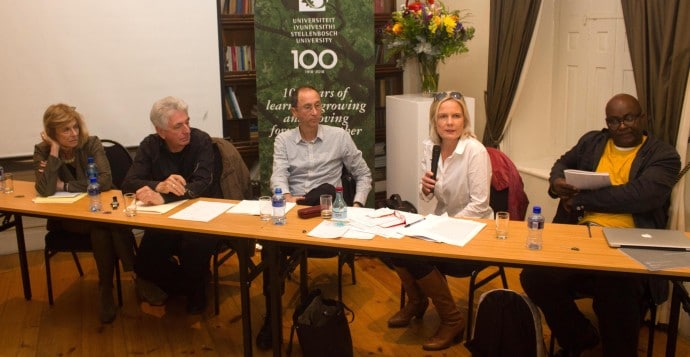 Mbembe said South Africa is what is today thanks to Mandela having pleaded guilty for daring to affirm a single basic truth that all human beings are born free and equal.
He added that even though it is important to remember Mandela, we should not put him on trial for what is currently happening in the country.
"There are people who want to put him on trial. This time he is accused of having ultimately sold out. There's no evidence in the fact that he sold out."
"There are others who want to push him aside. They think he has been given more than he deserves and that he occupies too much space and that he prevents them of having the future that is radically different from the present that they are currently stuck in."
"They are convinced Mandela belongs to the past and this past is compromising the present. They want a Mandela-less future."
Mbembe said the time has come to leave Mandela alone and to give him a rest.
"Strictly speaking there is nothing else that he can give us today that he has not given already. He gave everything he could give."
In her contribution, Jean Comaroff highlighted the many different conservations South Africans, especially young people, are having about Mandela's legacy.
She argued that these debates are as result of the frustration about creating a more just and inclusive world.
"These debates show Mandela remains a relevant figure in our society," added Comaroff.
According to Sarah Nuttal, Mandela was interested in producing systemic change in the present. She argued that debates about Mandela's legacy should also focus on the role that Winnie Mandela played in his life and in the anti-apartheid struggle.
John Comaroff said Mandela was a complex political figure and thinker, and his legacy remains contested.
Alec Basson: SU Corporate Communication