Novelist Patrick Flanery is at STIAS as Artist-in-Residence where he is working on a new novel, in his words, "about a photographer adrift in contemporary America who is forced to confront the ethics of her practice in a moment at which the very medium of her art has reached a state of volatility, mutability and impermanence."
At a STIAS seminar, he spoke about the themes that unite this project with his published work to date, and gave short readings from two books that are being published this year: The Ginger Child: On Family, Loss and Adoption; and Night for Day: A Novel.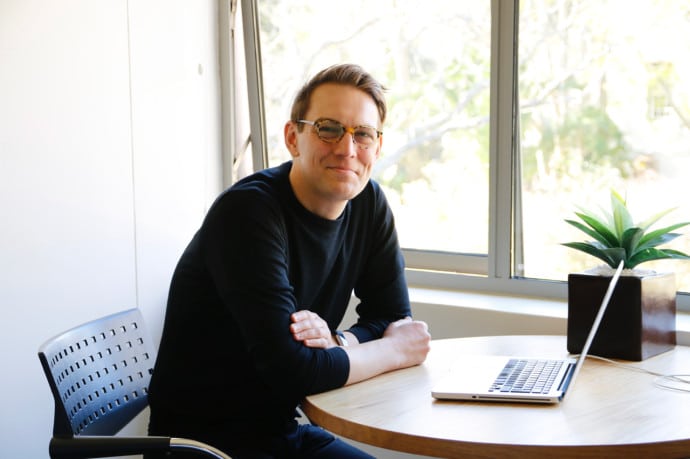 STIAS fellow Patrick Flanery

As he explained, "all four of my novels examine the intrusion of the state into the private, and the public into the personal." Included in these is his first novel, Absolution (2012),set in South Africa in the aftermath of the Truth and Reconciliation Commission's hearings, which stages different voices speaking about the same event as a way of foregrounding the ethics of representing trauma.
Flanery discussed the role of the author as observer. He described this by using the figure of the flâneur, a figure originating in 19th-century French literature, which became an emblem of the detached observer for scholars, artists and writers.
Quoting Walter Benjamin on Charles Baudelaire and reading the flâneur as a queer figure (broadly understood as being at an angle to the normative), Flanery observed that his ideas about flâneriehave been affected by his own experiences. "I'm an outsider based on sexuality, migration, and just by being an artist in a world hostile to artists. And as an American living in Britain, I've experienced the state of the expat, the voluntary exile, who is no longer at home anywhere, except in his own mind."
But Flanery also sees this as related to the rapidly shifting ongoing moment that has characterised the world in recent years, one in which "the state has intruded into spaces once thought to be private. We now must return the gaze, watch the watchers".
His hybrid work of memoir and criticism, The Ginger Child,from which he read an extract, recounts his personal experience of adoption, in which he found himself intensely examined and yet badly read by the state – "it was a process of misreadings of myself marked by the bigotry of those officials who stand as representatives of the state," he said.
Night for Day, his forthcoming novel from which he also read, is set against the backdrop of the anti-communist witch hunts in Hollywood in the early 1950s – a period of national crisis in the US that highlighted the ongoing struggle between art and politics, and that has resonances in and for contemporary America.
Does changing the process change the product?
Turning to his current project, a novel-in-progress tentatively titled The Negatives, he indicated that he began by experimenting with the writing process itself.
"It's a novel about photography in a moment of crisis, and because it features a photographer who has a complex relationship to technology, I wanted to reflect this negotiation in my own composition process."
"I'm certainly not a Luddite," he continued, "but I've been experimenting by abandoning the digital for analogue by writing in longhand and resisting using technology. I'm interested in seeing how this changes the creative work. Will changing the way I write alter the quality and style of what I write?"
"Art is, as always, a way of addressing our lived experiences and the legacies we inherit. The writing process is a catalyst."
Michelle Galloway: Part-time media officer at STIAS
Photograph: Christoff Pauw