"To speculate that something has shifted in relation to the politics of representation in contemporary culture is not to downplay the significance of long-standing activism over the appropriation of life narratives, images and indigenous knowledge from those with less cultural and political capital by those with greater," said STIAS fellow Andrew van der Vlies, of the School of English and Drama at Queen Mary University of London. "Nonetheless, it seems there is an ever-more evident inclination abroad to question who might tell what kinds of stories, and an alertness to the imperative to avoid misrepresentation."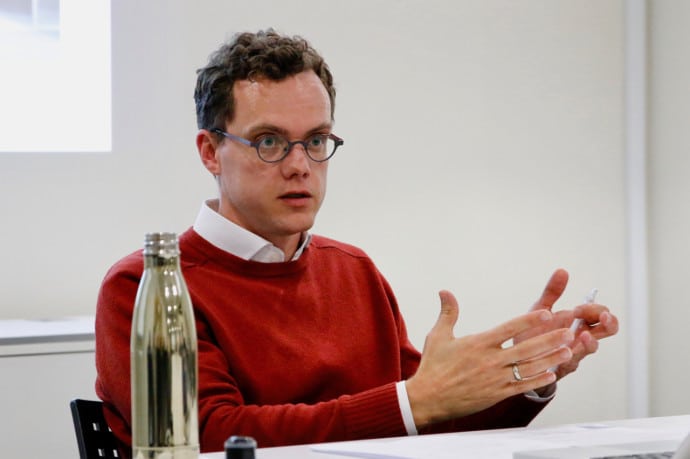 STIAS fellow Andrew van der Vlies during his seminar on 29 August 2019
Van der Vlies was presenting some initial ideas from his book project, entitled In/appropriate Personae: Contemporary Cultural Production and the Politics of Appropriation, which aims to examine the growing awareness of the politics of representation and ethics of appropriation in contemporary culture, in relation to depictions of race, ethnicity, gender and sexuality in particular.
"My book will explore these questions and their artistic and political ramifications through case studies from literature, fine art, and public-sphere debates in South Africa and the United States, two contexts in which these issues have played out with perhaps comparable force and resonance (on account of histories of racial segregation and of uncommonly lively debates about constitutional protection for free expression)."
In his presentation, subtitled On a statue, or twelve false starts,Van der Vlies focused on three South African works of art that have elicited controversy in recent years – a sculpture of Sarah Baartman, by Willie Bester, that became a focus of student protests at the University of Cape Town in 2015 and 2016; Brett Murray's The Spear, a painting of former President Jacob Zuma; and the Mandela Corpse painting produced in 2010 by Yiull Damaso, a satirical reworking of the 17th century painting The Anatomy Lesson of Dr Nicolaes Tulp, by Rembrandt van Rijn.
"I'm hoping to use these and other examples to take the measure of debates about cultural appropriation in the present," he said.
He focused in detail on the Sarah Baartman sculpture.
"Baartman was a Khoi woman born in 1789. She was taken to Britain in 1810 where she was displayed on the freak-show circuit as the 'Hottentot Venus'," he explained. Later she was taken to Paris and similarly displayed; she fell into penury, became fatally ill, and died in 1816. The cast of her body was displayed in Paris's Musée de l'Homme until the 1970s. There were requests for the return of her remains to South Africa from the 1950s. She was eventually buried with full state honours in South Africa in 2002.
The sculpture of Baartman, made from salvaged metal, was displayed in the Engineering Library at UCT and became the focus of protests when students covered her with a kanga and headcloth during the Rhodes Must Fall protests in 2015, and again during a procession to mark the one-year anniversary of those protests, in 2016. Student activists felt that the statue participated in the ongoing construction of black women as racialised/sexualised other.
The artist, who identifies himself as black, or as 'so-called Coloured', presented a different viewpoint.
"Bester saw himself as having put Baartman back together – challenging the environment that had made her a spectacle. Bester said he saw the image as empowering," said Van der Vlies, who quoted Bester as saying, in an interview:
"I identified with what she went through [….]. I want it to be uncovered because it was not meant to be covered up [….]. I specifically made that sculpture so that one can confront who we are and that should be acceptable … To cover it up is to do exactly what one had fought against."
Van der Vlies also described the response of the university. Bester's Baartman sculpture was displayed in the Ritchie Gallery on UCT's Hiddingh Campus in late 2018, uncovered but alongside the cloth with which it had been draped, the messages that had been pinned onto the kanga by the student protesters, and information about the long history of the gaze to which the bodies of women of colour in positions of slavery, servitude, or spectacularising display had been subjected. A poem by Diana Ferrus, 'I've come to take you home', written about the repatriation of Baartman's remains, played as a sound installation. At the end of 2018 it was announced that the former Jameson Hall (which had been Memorial Hall for a period) would be renamed Sarah Baartman Hall.
Appropriate can mean many things
"Speaking about the production of—and engagements with—cultural texts in this time and place necessarily involves grappling with questions about the appropriateness or otherwise of representation; 'appropriate' can, after all, be an adjective and a verb," continued Van der Vlies. "I'm aiming to think about the entanglement of discourses of propriety and the proprietary, and, of necessity, meditate on the politics of positionality, including my own."
"Writers, artists, filmmakers, teachers and curators are increasingly alert to questions about who might be appropriate to tell which kinds of stories, how, and for what audiences. But it's a contested environment that opens up many questions. Amidst calls for propriety over representations of our past, who decides whether art offends? Who gets to say something is dangerous? There will always be people for whom a representation is dangerous."
"I'm suspicious of absolute claims to what is appropriation in any particular moment," he added. "I think it's the responsibility of artists and intellectuals to question absolute claims, even if it's uncomfortable."
"I'm interested in unpacking the debates around the reception of cultural products," he said, but admitted to the complexity of the task at hand: "I find my thinking is unsettled. It is necessary to unsettle the status quo, but the unsettling has also occasionally to be unsettled. What I'm calling 'unsettling work' sometimes settles, too easily, and without irony. The challenge is to remain determined to unsettle even that with which one might, in large measure, sympathise."
Among the complex questions Van der Vlies highlighted and hopes to address in his work are the following:
Do we require art that empowers in certain times and places? Is empowerment a function of art?
What does the violation of art say about those who violate?
What is the role of custodians of institutional spaces? If an image was placed somewhere else would it provoke the same response?
What is the meaning behind the transference of pre-existing elements into a new ensemble – like the reclaimed metals in the Baartman statue?
Is the burning of artworks an act of re-appropriation?
Is this a convenient prompt to consider the relationship between post-colonialism and post-modernism? How are the legacies of post-modernism responsible for the impasse that arises in debates about artistic freedom and the appropriateness of representations of others' experience?
What do these debates have to say about current global discourses of right and left populism?
Michelle Galloway: Part-time media officer at STIAS
Photograph: Christoff Pauw