"In line with Wallerstein's vision, semi-peripheries trade with peripheral areas in products of a central importance, and they send their peripheral products to the centre. It seems to me that both Poland and South Africa belong to the so-called peripheries and/or semi-peripheries. Let us say then that as a Polish literary historian writing about South African literature and proposing my vision of Afrikaans literature here, I connect both semi-peripheries dealing with a product of a central character," said STIAS fellow Jerzy Koch of the Department of Dutch and South African Studies in the Faculty of English, A. Mickiewicz University. "There can be no history of literature 'as such' or 'in general'. It must, by its nature, be a particular history, by a particular author, for a particular audience. This work reflects my vision of literary processes within historical and cultural processes."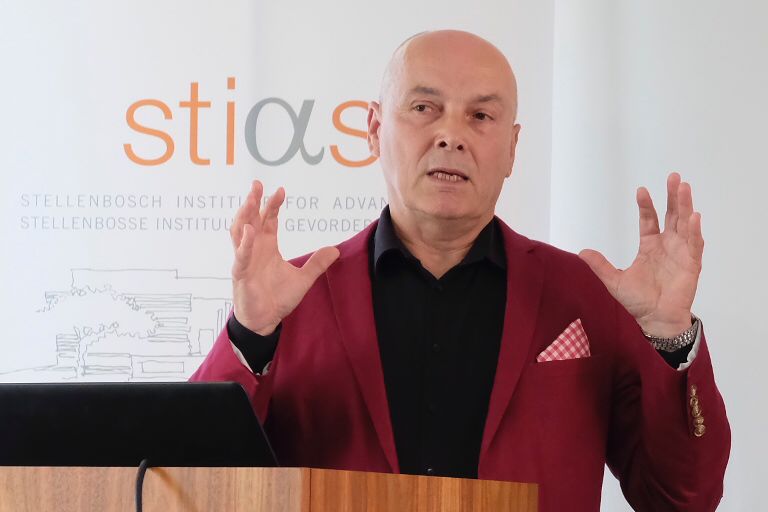 "I believe Afrikaans literature can serve as a fascinating laboratory for literary research overall," he continued. "Afrikaans developed quickly – within about 150 years – which makes it a workshop for all kinds of theories of language development offering valuable analyses and diagnosis on the practical aspects."
Sharing his personal impressions of literary history writing, Koch pointed out that literary historiography does not hold the significance today that it used to.
"It no longer aims to discover and archive the oldest of texts; it does not aid the evolution of language and its artistic products, nor does it help to create national communities to the same extent as before. It neither consolidates political structures nor mobilises an ethnically defined group speaking a given language. Literature occupies a different place within the culture structure than it used to. Generally speaking, it is less important. Today, preference is given to the speed of information exchange and its visual aspects, and to a lesser extent, its durability and potential for reflection. There is also a widespread decline in readership. The importance of writers as authorities is less than in the Romantic era or the first half of the 20th century."
However, literature still fascinates us, and literary history compendiums are still written, even if, due to the Internet, they are no longer the first source of knowledge about writers and their texts. "Literary histories still co-create and consolidate the literary and the historical canons, serving as vehicles redefining the history of culture and as academic textbooks for future generations."
Koch was presenting a seminar on his project which will result in the third volume of his history of Afrikaans literature. At STIAS he is also working on the English edition of the second volume to be published in early 2022 by the South African publisher Van Schaik. Part one, published by Van Schaik in 2015, covered the 17th to the 19th centuries, while Part two covered 1900 to 1930. The third volume explores the 1930s onwards.
Addictive process
A self-taught Afrikaans speaker and regular visitor to South Africa since the early 1990s, Koch is also literary translator of work of Ingrid Jonker, Antjie Krog, Breyten Breytenbach and Wilma Stockenström. His interest in Afrikaans literature has, so to speak, many sides.
"The process of being between languages is addictive," he said. "The proofreading of my Polish translation of Stockenström's Die kremetartekspedisie was in the first weeks of my stay in Stellenbosch when the US-library was closed, a good warm up for the main project – a history of Afrikaans literature."
He highlighted the work of two South African scholars – Theo Du Plessis who published Afrikaans in Beweeging in 1986 and Achmat Davids who defended his PhD Afrikaans of the Cape Muslims in 1991 (published in 2012) both of which assisted in developing Koch's views about the impact of different language movements of Afrikaans literature, particularly the influence of The Eastern Border Language Movement (Oosgrenstaalbeweging)  and of the Malay Afrikaans Language Movement (Maleier-Afrikaanse Taalbeweging).
"Du Plessis and Davids shaped my perceptions of marginalised South African text," he said. "I appreciated the culture and value of the work."
"I, for my part, added to the traditional classification of the language movements the Mission Movement of the Moravian Brethren who worked in the coloured communities where the mixed Afrikaans-Dutch language form came to be known as Genadendal Dutch and was used throughout the century in schools, as well as periodicals and books published by the Herrnhut missionaries."
Accelerated development
In his presentation Koch focused on Russian scholar Georgii Gachev's theory of accelerated development – a term he coined in 1964 to describe what happened to Bulgarian literature during the 19th century. Being a young, peripheral literature, Bulgarian literature had to go through a speedy evolution with one of the consequences being the co-occurrence of different style periods.
"I believe this theory is a good fit for Afrikaans language literature," he said.
He pointed to the many disparate influences that came together in the development of Afrikaans including religious, political and ideological factors as well as Afrikaner nationalism, linguistic and cultural aspects, and external geopolitical forces. He also highlighted the opposition experienced in acceptance of Afrikaans over Dutch.
"Gachev's theory is about the accelerated development of literature in societies casting aside old socio-historical formations and merging the values of the previous and current state in a fusion of tradition and modernity," said Koch.
"South African Professor of Literature Gerrit Dekker had pointed to similar ideas a quarter of a century before Gachev namely the accelerated development of Afrikaans literature as part of a psychological process of growth," he added.
"This development process can be (for literature itself and for its scholars) both advantage and disadvantage – there can be a certain density and oversaturation of literature – but the presence of hybrids also allows expression of patterns more quickly."
He pointed to so-called Twintigers (the 1920s generation) as A.G. Visser, Toon van den Heever and Theo Wassenaar who often made use of literary tropes and stylistic developments from the Medieval and Romantic traditions which sometimes led to critique. "The same with the early translations of classical authors by L.J. du Plessis, Theo Wassenaar and T.J. Haarhoff who introduced to readers the achievements of Greek and Roman cultures. The educational role of these translations into Afrikaans was also very important."
"The Generation of the 1920s made it possible for Afrikaans to be established as a language with a full artistic toolbox."
"South African literature results from a complex network of negotiations at the interface of literary practices, discursive processes and cultural developments. I investigate these literary historical processes in terms of the temporal evolution of literary diction, the articulation of power over space in language, the construction of imaginative geographies, the relevance of literary representations to identity formation, the politics of place and the literary-cultural renderings of varied communal experiences of space and geopolitics. The outcome is envisaged both as a practical history of a local (South African) literature and as an experimental interpretive model applicable to other literatures."
"I hope this work sheds new light in evaluating existing work and repositioning Afrikaans literature as a laboratory for methodological experimentation," he concluded. "The rapid emergence and separation of language opened a working space for new theories on the origin of Afrikaans. We can say the same about the accelerated development of Afrikaans literature which can be used for other experiments with periodisation of Afrikaans literature or with literary historiography as a genre."
Michelle Galloway: Part-time media officer at STIAS
Photograph: Noloyiso Mtembu