"I will probe the endlessly repeated corporate mantra that 'local content is king'," said Pier Paolo Frassinelli of the Department of Communication and Media Studies at the University of Johannesburg. "When we watch local films and series on streaming platforms such as Netflix and Showmax, is all we are seeing a staging of the local merely as an effect of market demand? Are local filmmakers and producers tapping into this demand to produce meaningful local stories? In other words, who is using whom and how? Is there any space for artistic and creative autonomy within platform capitalism?"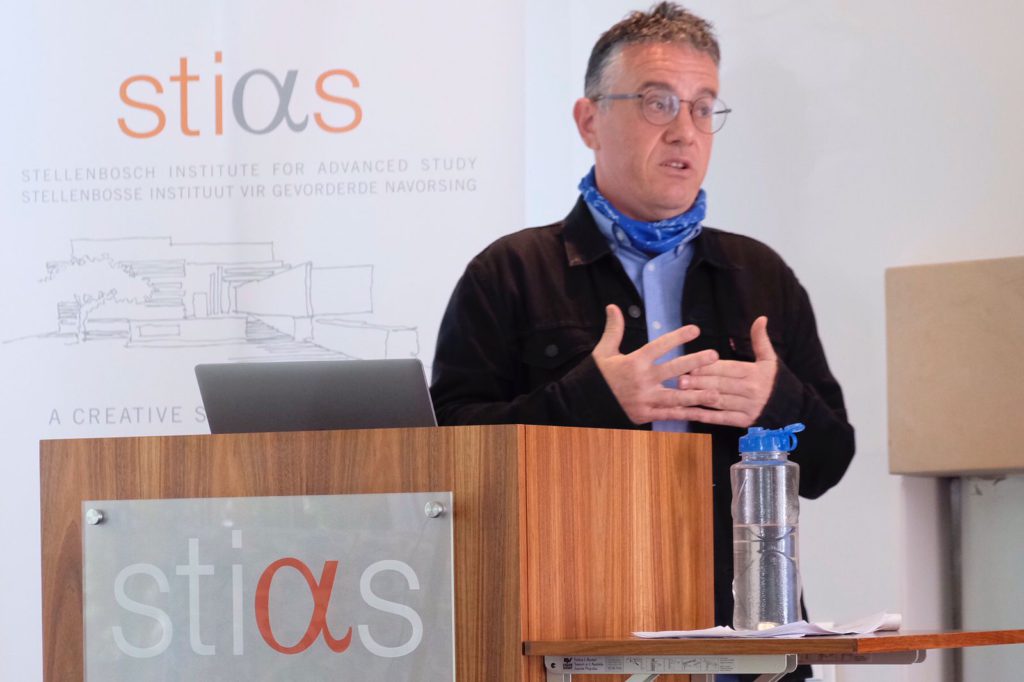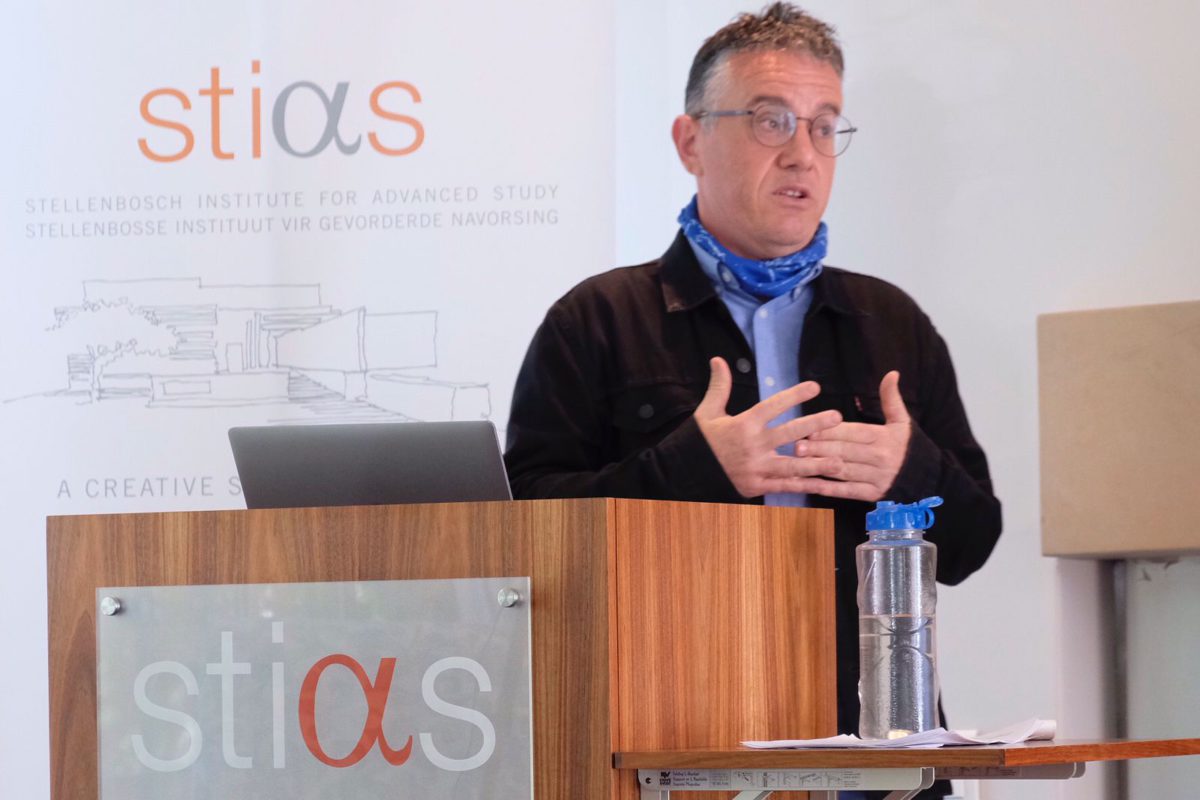 STIAS fellow Frassinelli was presenting one chapter of his book-in-progress which presents an ethnography and political economy of different spaces – cinemas, film festivals, websites and other public spaces – where African films are screened, as well as an analysis of contemporary African films and of the genres and trends they represent. His book African Cinemas in the Age of Streaming will map the changes in contemporary African cinemas and screen media brought about by digital production and distribution technologies, as well as by new socio-cultural contexts and audiences.
Briefly tracing the history of cinema in Africa, Frassinelli pointed to the first films being produced on the continent in the early 1900s by British, French and American directors and largely colonial propaganda inspired. Only Egypt developed a local industry. This changed in the 1950s with the growth of independent post-colonial cinemas and the establishment of the first independent film unit in Ghana. By the 1960s, the auteur genre – often political and social realism – dominated and the first African film festivals like FESPACO (the Panafrican Film and Television Festival of Ouagadougou) were established. In the 1980s and 90s many independent cinemas closed, but there was a video and DVD revival as well as the growth of Nollywood. The 2000s saw the arrival of streaming and digital TV.
In his presentation he focused on streaming platforms – specifically Netflix and Showmax – and the overall concept of platform capitalism, which, according to corporate executives, are the best thing that has ever happened to the African film industry.
"It's been described by Ben Amadosun, Netflix's Director of Content for Africa, as 'the beginning of a golden age for African films' while Nkateko Mabaso, CEO of MultiChoice, owner of Showmax and DSTV, described the excitement of taking African stories to the rest of the world saying 'We are going to see a lot more of our own stories being told on a global stage, which is really exciting. There is no better time to be in the film industry than today'."
Frassinelli described both Netflix and South Africa-based Showmax as having a substantial and growing continental footprint. Netflix has over 200 million paid subscribers globally. It went live in Africa in 2016 and, according to Digital TV Research, a London-based industry forecaster, may end 2021 with 2.61 million streaming subscribers in Africa and more than double that to 5.84 million by 2026. Showmax is in 45 African countries, produces in 17 languages and has 20 million subscribers – "seeing a 50% increase during lockdown in South Africa".
So streaming is here to stay and grow despite the need for connectivity and data, and the continued prevalence of free-to-air options.
Frassinelli highlighted a promotional video entitled This is Africa produced by Netflix in 2020 which strongly promoted the types of films and genres they want people to become interested in.
"It pushed two narratives – not original ones either. One is described by Kenyan author Binyavanga Wainaina in his 2005 article How to write about Africa – namely treating Africa as if it were one country – with lots of wild animals and spectacular sunsets, and showing Africans as having music and rhythm in their souls. In other words, an old, clichéd narrative. But there is also an Afro-optimist vision of Africa rising."
Following the handbook
Despite this positive vision and strong emphasis on the local, Frassinelli described the outputs as local content squeezed into imported genres which the streaming platform know work and will sell.
Using, as one example, South Africa's 'Romcom revolution' which started in 2015, has been seriously boosted by streaming, and includes films like Mr Right Guy, Catching Feelings, Seriously Single and Happiness Is a Four-letter Word, Frassinelli described them as "conspicuously black, portraying young, hip, affluent, good-looking, heterosexual characters. They present a globalised version of Joburg but, at the same time, throw up their own contradictions – cashing in on the image of an African global city but also reminding us of socio-economic inequality. They make us think about the changing contemporary urban landscape and the increasing black middle class. One good thing is that most have black directors in an industry still white dominated in South Africa."
He believes these and other streaming content cannot be written off as 'bubble gum'. With the extent of the coverage and impact of these works Frassinelli believes we have to ask how to criticise and interpret all of this.
"Streaming content is increasingly rigidly categorised in terms of genre. We need more interpretive categories – we can't interpret it in the same way."
"This is the era of content," he said. "Aesthetic production is integrated into commodity production. The production process is orientated to money exchange. African films are being produced to satisfy the demand for streamed content."
"Local content is fitted in to provide an effective narrative and aesthetic form that is stripped bare to produce a predictable response," he said. "There is a tension between the emphasis on the local and the use of basic generic categories that are not really context specific but follow the handbook rules."
"'Local' and 'content' represents an inversion," he added. "It's content that's appropriate to the audience and generically determined."
"It's about cultural products from the Global South mapping their diverse histories and local geographies onto genres of Western mass cultural production. Very similar to what happened in the literature of peripheral countries where there is a compromise between Western influence and local materials."
"The content providers are multi-skilled, the material grabs attention and keeps it. It's about appealing to an audience willing to pay. It has commercial and exchange value."
"Any infraction of the rules is seen as high-brow and therefore with little chance to reach the population at large," he continued.
In the discussion he addressed the fact that all films are ultimately made for a market: "it's the kind of market that differs"; there are some films that try to bridge the gap between the platform needs and an original style; the outputs are by no means representative of Africa in that South Africa, Nigeria and Kenya dominate as well as Egypt in the North; and influencers (usually young, hip, middle class, black) play an important role in driving the conversation.
"The platform owners always have a say in the final product. It is a bound space, but it is a space," he said. "Autonomy is dependent on the degree to which the demand for local content can be appropriated by local practitioners."
"We have to start thinking about how we can reconcile the local and relevance to the global. Can we have real local content that travels?"
Michelle Galloway: Part-time media officer at STIAS
Photograph: Noloyiso Mtembu