"This is a vision I've been developing based on what we've faced – everything we've lived through, experienced and participated in. COVID-19 was predictable, yet we were unprepared. There will be another pandemic and we need to work now on preparation," said STIAS permanent visiting fellow Abdallah Daar of the Dalla Lana School of Public Health at the University of Toronto.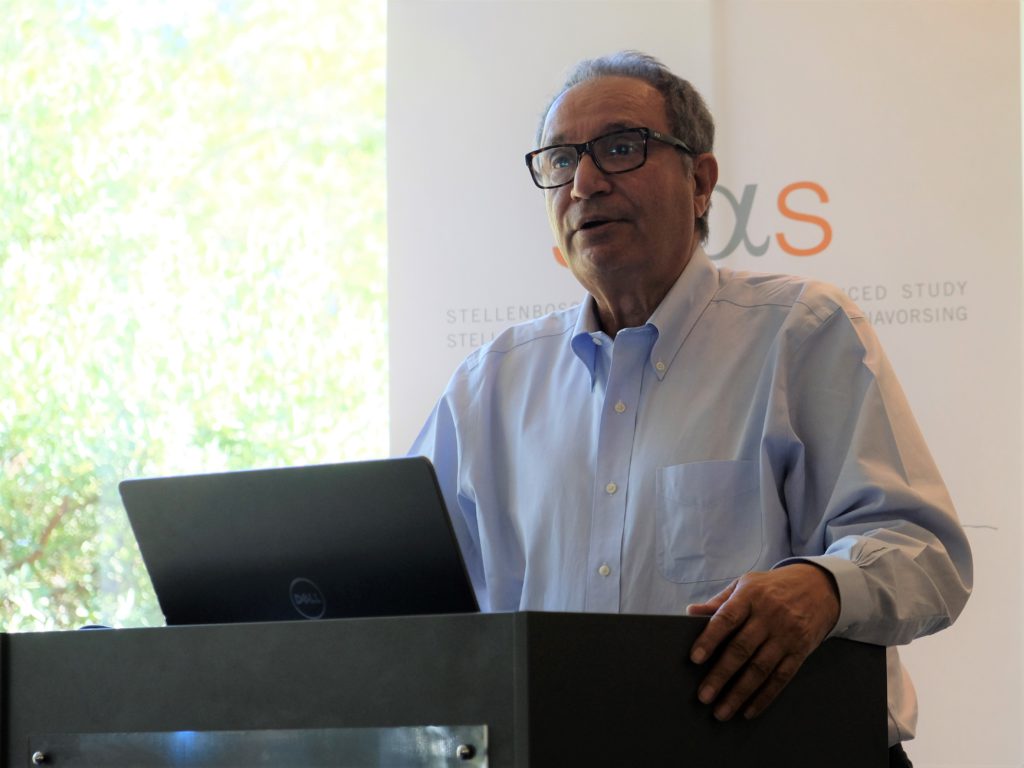 "I believe we need a Collaboratory to perform pandemic studies in Africa. This would facilitate studies relevant to the pandemic history in Africa with the aim of prevention, preparation and response for future pandemics. It's about the need to decolonialise global health and ask who speaks for Africa. It's time for Africans to set our own priorities, develop our own studies, decolonise knowledge creation. We have the resources to do it and don't need others to tell us what to do.  "
Daar was presenting a seminar entitled Vision of a Collaboratory for Pandemic Studies in Africa. He outlined his ideas for a pandemic 'Collaboratory' which he defined as "a networked entity without walls, in which geographically dispersed scientists and other stakeholders can collaborate to generate innovative solutions to complex problems."
"Over the past century there have been several viral pandemics," he said. "The COVID-19 pandemic is ongoing in many parts of the world. It's likely that variants of COVID-19 will appear regularly; and almost certainly there will be other viral pandemics in the foreseeable future. We need to plan and be as prepared as possible for future pandemics."
He emphasised some of the severe health, economic and societal consequences that have resulted from the coronavirus pandemic that started at the beginning of 2020.
Pointing to the increased burden on healthcare systems and shutting down of routine care during lockdowns, he said: "Low- and middle-income countries suffered the brunt. In all likelihood sub-Saharan Africa has been one of the worst-hit regions but we simply don't have the data."
"We believe the 1918 Spanish flu killed up to 5% of the world's population but it's probably much more, because much was undocumented. There is also emerging evidence from United States census data showing there might have been longer-term effects in subsequent generations in reduced educational attainment, increased physical disability, lower income and socio-economic status compared to other birth cohorts."
He also pointed to the unknown long-term consequences of Long-COVID "It's a mystery illness which we don't totally understand (no universal definition exists) or know how to treat; it might affect about 10% of people who get COVID. We don't know how much of a problem it will be or how much healthcare resources it will consume to diagnose, treat and manage into the future."
He highlighted the large increase in teen and pre-teen (in girls as young as 10) pregnancy in parts of South Africa.  This has long-term consequences for education and the health status of both mothers and babies. "This needs to be documented in more detail in all parts of Africa." And Daar is very familiar with the long-term consequences of foetal health as project leader of the STIAS Developmental Origins of Health and Disease (DOHaD) Group. The group was formed in 2016 as part of the STIAS strategic research theme Health in Transition and has met annually, organised seminars, conferences and summer schools, participated in the establishment of the African Chapter of the DOHaD society and produced many publications including a book in the STIAS Series.
He also emphasised the economic devastation of the pandemic highlighting increased spending and inflation, and food insecurity – likely to become even more intense due to the Ukraine war.
"However, one of the major problems has been disinformation and misinformation," he said. "As well as the consequences of this on behaviour especially regarding vaccine uptake. Behaviour change is crucial in pandemics. We still don't know a lot about it." In this regard he indicated that the World Health Organization is looking to develop a Pandemic Treaty to strengthen preparation, prevention and response particularly through education and behaviour change. "We have to ensure this is done well and equitably." He also highlighted a South African project under the leadership of Shane Norris, a key member of the STIAS DOHaD group, which will be looking at behaviour change in crises.
"There is also the issue of vaccine inequity which was largely driven by greed," he said. "In this regard COVAX (the COVID-19 Vaccines Global Access) and the WHO acted as champions pushing especially for African vaccine manufacture and knowledge sharing." But he emphasised that ensuring equity and managing IP require ongoing work.
Leadership
"South Africa emerged as a country with substantial viral genomic surveillance capacity and the ability to establish manufacturing capacity for mRNA vaccines for Africa and beyond," he continued. "These are important because they are easy to make and tweak for different COVID variants and for other viruses."
This, along with the overall strength of the South African scientific and health research community is why Daar believes the country is ideally placed to play a leading role in a Collaboratory. He provided an extensive list of academic institutions, individuals, organisations, foundations, funders, government and other statutory bodies he believes could be part of the work of the envisioned Collaboratory.
"We need to look at the domains in which Africa and South Africa excel," he said.
This will all require systematic planning, co-ordinating capacity and resources and, importantly, funding.
Invited to give inputs, fellows present at the seminar highlighted areas the Collaboratory might consider studying, including gender inequality; the role of culture and religion; the need to study zoonotic diseases (especially related to emerging evidence of a coronavirus outbreak in the 1890s); questions around how disease itself modifies behaviour via adaptive responses in the host and around understanding microbiomes in the body; as well as a need for understanding of the politics of the pandemic and of anti-science and antivax movements.
Acknowledging that pandemics are complex and wicked problems, Daar said: 'No matter how difficult it is, we have a responsibility as trained, experienced people and communities to do something about pandemics that so profoundly endanger humanity. We can't throw our hands up in the air."
Michelle Galloway: Part-time media officer at STIAS
Photograph: Christoff Pauw