– looking at curriculum transformation in South Africa from the perspective of the UNESCO Recommendation Concerning the Status of Higher-Education Teaching Personnel (1997)[a]
"Decolonisation aims at exposing the ills of colonialism in an attempt to undo their long-effects. Important criticism of curriculum decolonisation at universities has focused on potential conflicts with academic freedom. The overarching problem can be stated as follows: how can South African universities secure their legitimacy and utility in the eyes of the local population without succumbing to radical measures that may in the end jeopardise academic integrity and violate the conditions necessary for serious scholarship? To dramatise the point, we may ask whether a university whose main concern is to change the world, not indirectly through research and teaching but directly through political action, is still deserving of the name." These are some of the questions that STIAS fellow Erik Olsson of the Department of Philosophy at Lund University will address in his project which focuses on the 1997 UNESCO Recommendation in an attempt to unpack its relevance to current discussions and policy development around transformation in South African universities.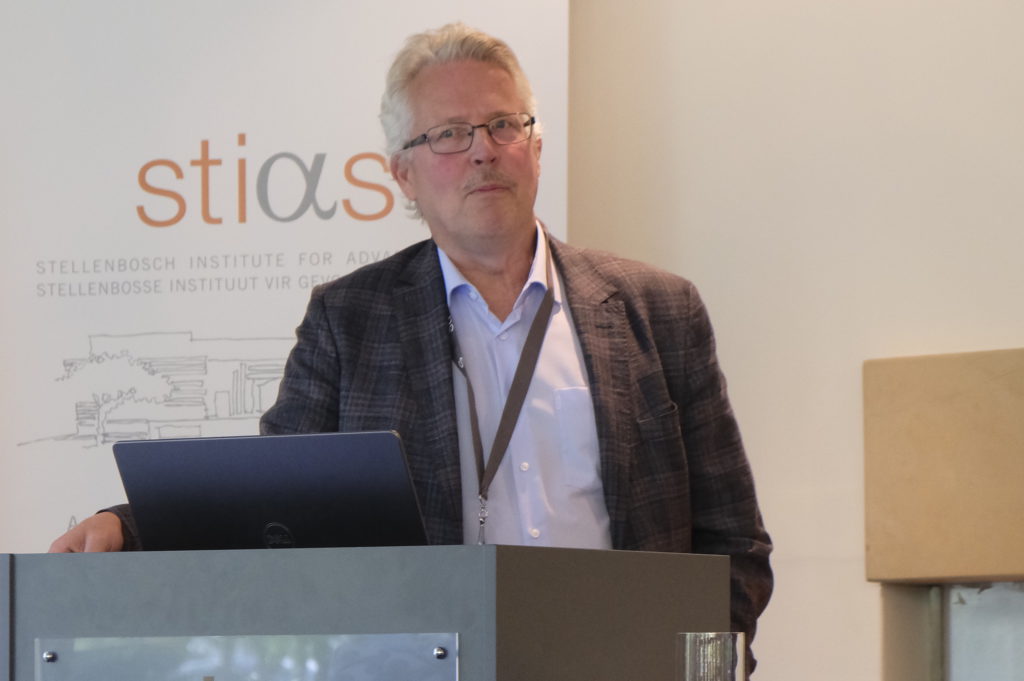 "I have been active in the promotion of academic freedom since 2012," said Olsson. "This work connects to my main research interests in epistemology and the theory of knowledge. Academic freedom is about the conditions for achieving knowledge. The social-justice perspective of higher education in Sweden is similar to decolonisation in South Africa and I believe some of the insights are transferrable."
"Sometimes the best intentions can be imposed in a way that is academically problematic," he added. "It's a very politically sensitive topic in South Africa but I hope to provide an objective, independent voice."
Olsson is hoping to make a new contribution by specifically looking at the UNESCO Recommendation which he describes as "surprisingly unknown" and which hasn't been used in the debates thus far. He is asking what conceptions of decolonisation the Recommendation includes, what compliance would mean in South Africa, and how to approach this if we want to.
He explained that the Rhodes must Fall and Fees Must Fall movements in 2015/16 put huge pressure on South African universities to do something leading to the development of decolonisation and transformation plans at many universities. Although welcomed, these faced criticism – notably from Jonathan Jansen, Distinguished Professor in the Faculty of Education at Stellenbosch University and former vice-chancellor of the University of the Free State, and University of Cape Town philosophy professor David Benatar.
"Some of the critique centres around whether decolonisation can be a requirement of scholars," explained Olsson. "Asking doesn't critical thinking and freedom of speech in academia extend to decolonisation anyway."
"This criticism has, to some extent, suffered from a lack of agreement on the meaning and status of academic freedom itself," he continued. "My project therefore views decolonisation in South Africa from the international standard for academic freedom presented by the UNESCO Recommendation. Although not legally binding, as a member state, South Africa and its publicly funded universities are obliged to 'take all feasible steps' to implement the Recommendation."
He explained in detail the principles laid out in the Recommendation, which include:
Professionalism which emphasises that teaching in higher education is a profession that requires expert knowledge and specialised skills and includes responsibility for the education and welfare of students and the community at large;
Institutional autonomy which focused on self-governance for effective decision-making and an obligation to protect higher-education institutions from threats to their autonomy;
Institutional accountability which refers to a commitment to quality and excellence in teaching, scholarship and research as well as encouraging international academic co-operation;
Individual rights which includes freedom in teaching and discussion, in carrying out research and disseminating and publishing the results, and also freedom to express opinions as well as not being forced to instruct against knowledge and conscience;
Individual duties which include respecting the academic freedom of others and basing research and scholarship on evidence, impartial reasoning and honesty;
Preparation for the profession which looks at the need for policies that govern access to preparation for a career in higher education to be free from discrimination;
Entry into the academic profession which focuses on free and fair terms and conditions of employment;
Security of employment which safeguards tenure and dismissal in accordance with due process; and,
Appraisal which focuses on evaluation based on criteria of competence in research, teaching and other academic or professional duties interpreted by peers.
The Recommendation also focuses on the social role of universities and the direct and indirect contribution to society through research and teaching, fostering a democratic culture, as well as the capacity of students as engaged citizens. "There are social benefits of a well-functioning university," said Olsson. "The risk with decolonisation policies is that they can sometimes undermine the social benefits."
Olsson also outlined the six conceptions of decolonisation that Jansen described in 2017[b]. These are: additive-inclusive knowledge which is about adding things to the curriculum; decentring which replaces Europe with Africa at the centre of the curriculum without disregarding Western perspectives; critical engagement with settled knowledge which is about empowering students to ask where knowledge comes from and why; encounters with entangled knowledges which encompasses interwoven knowledge from colonised and coloniser; repatriation of occupied knowledge which has the goal of helping indigenous people regain control over indigenous land; and, Africanisation of knowledge which reduces European influence from the curriculum all together. Jansen described the first four as "soft views" and the last two as more radical "hard views".
Comparing these to the Recommendation, Olsson pointed to direct conflicts with the Repatriation and Africanisation concepts.
He is also examining university transformation plans where these exist looking at what conception of decolonisation figures in the plans and the degree of compatibility with the Recommendation. His preliminary findings indicate that some universities prescribe Repatriation or Africanisation approaches with some ambiguity between the soft and hard approaches.
[a] UNESCO (2016). ILO/UNESCO Recommendation concerning the Status of Teachers (1966) and UNESCO Recommendation Concerning the Status of Higher-Education Teaching Personnel (1997), with a revised foreword and user's guide. https://www.ilo.org/wcmsp5/groups/public/—ed_dialogue/—sector/documents/normativeinstrument/wcms_493315.pdf
[b] Jansen J. (2017). As by fire: the end of the South African university, Tafelberg.
Michelle Galloway: Part-time media officer at STIAS
Photograph: Noloyiso Mtembu