"As the first actors in their fields farmers are unquestionably the best placed to understand and to know their daily lives: in particular the soil. Farmers have acquired years of knowledge and experience over several generations and this is an important source of information when designing sustainable agricultural strategies. However, little effort has been made to study local soil knowledge in Madagascar, an essentially agricultural country with more than 70% of its population living in rural areas and where development depends on agriculture," said STIAS Iso Lomso fellow Nasandratra Ravonjiarison of the Radio-Isotopes Laboratory at the Universite D'Antananarivo, Madagascar.
And Ravonjiarison is well placed to understand the landscape, the soils and their impact on agriculture with early training in geography and a shift to agriculture for her PhD.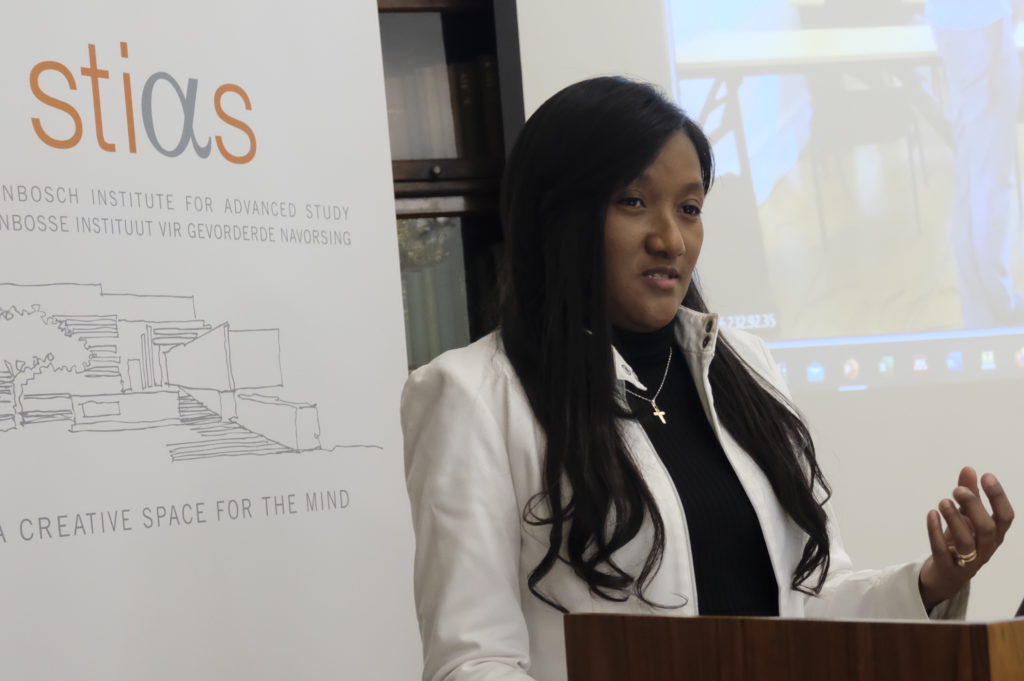 Madagascar is an island 400 km off the coast of East Africa. It contains sub-arid, dry, humid and sub-humid climate zones and boasts huge diversity with 80% endemic species. But it remains amongst the poorest countries in the world in terms of socio-economic development. Only 15% of the land is arable and only 30% of that is exploited. There are 2.4 million small family farmers, the average area farmed is 0.8 to 1.2 hectares with farms passed from generation to generation. Subsistence crops include rice, cassava and potatoes of which 55% is consumed while more commercial crops include groundnuts and sugar cane of which 40% is also consumed. There is limited mechanisation and use of fertiliser and other technological inputs – manual labour remains the norm.
The traditional slash-and-burn method is still widely practiced which reinforces land destruction and poverty. Challenges include declining soil fertility, soil erosion, land pressure, climate change, low productivity and insecurity.
Unexpected outcomes
Ravonjiarison explained that although there are a large number of agricultural development programmes led by the government, non-governmental organisations, research programmes and foreign funders the impact is not always as expected. She highlighted one programme which looked at the dissemination of ecological practices based on conservation agriculture, included 3000 hectares and 2500 farmers, and was managed through extension workers. "After 10 years adoption of the interventions was limited to only 419 hectares and 600 farmers," she said according to the study of Penot et al., in 2011. "Limits to adoption are the immediate need for high production for subsistence. New technology takes time to produce tangible results and is often difficult to master once the technician leaves. They can't adjust the technology to real conditions and go back to traditional methods."
"Many projects fail due to a lack of consideration of local knowledge," she said.
Ravonjiarison's project therefore aims to take account of local knowledge as a tool for sustainable agricultural systems in Madagascar. The methodology is based on semi-directive surveys on 400 farmers and on taking soil samples for chemical analyses (granulometric analyses, soil carbon, nitrogen and phosphorus content).
The objectives are to describe farmers' soil knowledge in order to compare with the existing international classification; to study local knowledge on soil fertility and to compare it with scientific concepts; and, to analyse farmer practices to improve soil fertility. The results will serve as a guide to facilitate communication, establish a common language and strengthen the interaction between farmers, extension workers, researchers and other stakeholders, and will be linked with scientific knowledge to produce innovative and sustainable agricultural practices that are suitable for farmers and valid for scientists.
"It's hoped that the innovative practices designed can offer a real trade-off between socio-economic (increased yields, easy and practical techniques) and environmental benefits (improvement of the soil carbon footprint) for real sustainable agriculture practices that are easy to adopt for Malagasy farmers," said Ravonjiarison.
"Local and community knowledge is important because it offers practical, site-specific information, can create consensus capital and hopefully lead to practices that make sense, are sustainable and adapted to local realities. It's the farmers who understand the daily life of the soil."
The project thus far has been conducted in the Lake Alaotra region with the objective of defining the different soil types, describing the local soil map and identifying the soil. "The study revealed that farmers in Alaotra Lake have a profound knowledge of their soils and are able to draw up local soil classifications," said Ravonjiarison. "For the five communes of investigation, results show that there are two different soil classifications and 12 and nine local soil types were identified in the south and north, respectively. Topography and geographical position played an important role in those typologies."
And the important aspect is the agreement in the categorisation between the farmers and the scientists who work according to international categorisation systems.
The local knowledge therefore gives reliable data and is less costly than expensive testing.
Ravonjiarison now hopes to expand the project into different areas of the country and, in particular, to collect information across the four climate zones. But this is only part of the study which also looks at methods to improve the soil through use of organic fertiliser, crop rotation, as well as fallowing. She pointed out that although farmers know how to use these methods they often do not have the means to employ them systematically.
"There is an urgent need to integrate academic and non-academic knowledge to build on the symmetries and develop shared theories," she said. "This can lead to sustainable soil management that is socially acceptable, ecologically sustainable and economically viable."
"I see this work as somewhere in the middle – trying to find consensus between farmers and scientists. Once you have collected data and local knowledge, you have to look at innovative practices that are acceptable to both farmers and scientists. Projects have failed due to a lack of cooperation. Local knowledge is seen as marginal. I'm trying to take it seriously, document it and do something with the knowledge. I believe the research can facilitate communication between farmers and scientists to increase the probability that future projects will meet community needs."
Michelle Galloway: Part-time media officer at STIAS
Photograph: Noloyiso Mtembu