"What can trout tell us about living with colonial legacies, human-induced environmental change, and Anthropocene landscapes?" asked Knut G. Nustad of the Department of Social Anthropology at the University of Oslo, Norway. "In this seminar I will present the Global Trout project, a collaborative and interdisciplinary project that draws on anthropology, biology and the humanities to study legacies of colonial trout introductions. The South Africa part of the project uses trout histories to intervene in debates about domestication/wildness, conservation/aliens, science/coloniality and properties/property."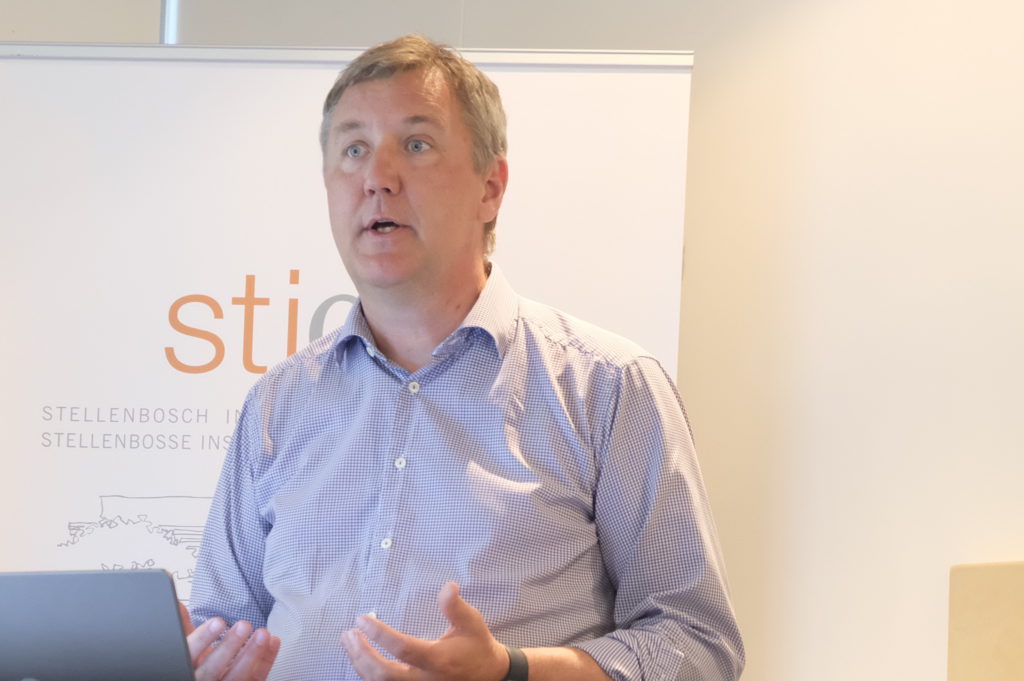 "Trout are an interesting case," he continued. "They only exist naturally in Northern Europe and the West Coast of the USA, however, between 1860 and 1900 they moved all over the world following the path of British imperialism. This had massive global impact. The introduction of trout altered nutritional regimes in rivers, informed property regimes, influenced property claims and complicated environmental management but what happened in different places is not the same. You need both the social and natural sciences to explain this complex story."
And this is what the project will do by bringing together a diverse, international group (including another STIAS fellow Duncan Brown of the Faculty of Arts at the University of the Western Cape) to look at very different case studies from the United Kingdom, Japan, Argentina and South Africa.
Nustad's interest and involvement in South Africa started in the mid-1990s when he did his PhD fieldwork at Cato Manor in KwaZulu-Natal looking at development initiatives following the first democratic election. "I had a strong activist streak and wanted to make a contribution. I spent 18 months talking to community leaders, following how they negotiated bringing development to this urban township. It was a complicated process with development often seen as a continuation of colonisation but they used the contradictions built into development projects to turn them to their advantage. I became interested in how policy is transformed as it is implemented on the ground." This was followed by work aimed at understanding conflicts between land-restitution and conservation which made Nustad more aware of the complicated problems of conservation and the "many natures created by different political processes".
This drew him into trying to understand how anthropology can relate to and be used to study environmental questions leading to ongoing interest in what he describes as political and environmental anthropology
"Anthropologists look at the nitty gritty compared to the generalisation of other disciplines, which sometimes makes it harder to grasp the bigger picture. I'm interested in understanding how to use a field-based science to study global ecological processes."
And why trout? "They embody a comprehensive history and natural processes that defy simple categorisation," explained Nustad.  "They demonstrate the complexity and specificity of terms like wilderness, conservation, aliens and Anthropocene."
"It's a colonial fish that has been caught up in debates about decolonisation and nature. They are labelled as invasive, but are under threat due to climate change, and they are romanticised as wild things and part of a sporting ethos, but raised in hatcheries."
The project, which will result in a book, aims to understand the history to explain the present as well as to open up discussions on wilderness and domestication, conservation and aliens, science, coloniality and decolonisation.
Nustad explained some of the complicated history surrounding the introduction of trout into South Africa commencing with a bill encouraging their introduction by the government of the Cape Colony in 1867. Initial attempts to ship trout eggs to South Africa were unsuccessful leading to detailed practical arrangements including refrigeration, the development of dams and railway lines, until the first rivers were successfully stocked in 1890 and the business of trout became self-sustaining with the development of hatcheries. "The Natal Parks Board (now Ezemvelo KZN Wildlife), for example, put serious money and time into trout management," said Nustad. "At one stage all its directors were active fly fishermen."
"It was seen as 'fixing' the rivers, stocking useful fish in 'virgin' rivers and making the colonial landscape 'home' for the English. They introduced trout to create a valuable resource but it was much more – about appropriation and domestication of landscapes. Fishing regulations made trout exclusively for white people, rivers were restricted, and communities lost access for other uses."
Ongoing trout wars
And much of this has continued to the present.
"The physical characteristics of water initially sparked alliances between settlers and the colonial state to promote the introduction of trout, but since the 1990s, have amplified conflicts over trout management between white landowners and the post-Apartheid government."
Nustad explained that from the late 1980s the Cape Department of Nature and Environmental Conservation removed legal protection for trout, and later placed trout production under legislative control.
The trout industry, mostly privately owned hatcheries that produce trout for food, stocking rivers and fly fishing tourism, see regulation as an attempt to control the economy by placing a natural, biological resource under state control. "The new licencing regime is therefore seen as an attempt by government to control and attack private property within the context of land expropriation without compensation."
"Where most introduced species are difficult to control, trout can be nearly eliminated by legislative efforts, due to the specificities of the region's waters, which limit trout spawning and make them dependent on hatchery reproduction."
On the conservation side the arguments are also complex with trout being seen as invasive and detrimental to indigenous insect and spider species and to rivers, but at the same time seen as an indication of healthy water systems because they need cold, unpolluted waters.
"I believe that paying attention to water properties that affect trout spawning can shed new light on contemporary property debates in South Africa." said Nustad.
"The government attempt to control trout is shaped by a history where water, state and property claims are fundamentally interwoven," he added.
Understanding both the natural properties of water and fish and the social properties of politics and history are necessary to understand the struggle. "Environmental anthropology is necessary to tackle a problem that is both local and global as well as natural and social," said Nustad.
"The project aims to move beyond critique and look for solutions, and to develop new methods based on conversations between anthropologists and biologists, getting the different disciplines to talk to one another."
Michelle Galloway: Part-time media officer at STIAS
Photograph: Noloyiso Mtembu