Closely following the Nobel in Africa launch and inaugural Nobel Symposium at STIAS, Nobel Laureate Abdulrazak Gurnah, the first Tanzanian and fifth African to win the Nobel Prize for Literature returned to STIAS to present the annual Academy of Science of South Africa (ASSAf) humanities lecture on 3 November 2022 in partnership with STIAS.
"Gurnah's work – a body of work I've come to know and love – is not devoted to certainty but to questioning and self-questioning. In a time in which the violence of monologue is being amplified by social media, the novel is a particular form of narrative knowing that is not devoted to monologue but dialogue – a recognition of the other and a new recognition of self. Gurnah's work embodies a form of dialogue to liberate the self and others – a dialogue that changes the self and the reader," said John Higgins of the Department of English Literary Studies at the University of Cape Town in his introduction. Higgins is a member of ASSAf and was a fellow of STIAS in 2011.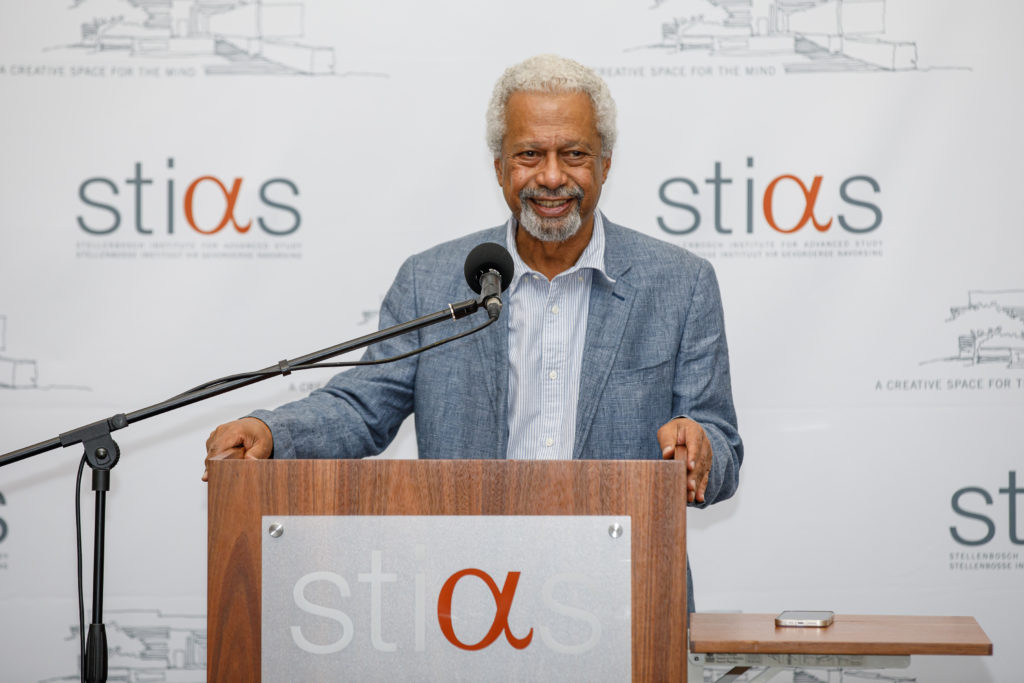 Abdulrazak Gurnah is the winner of the Nobel Prize in Literature 2021. He is the author of ten novels: Memory of Departure, Pilgrims Way, Dottie, Paradise (shortlisted for the Booker Prize and Whitbread Award), Admiring Silence, By the Sea (longlisted for the Booker Prize and shortlisted for the Los Angeles Times Book Award), Desertion (shortlisted for the Commonwealth Writers' Prize) The Last Gift, Gravel Heart, and Afterlives, which was shortlisted for the Orwell Prize for Fiction 2021 and longlisted for the Walter Scott Prize. He was Professor of English at the University of Kent from where he retired in 2017. In 2018 he was Artist-in-Residence at STIAS where he began work on AfterLives. Read our interview with Gurnah at: https://stias.ac.za/news-and-events/newsletters/
"Gurnah is a chronicler of the Tanzanian Coast," said Jonathan Jansen, Distinguished Professor of Education at the University of Stellenbosch and current President of ASSAf. "A novelist of migration and the afterlives of colonial rule. This talk could not have come at a better time."
Rereading
Gurnah crafted his lecture around the concept of rereading – an activity brought to the fore in his own life when the reality of retiring meant the need to empty an office and to decide what to do with 20 boxes of books.
"How to decide what to keep. I had to ask myself what would I be likely to reread and what would I regret losing," said Gurnah. "It made me think about what we look for when we decide to reread."
"I think we reread because it has receded in our memory, we can't remember the ending, or the memory was pleasurable and we want to repeat it," he continued. "For some I quickly remembered why I had put them down in the first place. For others – like all of Dickens – I realised I was too ambitious."
Beyond the practicalities, however, the exercise made him reflect more deeply on how and why some literary texts are (too quickly) neglected, become obsolete, go out of print, and disappear from the conversation. Is this because the moment of their impact has changed or circumstances have forced other issues into the foreground. And can such texts be revived by rereading?
One of the writers who came to the forefront of his thinking and rereading is Peter Abrahams. Abrahams (1919 – 2017) was a South African-born novelist, journalist and political commentator whose work dealt with political and social issues, especially South Africa's brutal racial and apartheid history. His books include Mine Boy, Tell Freedom (his memoir), The Path of Thunder, A Wreath for Udomo and A Night of Their Own.
"I remembered I had read the first of his books as a teenager," said Gurnah. "But I couldn't find him. There was nothing online, only copies at inflated prices in second-hand book shops."
This highlighted for Gurnah the relative obscurity and lack of sustained scholarship about Abrahams' work.
Highlighting some of Abrahams' own story of a multi-ethnic and multi-religious upbringing, the loss of his father at the age of five and being passed from family member to family member due to economic hardship, Gurnah pointed out that Abrahams' writing deals very personally with loss, tragedy, lack of connectivity and belonging, and injustice.
He described Abrahams' work as detailing the daily realities of people downgraded by a brutal system yet still managing a message of reconciliation – "overwhelmed by the injustice of his and other lives, but still optimistic, they are books filled with poignant moments of happiness. And not work that deserves to be neglected."
Commenting more broadly on the need to work to foster a reading culture in a world dominated by the online, he said: "We have to constantly remind each other, tell each other about new works, about things we should pay more attention to, listen to each other."
And talking about South Africa, he said:  "South Africa is a lot better than so many other places where you can't argue and share ideas. It's a place where people are talking, where something is going on, where we are not forced into silence.  I started Afterlives here – maybe I will come back for the next one."
Prominent South African academic, researcher, author and poet Dr Devarakshanam (Betty) Govinden ended the lecture by reading a poem she had written for Gurnah and saying: "Gurnah is a traveller through colonial history, a trenchant scholar of the imagination all in service of humanity. He has a gentle and robust intellectual mind. His work is underlined by hope and constantly reminds us to hope."
Michelle Galloway: Part-time media officer at STIAS
Photograph: Ignus Dreyer