Beyond the whitestream gaze on racism and wellbeing
"From #RhodesMustFall to #BlackLivesMatter, an important component of intersectional anti-racist protest movements has been concerns about epistemic injustice and the corresponding need to decolonise and depatriarchalise knowledge institutions. Typical accounts of epistemic injustice focus on underrepresentation in knowledge-production processes (epistemic exclusion) or imposition of Eurocentric models without regard to cultural-historical context (intellectual imperialism). We draw upon an Africa-centring standpoint and perspectives of decolonial theory to illuminate another manifestation of epistemic injustice that is particularly important in psychology and related disciplines: the coloniality of the modern individualist lifeways that increasingly inform both descriptive and prescriptive standards for everyday life in the modern global order."
With this introduction, presenters Kopano Ratele and Glenn Adams set the stage for the third STIAS public lecture of 2023.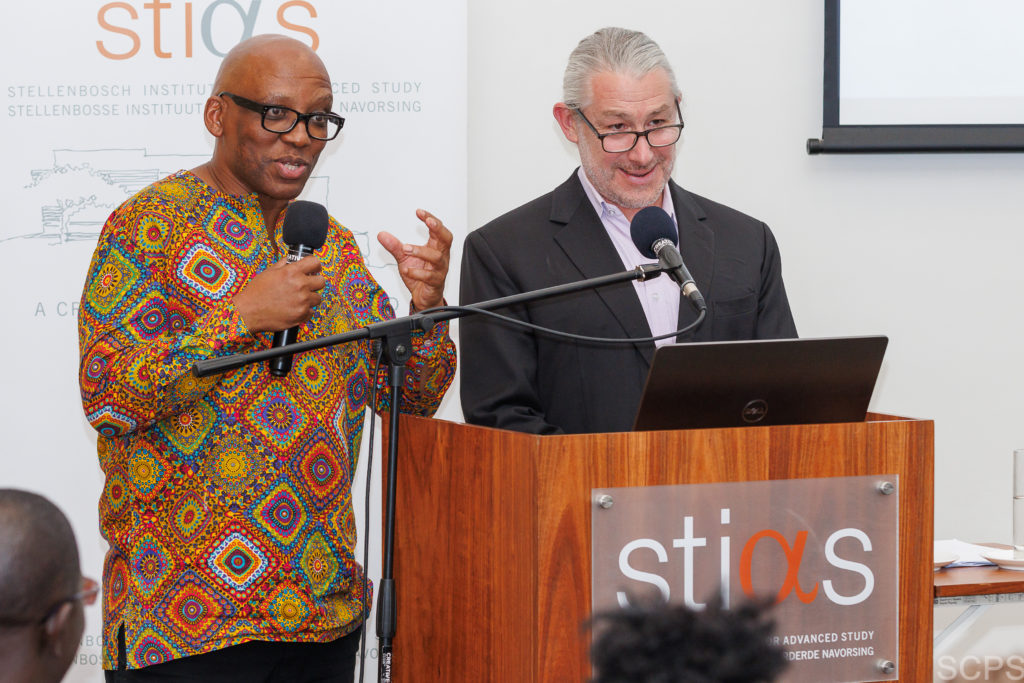 Ratele is professor of psychology at Stellenbosch University and head of the Stellenbosch Centre for Critical and Creative Thought. He teaches on African psychology and decolonial/critical social psychology. His recent books include Why Men Hurt Women & Other Reflections on Love, Violence and Masculinity (2022) and The World Looks Like This From Here: Thoughts on African Psychology (2019). He has a regular fatherhood feature on SAFM's The Meeting Point with Koketso Sachane.
Adams is professor of psychology at the University of Kansas. He is director of the Cultural Psychology Research Group and Interim Director of the Kansas African Studies Center.
Together and separately, Ratele and Adams are part of decolonial, cultural, anti-racist, or Africa(n)-centering psychology collectives located across the world. Among these are the READSURA Collective, with whom they recently co-edited three special issues and authored four feature articles that apply decolonial approaches to the production of knowledge in psychology.
Ratele started by pointing to the pioneering work of Chabani Manganyi – clinical psychologist, writer and theorist. Manganyi's seminal publication Being Black in the World was published in 1973. His memoir Apartheid and the Making of a Black Psychologist was completed at STIAS and he was also a member of the STIAS Effects of Race long-term project.
"In South Africa, his 1973 publication was the first book on the psychology of the black experience," said Ratele.
"We have been reading human experience through a Western psychology lens," he explained. "African-centring psychology is not a psychology about or of Africans but about a world with Africans at the centre. It's about psychology from, not merely a psychology in an African setting.'
Ratele explains that Africa(n)-centring psychology undoes and rethinks psychology, continuing the work Manganyi and others started – "toward a more situated, less extractive, anti-colonial, less Western, more globalised, less extraverted, and decolonised psychology."
Ratele and Adams explained that rather than turn a whitestream theoretical lens to the study of an African object, an Africa(n)-centring psychology considers what the world looks like from here, taking African experience as a foundation for re-thinking whitestream theory-in-general. (The world looks like this from here is the title of Ratele's 2019 book.) It also considers one of the most important insights of an Africa-centring psychology: an appreciation for the coloniality of modernity.
"Decolonial perspectives emphasise that Eurocentric modernity and its associated individualist lifeways are not the leading edge of progress on a march to liberation and justice, but instead are both a product and source of racial violence in service of white futurity," said Adams.
"Psychology emerged from a particular context – Western, Educated, Industrialised, Rich and [purportedly] Democratic – in a word, WEIRD," he continued. "It typically regards African settings as peripheral sites for exotic investigations on the fringes of whitestream research agendas."
"Psychology is a leading player in the coloniality of knowledge – leading to epistemic exclusion, intellectual imperialism, unnecessarily pathologising forms of explanation, and the imposition of WEIRD patterns as universal standards for what is normal or natural," he added.
"Coloniality is built into the structure of everyday life."
Racism
In the second half of their presentation, Ratele and Adams considered implications of this work for understandings of racism and wellbeing. They pointed out that typical understandings tend to psychologise racism, approaching it as prejudice or other manifestations of individual bias. A decolonial Africa-centring psychology instead illuminates the materialisation of racist ideology via the coloniality of knowledge and (well)being.
"Racism is embedded in the system of ideas and in social structures. Race as ideology is perpetuated through social structures. It has a long global pedigree – embedded in disciplines and structures," said Ratele.
He pointed out that research has shown that the view of race as an individual bias is more pronounced among white respondents while black respondents see it as systemic and institutional.
"This domination of an emphasis on individual understanding and choice is no accident," he explained. "It serves the interests of the white respondents, tames racism and denies its definitive role as an ideological structure. It also permits insulation – depicting racism as a problem of a few bad apples."
Emphasising their structural character, Ratele said that racism and coloniality are not skeletons in the closet of a distant past but persist in the modern colonial period. "Racism is in everyday worlds, not in brains and personality traits. It exists in a dynamic relationship with racial structures that laud white European domination."  He added, "Coloniality and racism are in the air we breath. It's hard to get other air."
Perhaps the most insidious form of racism is what Ratele referred to as white normativity or the naturalisation of whiteness. "Psychological science and modern society more generally celebrate white ways of being—especially modern individualist lifeways—that emerge from a context of racial and colonial violence, but now masquerade as universal standards for liberation and progress. This whitewashes or launders modern individualism, helps to abstract these ways of being from their racist and colonial history."
Wellbeing
Adams and Ratele believe that the view from African standpoints provide a foundation for understanding how that dominant models of wellbeing are not the just-natural expression of human nature, but instead may depend on levels of affluence sustained through colonial plunder. Although the self-expansive personal growth associated with these lifeways can promote optimal individual experience for a well-situated few, they may do so at the expense of a viable existence sustainable at the level of humanity in general. An Africa(n)-centring approach holds potential to illuminate sustainability-oriented models of (well)being as a more solid prescription for viable collective existence in our shared-planet reality of global interdependence.
Highlighting different conceptions of wellbeing, Adams focused on three investigations in collaboration with Ghanaian colleagues including one that they reported in the International Journal of Wellbeing (DOI: https://doi.org/10.5502/ijw.v12i4.2123). The investigation used situation-sampling methods in which participants described situations that increased and decreased their wellbeing. Responses from a community sample emphasised sustainability-oriented themes of materiality (support, economic hardship) and peace of mind (presence or absence of worry or strife), while responses from a sample of university students emphasised personal fulfillment themes including growth, meaning and happiness.
A follow-up study compared anticipated changes in wellbeing across samples from Ghanaian and US contexts in response to 96 different situations. Results indicated that ratings of peace of mind and social validation were stronger predictors of anticipated changes in well-being for respondents in Ghanaian settings than US settings, but happiness ratings were a stronger predictor for US respondents than Ghanaian respondents.
"This kind of work emphasises again our need to rethink the benefits and costs of modern individual mentalities," said Adams.
"Right now the theoretical background remains Western. The theory-practice divide battle is one we live with," said Ratele. "The existing academic structures don't necessarily want to move in terms of curriculum and theories. The work involves collaborating across disciplines, between the academic knowledge and knowledges outside generated outside the academy, across North-South divisions, South-South divisions, and among individuals."
"The project of centring Africa is not about discovery and elaboration of essentially African patterns, but looking at reality from African standpoints and building a psychology from those," Adams added. "This work is about turning away from a psychology based on triumphalist narratives of a glorious past and bright future, told from the perspective of a dominant white minority, toward an understanding of the present and imagination of the future rooted in the experience of the marginalised majority of humanity."
Ratele and Adams are working on a book project on decolonial psychology during their fellowship at STIAS.
Michelle Galloway: Part-time media officer at STIAS
Photograph: Ignus Dreyer