The increasing, almost daily, occurrence of extreme weather events ranging from heat waves and wild fires to floods, cyclones and storms make the effects of climate change ever more obvious and visible.  But what about the impacts we can't see? The changes – positive and negative – happening around us at the microscopic level?  And how might these affect humans and the environment going forward?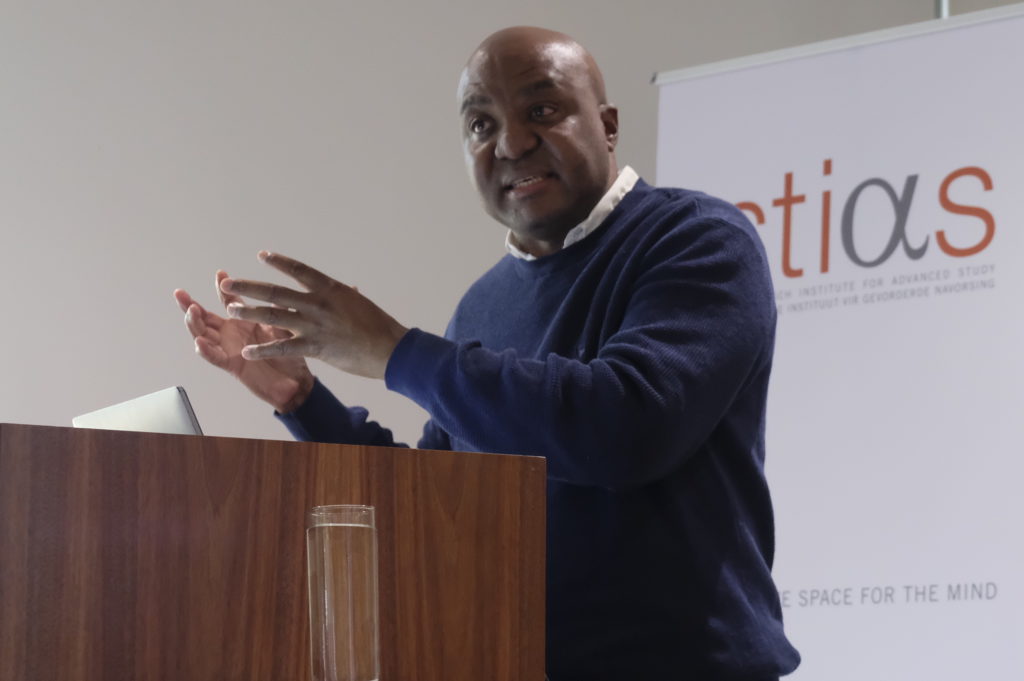 "We have to think like a plant. Plants are able to do things in service of the environment. We mustn't underestimate them. They are very intelligent," said Edwin Madala, Associate Professor in the Department of Biochemistry and Microbiology at the University of Venda and Iso Lomso fellow currently in his third residence at STIAS.
Madala is passionately interested in understanding how plants adapt to environmental changes, what we can learn from these processes, and how these changes will affect the properties of plants in the future.
"We rely on plants for many uses ranging from food, to cosmetic to medicinal," he said. "Humans have exploited plants from time immemorial."
"Plants can't run away from environmental stressors like sun and temperature or from pathogens so they have to deal with them by producing secondary chemicals to defend themselves," he continued. "Due to climate change, plants are now experiencing increased heat and UV light, and need to find ways to survive these changes."
New techniques
Madala and his colleagues at the University of Venda have developed techniques to look into the effect of increased UV light due to climate change in plants using liquid chromatography mass spectrometry (LC-MS).
He explained that plants produce a range of metabolites with different pharmacological activities, many of which have yet to be fully explored. The bioactivities of plants depend on the composition of these metabolites. The plant's enzymatic processes play a crucial role in introducing various chemical modifications, resulting in complex metabolomes. Isomerisation is one such modification that leads to the formation of isobaric molecules with minor differences in their physical-chemical properties, but significant variations in their bioactivities.
"Geometrical isomers in plants were not traditionally observable – but new techniques allow us to visualise something we wouldn't have seen 10 years ago," said Madala. "We are the first group to develop techniques to distinguish between geometrical isomers."
To mimic what's happening in nature, the group uses a non-enzymatic method to enhance the metabolite composition of plants by inducing geometrical isomerisation through light exposure in a laboratory setting. "Geometrical isomerisation in plants involves the formation of cis isomers from their naturally occurring trans counterparts, leading to noticeable changes in hydrophobicity during LC-MS analyses of plant extracts," said Madala. "To analyse these changes, we utilise computational metabolomics tools with LC-MS data, revealing that the newly formed isomers resulting from light exposure can be distinguished from the natural isomers. Distinctions difficult to see by visual inspections only."
These different configurations can affect the properties of plants including flavours and fragrances, and medicinal properties where these exist.
"The plants are essentially creating different molecules with different functions."
They have looked at several plant species including mistletoe (Viscum combreticola) a semi-parasitic plant that grows on the canopies of other plants in southern Africa, which means it's exposed to even more sunlight than most.
"Some plants are more exposed than others," explained Madala. "Mistletoe grows on the canopies of other plants and therefore has no shade. It's very interesting. These plants arealways green and provide a great model. We have found clear evidence that the chemistry is undergoing change and that new molecular compounds are being created."
As part of his fellowship, Madala visited Professor Nikolai Kuhnert of the Department of Life Sciences & Chemistry at Jacobs University Bremen in Germany where he learnt other skills on mass spectrometry technique giving him the opportunity to compare the European and African mistletoes upon his return to South Africa. He found that the African mistletoe is more chemically complex and contains chemicals that enable it to deal with high, intense light episodes which are synonymous with African climates and, as such, further strengthening the evidence of the role of UV light in maximising the chemistry thereof.
"We have found that even seedlings produce these diverse chemistries which undergo geometrical changes upon UV exposure," he added. "Also, excessive sunlight episodes associated with climate change have caused these newly formed isomers to become a consistent component in naturally growing plants."
New structures = new activities
Using a modelling approach – network pharmacology – which is used in drug discovery to identify targets and induce responses – they have also found that these newly formed isomers demonstrate their own biological activity and are able to act synergistically with their natural counterparts against some pathophysiological conditions associated with chronic ailments in humans.
"We have found they have their own targets – some of which are linked to chronic diseases like hypertension and diabetes. So, this could form the basis for the next generation of targets for diabetic medications, for example, to get more efficient drugs in future."
They are also looking at interactions with viruses like HIV.
Madala also explained that through a collaboration with his colleagues, in particular Professor Murulana from the Chemistry Department, University of Venda, they have found that these isomers have profound industrial applications as potent corrosion inhibitors. "Corrosion inhibitors are a big industry," he said. "Anything that is constructed using steel requires corrosion inhibitors but most synthetic inhibitors can also have a detrimental effect on the environment – leaking into water and affecting marine life. It's possible that isomers can be used as corrosion inhibitors but more information and research is needed to validate their durability."
But Madala strongly emphasised that none of this work would be possible – especially at a low-resourced institution like the University of Venda – without extensive, pioneering collaboration (and access to expensive equipment) with researchers and laboratories at other South African institutions (including STIAS and Stellenbosch University) and institutions in the US, UK and Germany.
And the work is gaining increasing international attention with forthcoming publications in high-profile journals. The group is also one of only two African universities (together with the University of Johannesburg) involved in a new library of microbes – the MicrobeMASST database developed by the University of California (San Diego) which currently boasts over 60 000 microbial metabolites. "It's a search tool for bacterial and fungal metabolites which can tell you which microbe you are working on through mass spectrometry data."
Michelle Galloway: Part-time media officer at STIAS
Photograph: Noloyiso Mtembu