"Horrifying images of rickety, overloaded boats sinking in the Mediterranean and around the Canaries have come to dominate many people's perception of African migration today. While appalling, they present only one aspect of the continent's (and region's) varied mobility experiences, and in a distorted and misleading way at that," said Patrick Ireland of the Department of Social Sciences, Illinois Institute of Technology. "To help paint a more accurate and complete picture, my STIAS project entails analysing the presence and impacts of migrants from West African countries in three cities closely associated with 'boat migration': Dakar, Tangier and Barcelona."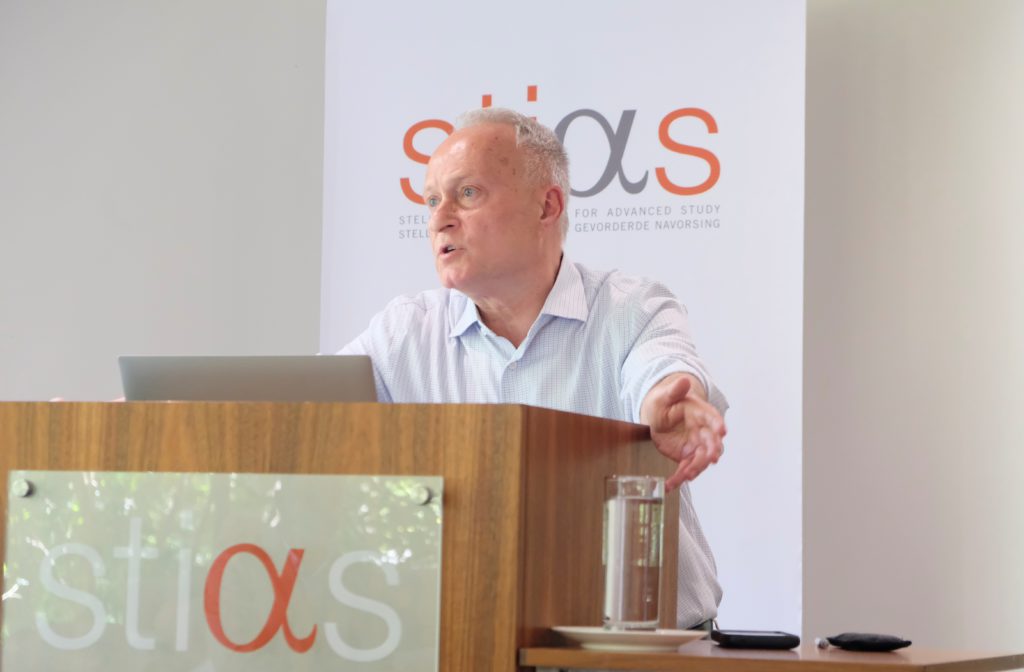 "It is a desperate situation but reading it as only desperate is problematic," he added. "There's a problem with the images of desperate people fleeing hell and of African migrants as pitiable, charity objects. This idea has been pushed too far in the literature."
"We know migration is a function of development not poverty," he explained. "People need resources to migrate. It's usually a process of self-selection when upward mobility is blocked. The very poor don't migrate. It's about aspirations and capabilities, and who is able to migrate."
He also pointed to the fighting words associated with the issue – "I've been at many conferences where you never get past the words".
Ireland has been studying migration since the 1980s. He traces his interest to his own upbringing in West Michigan in an area settled by migrants from The Netherlands in the 1830s who had fled changes in the Dutch Reformed Church. "They were a conservative, monolithic population – the only people who came to the US fleeing tolerance," he laughed. "By the 1950s there were also many Mexican farmworkers in the fruit and vegetable farming areas. This diversity proved to be both positive and negative. All these years later I'm studying the same stuff I became interested in at 12."
As a political scientist he is interested in looking at patterns and finding order in chaos with a specific interest in settlement and local-level political issues – "or what happens once migrants settle in cities and neighbourhoods".
"I'm interested in political participation – asking how migrants fit in. There is not much research in this, a small number of cases, not all the data are good and there are many variables."
Watershed moments
He highlighted some watershed moments in global migration flows including the start of the nation-state system from the mid-1600s and the artificial borders that were drawn during the colonial period and accepted after decolonisation;  post World War II principles of sovereignty which emphasised that "no one has to take you in"; structural economic change in the 1970s as countries changed from manufacturing to service economies; the triumph of Neoliberalism after the fall of the Soviet Union in the early 1990s; as well as the 2008 Great Recession.
"1973 is particularly important for my work, he said. "It was the end of the economic boom. Most of the migrants who were used to rebuild Europe after the war didn't return home. After the economic crisis in the 1970s, what happened to people who stayed?"
"Also, in a manufacturing economy – workers don't necessarily need to know the language but in a service economy they do. Service economies also tend to have high- and low-level jobs – people in the middle are unemployed or forced into retirement. So, simultaneously you can have high unemployment and a demand for migrant labour."
He described overall trends in migration in this period as including a change in direction "not to but from colonies", increasingly different backgrounds of migrants, as well as more globalisation, politicisation and feminisation leading to more women labour migrants.
Building on earlier work
This study extends Ireland's previous comparative work on urban-level migrant integration in high-income countries.
This included work in the mid-1980s in towns in France and Switzerland, in Germany (Berlin, Bremen, Essen and Nuremberg), Holland and Flanders in the mid-1990s, as well as work in 2011 and 2012 in Barcelona, Chicago, Hamburg, Montreal and Toronto. Migrants in these cities included Africans, Asians and Eastern Europeans. The research included interviews with policy makers, trade-union activists, migrants, organisation and religious leaders, as well as content analysis of newspapers and policy and other documents.
The work pointed to the impact of strong institutions especially social services; the fact that there was less conflict than expected; globalisation was producing socio-economic segregation but not so much ethnic; the existence of different cultures of conviviality; the role of increased suburbanisation; and, also the importance of small improvements to quality of life.
Ireland now turns his detailed focus to three emblematic cities in North Africa and Southern Europe and involves migrants from The Gambia, Guinea-Conakry and Mali in Dakar, Senegal; and Gambians, Conakry-Guineans, Malians and Senegalese in Tangier, Morocco, and Barcelona, Spain.
"My interest is in how the sociopolitical and economic contexts that West African migrants enter shape their lives and livelihoods and, in turn, how they themselves challenge and alter those contexts – raising questions about rights, membership, and lived diversity. My objective is both to inform migration scholarship and to add my voice to those challenging received wisdom about African migrants."
The research is both qualitative and quantitative, includes on-site visits in 2015 and 2022/3 and is being conducted via analysis of available statistics, content analysis of policy and other documents, spatial analysis, non-participant observation and existing local ethnographies to avoid "the standard tragic story for a fee to a white, male researcher or journalist".
The collective features of migrant experiences are compared with respect to destination- and sending-country legal and regulatory regimes, employment, housing, access to key services (especially healthcare), and the creation and transformation of local spaces.
Ireland has found there are similarities but the situation is not identical in the different cities.
Although the slogan Barça mba Barzakh (Barcelona or death) implies huge desperation, Ireland pointed out that many of the migrants to Barcelona are middle-class people with college degrees. He explained that in Tangier nationality definitely matters with the Senegalese migrants in a much better position. Dakar, one of the most expensive African cities, is characterised by lots of migrant movement and development projects aimed at reducing inner-city decongestion. "In sharp contrast to the past, it's also one of the most homophobic places on the planet today," added Ireland.
"The preliminary findings show that in relationally different cities, there have been similarities in economic restructuring and in migrants' active involvement in local politics, foreign policy and economics – neither finding completely as hypothesised."
The research also shows that although the informal sector is key in African cities in particular, it is progressively being pushing out; that there are both neighbourhoods of solidarity and tension; that religious groupings including Muslims, Catholics and Protestants play a major role for migrants; and that there is very clear social class differentiation among them.
Class and race are not things Western researchers always talk about easily or well, so Ireland is also approaching this aspect via a specific focus on location-independent workers who use technology to perform their job (so-called Digital Nomads). "It's difficult to get people to talk about race or class. Using Digital Nomads is a way to explore that. They tend to get better treatment. Slavery was only abolished in Morocco in 1973 and was still found in the Royal Harem in the 1990s. People don't talk about it, but dark-skinned people are treated differently.  Many go to Barcelona because it's less racist than, say, Italy – but it's still there.
"But, overall, in all the cities migrants are an active part of development plans. They don't all fit the pity stereotype but are active, flexible and contributing to city plans."
Michelle Galloway: Part-time media officer at STIAS
Photograph: Noloyiso Mtembu