"It's a topic that is often frowned upon, contested and debated in Malawi. We need to resist and not be afraid to talk about it."
"Practices of dress are shaped by social and cultural norms concerning the 'presentation of self' in everyday interactions, as well as our intimate experience of our bodies, so that dress needs to be understood as what Joanne Entwistle calls 'situated bodily practice'," said Asante Mtenje of the Department of Literary Studies at the University of Malawi. "In Malawi, like in many countries across the world, widespread understandings about gender, sexuality, age and social status converge on the dressed body, weighing much more heavily on women's bodies than on men's. Dress then becomes an important site for understanding how particular notions of gender and sexuality are constructed, negotiated and contested."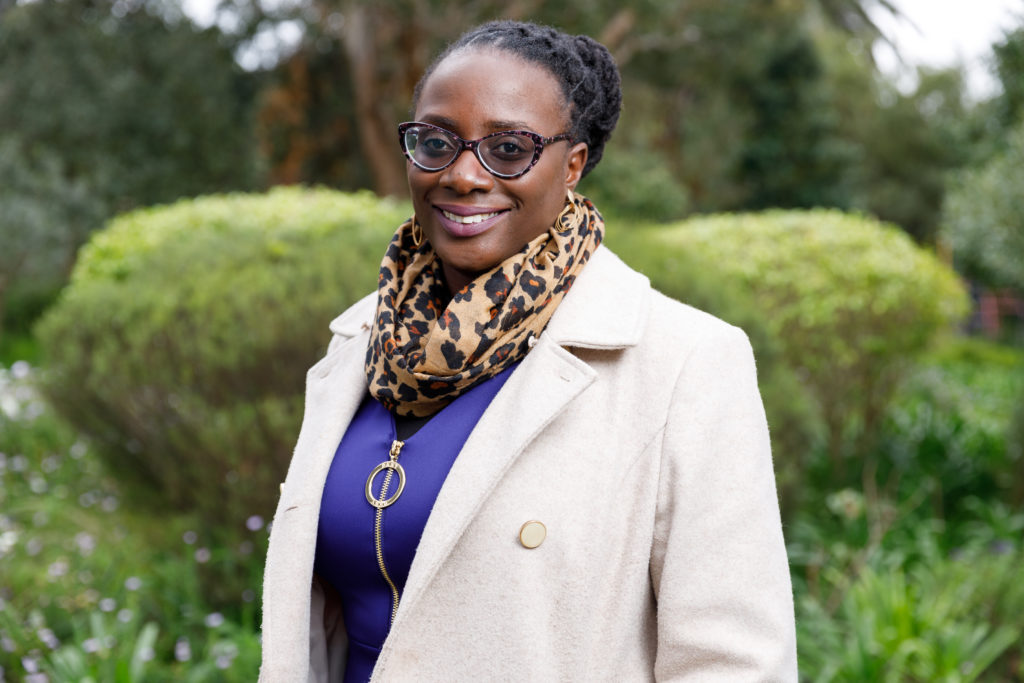 Iso Lomso fellow Mtenje's seminar provided the socio-historical context for a book she is writing on the politics of dress, gender and sexuality in Malawian newspaper cartoons. She focused specifically on three contentious clothing items for women in Malawi: the chitenje (a wrap-around cloth skirt; plural: zitenje), the miniskirt/dress and trousers, as sites for understanding how questions of female propriety and women's place in the nation have been articulated, negotiated and resisted over time in Malawi.
"Women's dress always comes up in discussions on morality and respectability in Malawi," she said.  "Implicit is the control of women's bodies. The chitenje, miniskirt and trousers are the most contested clothing items but the definition changes depending on the context and time."
Mtenje explained that the chitenje is considered a respectable form of dress which is worn at funerals and commemoration events, and also as everyday wear in rural areas. It is a versatile piece of clothing that has many uses among women in Malawi.  "You always carry one with you in case it is needed. It's used to keep everything covered from the waist downwards. But, despite its association with modesty, it also connotates flirting and sexual teasing – sometimes signifying an invitation to sexual encounter between couples, depending on how one wears it." (In South Africa meanings around the kanga played an important role in then-President Jacob Zuma's 2006 rape trial.)
"The body surface is a field for individual and social identification. Clothing mediates the self and society. What is acceptable and how and when certain clothes are worn are sustained by unequal power relations. In both the pre- and post-colonial eras in Malawi, dress has been used to articulate power. But the shifting meanings are not linear neither are they uncontested," she added.
Mtenje pointed out that in pre-colonial times dress in Malawi comprised the use of animal hides, paint, beads and carved bones. Practices differed by region and ethnic group, with married women dressing differently as a marker of status. Increased trade particularly in Malawi with Arabs, Indians and Europeans all influenced dress and the types of cloth available for clothing – "Imported factory-produced clothes were also exchanged for ivory". The influence of missionaries from 1860s was also profound, heralding a change in the meaning of nakedness – "Clothing the naked became the central project for missionaries".
Dress as political weapon
Malawi gained independence in 1964 and Hastings Kamuzu Banda became prime minister and later president for the next 30 years, introducing a period of dictatorship, censorship and human-rights abuses extending right down to clothing.
"Banda used culture to consolidate power and authority," explained Mtenje. "He advocated cultural homogenisation, saw himself as the moral guardian of the people, and specifically focused on prescribing the moral code of the youth in the 1960s/70s. He was convinced the youth were exposed to the moral corruption of the west and dress became a point of debate nationally with miniskirts and trousers considered immoral because they drew attention to the thighs and buttocks – seen as corrupt and a shame to the nation."
Of course, the 1960s and 70s globally were a period of expanding female emancipation as women had greater educational opportunities, access to the contraceptive pill to control childbearing, and became more mobile and economically empowered. Malawi was not alone in trying to counter this with increasing control.
However, Mtenje pointed out that Banda highlighted women as ornaments of national honour and respect. Depicting young women's bodies as an index of nationalism offered the opportunity to exert control on these bodies. In the early 1970s beauty contests and fashion shows were introduced to help to construct ideas of nationalism and preserve culture. These shows were used to encourage pride in traditional dress but were literally used to invent a national dress for women where none had previously existed. There were no similar national dress codes for men. Restrictions were consolidated into law by the Decency in Dress Act of 1973 which made it unlawful for women to wear trousers, shorts, minis or see-through clothing. Men were prohibited from wearing bell-bottom trousers although enforcement of this ban was not as severe as that on women.
"Clothing for women was used to consolidate Banda's power," continued Mtenje. "Banda emphasised the moral integrity of women to advance his political control. Women dressed in zitenje bearing his portraits had to sing his praises and dance at state ceremonial occasions. The women dancing in zitenje, with their sexualised hip and thigh motions, directed at male politicians, depicted a paradoxical message showing a mixture of modesty and explicit sexuality."
"The creation of a Banda-centred oppressive political culture relied on the blending of images and symbols from a variety of forms of popular culture and traditional beliefs," she added.
Although the advent of multi-party democracy and the appointment of the first democratically elected president in 1994 meant that the Decency in Dress Act was repealed and a Constitution protecting women's rights including freedom of dress was introduced, Mtenje explained that although the law changed patriarchal logics still underpin the policing of women's dress in the democratic era.
The spread of HIV/AIDS in the 1990s was linked with women's clothing (in particular miniskirts and trousers) with "dressing indecently, like a prostitute, associated with spreading the virus. Women's dress was thus pathologised."
Women's clothing is still subjected to harassment in public places like markets and taxi ranks. Mtenje pointed to events in January 2012 in which vendors stripped and assaulted women for wearing miniskirts and trousers using discourse reminiscent of the Banda era. This led to marches and a boycott campaign which resulted in the vendors having to issue a public apology.
"It's about controlling women's choices. Women's bodies are a site on which social anxieties are projected," said Mtenje. Citing Nigerian Feminist scholar, Bibi Bakare-Yusuf, Mtenje concluded that because women's bodies are the tropes for articulating such anxieties, they also become the site for their attempted resolution and restitution."
Michelle Galloway: Part-time media officer at STIAS
Photograph: Ignus Dreyer