Please note the new venue for STIAS Public Lectures: Room 1046, ground floor, Van der Sterr Building  (use entrance 1 opposite the CGW Schumann Building).
Professor Abdulrazak Gurnah, Emeritus Professor of English and Postcolonial Literatures at the University of Kent and STIAS fellow will present a talk with the title:
Reading the World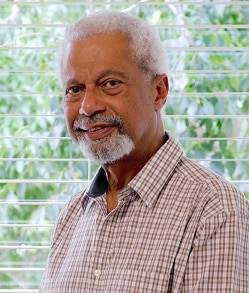 STIAS Fellow Abdulrazak Gurnah

Abstract
One way of conceiving of `world literature` is as an openness in the west towards the literatures of the rest of the world. Such a conception already assumes the centrality of the west and anticipates the world's reciprocal openness towards it. This assumption is evident in configurations which are a legacy of colonialism and does not require an argument to establish it. This discusssion will address the following questions:
Is `world literature` an expression of a crisis in an academic discipline which now desires to open itself up to the `world`?
What is the place of the local in this concern?
What does it mean to speak of `world literature from the global south` and what part does the concept play in the foregoing discussion?
Abdulrazak Gurnah was born in Zanzibar and studied in England. He joined the University of Kent, England as a lecturer in the School of English in 1985 and retired from there in 2017 as a Professor in English and Postcolonial Literatures. His academic publications include two edited volumes of essays Essays in African Writing and The Cambridge Companion to Salman Rushdie as well as several essays in journals and book chapters. He has published nine novels which include Memory of of Departure (1987) which was short-listed for the David Higham Prize, Paradise (1994) which was shortlisted for the Booker Prize, the Whitbread Prize, the Writers Guild Prize and was awarded the ALOA Prize, By the Sea (2001) which was longlisted for the Booker Prize, short-listed for Los Angeles Times Prize and awarded the Témoin du Monde Prize, and Desertion (2005) which was short-listed for the Commonwealth Prize. His latest novel is Gravel Heart (2017). He was on the judging panel for the Booker Prize 2016 and is a member of the Council of the Royal Society for Literature.