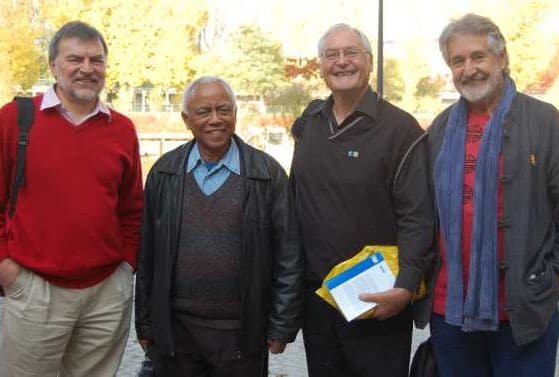 The whole STIAS community was deeply saddened by the news of Neville Alexander's untimely death. He was a prominent and very active Fellow of STIAS. An intellectual par excellence, he also had the wisdom and insight gained from the hard realities of life. He was a fiercely independent and original thinker who could articulate his views clearly and succinctly and who loved a good debate. At the same time, he engaged with others with empathy and a deep humanity that often led to constructive outcomes. His integrity and personal sacrifice for a democratic South Africa made him an iconic figure. In many ways he was an ideal STIAS Fellow.
His own STIAS project on the "optimal relationship between language policy and economic performance with special reference to the Western Cape Province of South Africa" focused on one of his enduring interests and was part of his personal mission to ensure that all languages in South Africa are developed to their full potential. He also contributed to the STIAS project on a "New Humanism", making an impassioned plea for a return to basic values, especially to moderation and restraint. His chapter in the book The Humanist Imperative in South Africa is aptly entitled "Enough is enough — recovering humane values".
When the German Minister for Research and Education invited STIAS in 2009 to present the findings of the project on Historical Memory and Social Transformation in Berlin, Neville Alexander formed part of the STIAS delegation and together with Antjie Krog and Breyten Breytenbach participated in the historic event.
At the time of his passing he was actively engaged in funding-raising initiatives on behalf of STIAS. We shall sorely miss his stimulating presence and invaluable contribution and we honour his unique role in making South Africa a "more humane society". His vision for this society was not that of a "rainbow nation" where the bands of the rainbow remain separated. The metaphor he preferred was that of the Gariep where a multitude of streams from diverse origins flow together to ultimately form a mighty river.
Caption:  Hendrik Geyer, Neville Alexander, Bernard Lategan and Breyten Breytenbach all smiling broadly after a successful conference.