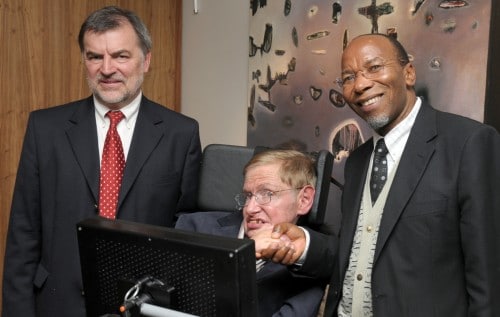 Mr Mosibudi Mangena, South Africa's first Minister of Science and Technology and current STIAS fellow, will be honoured during two ceremonies this week.
On Tuesday 23 April he receives an honorary doctorate from the University of KwaZulu-Natal, Doctor of Science (honoris causa), the (partial) citation of which reads as follows:
"As South Africa's first Minister of Science and Technology, Mangena presided over the formulation of policies and the introduction of initiatives which drove the National Research and Development and Innovation agendas. During his tenure as Minister, Mangena was the driving force behind several initiatives for the promotion of Science and Technology, research and development as well as innovation.
His main achievements during this period include: the development of the South African 10-year Innovation Plan; the development of the National System of Innovation Policy; the establishment of the Technology Innovation Agency; the launch of the South African Space Programme and making the bid for the SKA (Square Kilometre Array); the commissioning of the South African Micro Satellite and the Sumbandile Sat; the launch of the South African Research Chairs Initiative and winning and launching the African component of the International Centre for Genetic Engineering and Biotechnology.
His tenure also saw the expansion of relations between the South African science and technology system and those of other countries.
Mangena chaired the SADC ministers responsible for science and technology, and the continental African Ministers' Council on Science and Technology. He is a prolific writer and has authored four books: On Your Own (1989); A Quest for True Humanity (1996); A Twin World (1996) and My Grandmother is Permanent (2004).
Mangena was the first patron of the Sowetan-Telkom Mathematics and Science Teacher of the Year Awards and the founder Chairperson of the SA Literacy Initiative and Masifundesonke Reading Campaign."
On Freedom Day, 27 April, Mr Mangena will be honoured by President Zuma with The Order of Luthuli (in silver). This National Order recognises South African citizens who have contributed to the struggle for democracy, nation-building, building democracy and human rights, justice and peace as well as for the resolution of conflict. Mosibudi Mangena is cited "For his excellent contribution to the struggle against apartheid and positive contribution to democracy in South Africa through his role in improving education, especially in the critical areas of mathematics and science."
At STIAS Mr Mangena is working on a book publication On our Own in which he "examines South African politics in exile and how that had an impact on the relationship of political parties inside the country."
In May 2008 Mr Mangena was a keynote speaker at the inauguration of the National Institute for Theoretical Physics (NITheP) at the STIAS Wallenberg Research Centre where world renowned theoretical physicist Stephen Hawking also participated in the programme.
In December 2009 Mr Mangena also received an honorary doctorate from the University of Stellenbosch, at the same time that the STIAS benefactor, Dr Peter Wallenberg, was similarly honoured.