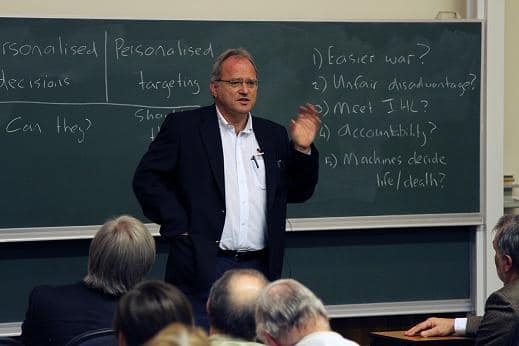 Christof Heyns delivering the STIAS lecture
"Do we really want to live in a world where robots make decisions over life and death?"
​This was the question Christof Heyns, Professor of Human Rights at the University of Pretoria and the United Nations Special Rapporteur on extrajudicial, summary or arbitrary executions, posed and examined on Monday (15 September 2014). Heyns, who is also a board member of the Stellenbosch Institute for Advanced Study (STIAS), was speaking at the fourth STIAS public lecture of 2014.
He focused on autonomous weapons (robots, computers) and their possible use during wars, or by the police in the execution of their duties.
"Once autonomous weapons, such as robots and computers, are activated they can make their own decisions about a target and the use of deadly force," Heyns said.
He argued that this could lead to a greater depersonalisation in the use of force because humans are hardly involved.
"We are on the cusp of a new development regarding decisions to use force as robots and computers will decide who lives and who dies."
Heyns said there is move away from drones to the use of autonomous weapons.
He added that in some circles it is being argued that computers, for example, can take  faster and better decisions than humans.
"Autonomous weapons are also very attractive from a military point of view. It becomes easier to kill people."
However, Heyns pointed out that those who do not have the advantage of such weapons may turn to terrorism to level the playing field.
He is of the view that issues such as the ability of robots and computers to make a value judgment and to act in accordance with international humanitarian law must be addressed before autonomous weapons are being used on a large scale.
Since robots and computers will be able to make their own decisions, Heyns also asked who would be held accountable if innocent people die.
He said finding solutions to these and other issues regarding the use of autonomous weapons remains a challenge.​
Author: Alec Basson
Photographer: Justin Alberts