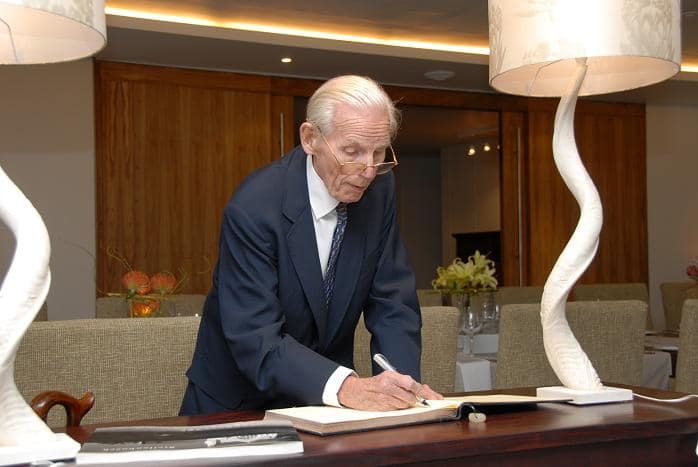 Peter Wallenberg signs the visitors' book in the STIAS Boardroom at the opening of the
Wallenberg Research Centre – 15 November 2007
Peter Wallenberg
29 May 1926 – 19 January 2015
It is with great sadness that we received this morning the news that Dr. Peter Wallenberg (88), the great benefactor and staunch supporter of STIAS, passed away peacefully at his home. More than anybody else he identified with the dream of STIAS and more than anybody he provided the material means to make this dream a reality. The Wallenberg Research Centre at Mostertsdrift will remain a living monument in his honour and the numerous STIAS Fellows he supported during the past decade will remember him with deep gratitude.
A giant of Swedish industry and a leader in the international business scene, Peter Wallenberg had an enduring love for Africa and an intimate relationship with STIAS. He often visited the Institute and became its greatest benefactor. In 2007 Stellenbosch University awarded him an honorary Doctorate.
His vision for STIAS, expressed at the launch of the Wallenberg Research Centre in Novemeber 2007, will remain with us as a lodestar for the future:
"In order for us all to be part of tomorrow's discoveries and breakthroughs, we must invest today in the development of our brightest minds. STIAS is meant to be a beacon of hope in this regard. Despite the challenges Africa is facing, it has great potential to deal with these and find enduring solutions. The grant of the Foundation for STIAS is not only an expression of our belief in this potential, but is also given in the hope that others will support this initiative. We have an obligation to ensure that the search for new knowledge continues and that Africa plays its rightful role in this regard."
Peter Wallenberg was recently succeeded as Chairperson of the Wallenberg Foundations by his son Peter Jr.
We are saddened by the loss of a great visionary and a personal friend.