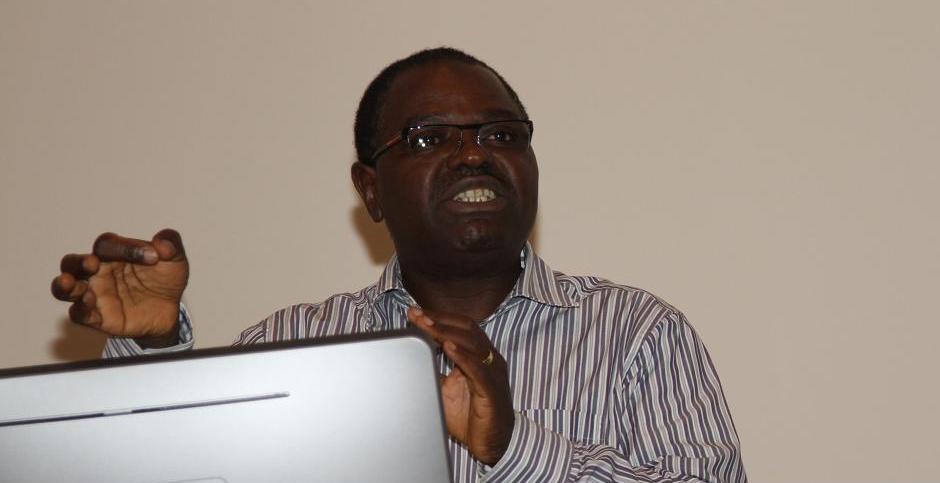 The toppling of the Rhodes statue at the University of Cape Town (UCT) – like its erection in the first instance –was driven by a winner-takes-all logic, and not a need to conduct real conversations about substantive issues, Prof Francis B Nyamnjoh, a fellow of the Stellenbosch Institute for Advanced Study (STIAS), argued on Tuesday (14 April 2015).
He was speaking in the Old Main Building on the Stellenbosch University (SU) campus as part of a series of STIAS public lectures. Nyamnjoh is Professor of Social Anthropology at UCT. The title of his talk was Incompleteness: Frontier Africa and the currency of conviviality.
He said: "Those who wanted to bring down the statue, like Cecil Rhode before them, believed that they can become complete. It is a costly illusion. Once you recognise that completeness is not possible, you can start allowing for what it means to interact as an incomplete person with incomplete others. This is not possible if the logic is that of conquest or the 'winner takes it all'. We need real conversations with humility."
Nyamnjoh argued that ideas of completeness are an extravagant illusion and it therefore makes more sense to speak about incompleteness and to invest in the sort of interdependence that can enhance us to be more efficacious in our actions.
"The idea of completeness leaves us with a sense that one is not comfortable with anything that falls short of total victory."
Nyamnjoh based his talk on his essay with the same title published in the Journal of Asian and African Studies in which he argues for conviviality as a currency for frontier Africans by using a literary example, The Palm-Wine Drinkard, by the late Nigerian writer Amos Tutuola.
This book tells of a skull that sets out to win the hand of a beautiful girl who rejects all suitors. In order to make himself presentable, the skull borrows body parts and pieces of clothing along the way. When the girl sees him, she follows him. On his journey he returns and pays for the loaned body parts along the way. When she realises he is not "the complete gentleman" she thought he was, it is too late for her to turn back. She has to be rescued by the palm wine drinkard, who feels terribly incomplete since the death of his palm wine taper.
The skull represents the quest to become the "complete gentleman", and when Africans are on such a quest to adapt to a Western style zero sum logic, "we lose out", Nyamnjoh argued.
When Tutuola's work, which was initially rejected by Nigerian and British publishers, was eventually published in defective English because it was not edited well, fellow writers and Nigerian intellectuals reacted negatively.
"They did not like his book because it seemed to portray Nigerians and Africans as primitive people who are unable to articulate themselves in English. They were embarrassed because they thought that Tutuola had dragged them back to the supposedly primitive world they were trying to escape. They were very committed to becoming complete, modern-day gentlemen," explained Nyamnjoh.
Nyamnjoh says Africans are "frontier beings", which he defined as people who question institutionalised ideas and practices of being, becoming and belonging.
"Africans are frontier beings when their realities are not steeped in dualisms, binaries and dichotomies and when they are not claiming identities as defined by others. Those imposed by the West.
"They are interested in conversations, not conversions. They find abstract distinctions between nature and culture sterile. They would rather try to understand what cities have in common with towns and villages and bushes and forests, or what interconnections there are between concepts such as 'civilised' and 'primitive', Europe and Africa, the Neolithic and the Bronze Age.
"With frontier Africans everyone and everything is malleable, flexible and 'blendable'."
Nyamnjoh contrasted "completeness" with "conviviality", defining the latter as recognition and provision for the reality of being incomplete.
"If incompleteness is the normal order of things, conviviality invites us to celebrate and preserve incompleteness and mitigate the delusions of grandeur that come with ambitions and claims of completeness.
"It challenges us to be open-minded and open-ended in how we speak and how we identify ourselves. It encourages us to reach out, encounter and explore ways of enhancing or complementing ourselves with the added possibilities of potency brought our way by the incompleteness of others."
Nyamnjoh has published widely on globalisation, citizenship, media and the politics of identity in Africa. He has been chair of the Editorial Board of the South African Human Sciences Research Council (HSRC) Press since January 2011.
STIAS public lectures present an opportunity to academics, researchers and students in the Western Cape, as well as members of the public, to learn more about the work of STIAS fellows and assoaciates.
Author: Stephanie Nieuwoudt
Photo: Justin Alberts