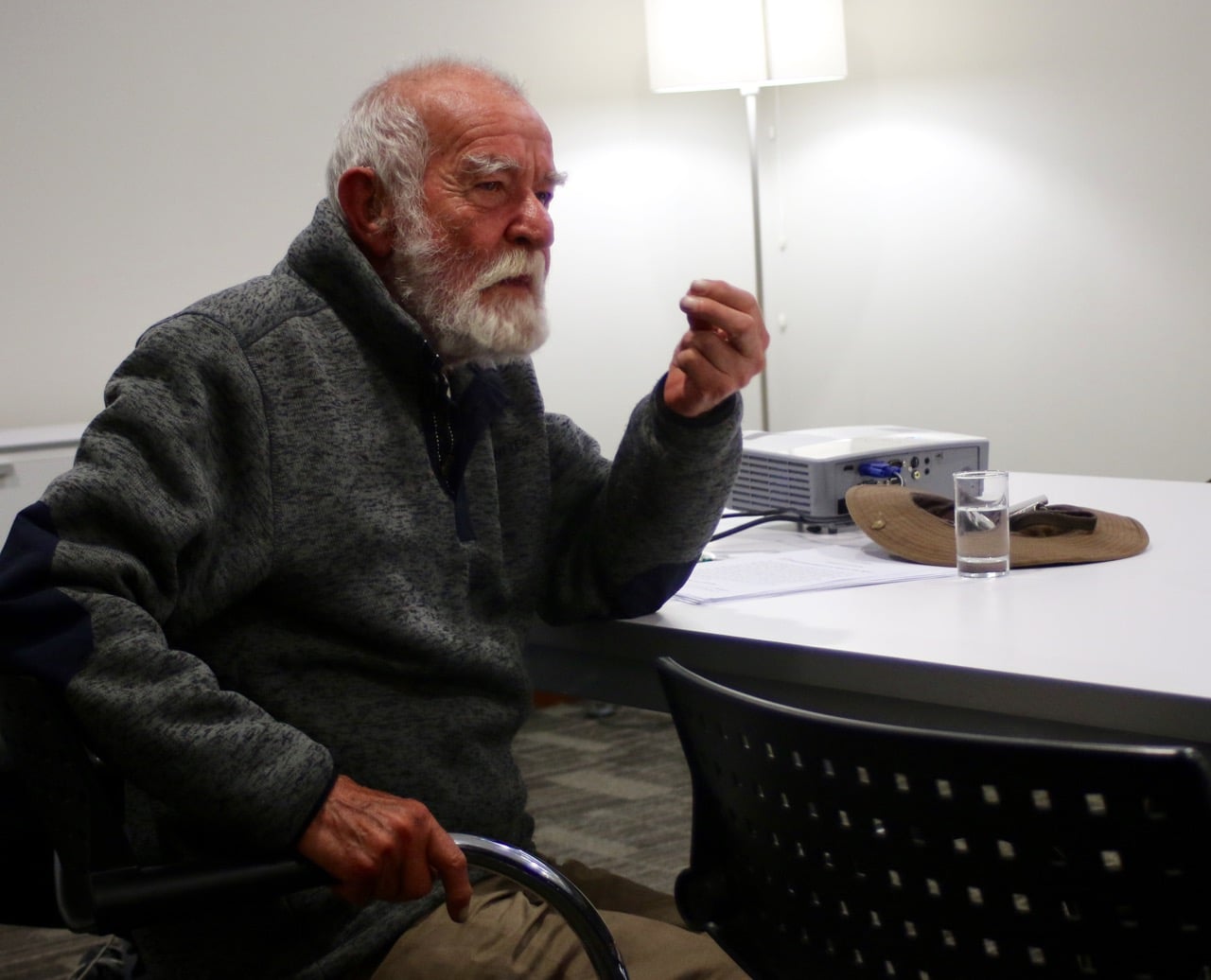 Athol Fugard during his seminar at STIAS
Photo: Christoff Pauw
"At the heart of it all is a face and a human story, never an idea. I only put words to paper if I have a story to tell," said Athol Fugard at a seminar at STIAS in which he reflected on 60 years as a writer and playwright. He is currently in residence at STIAS as one of the handful of  Permanent visiting fellows.
"Every play generates expectations and demands," he continued. "I'm not a political playwright. I'm a storyteller but it's impossible to tell a South African story honestly and with humility, and not have political resonance. We take politics to bed with us, take it to our dreams."
"I simply tell stories about South African people. I go where my unpredictable imagination wants me to go."
Outlining where it all began, Fugard described studying anthropology and philosophy at the University of Cape Town but quietly "wrestling with Satre and falling in love with Camus, Faulkner and Tolstoy – the writer had begun to stir".
"I realised that all I wanted to do was tell stories about people. Camus' courageous pessimism and his exploration of human connection as an act of defiance in particular resonated with my challenge – the predicament of what being a South African was all about."
"While Faulkner made me never hesitate to be as regional and local as the story needed to be."
He also credits his mother, Elizabeth Magdalena Potgieter, as having distilled the power of language into his soul. "What she did with the English language in her mouth – either to hide secrets or at a crucial moment to reveal them. It's why I got in to writing plays." Despite having "scraped tickies and sixpence together to get me to university" she never hesitated when he told her he wanted to write.
He described his first attempt at writing a novel while serving as a seaman on the S. S. Gregor which sailed from Port Sudan. "It ended up in the sea while we were moored in a Fiji lagoon," he said. "Many times since I have wished I had a lagoon at hand."
Now with 35 plays, two novels, a memoir and short stories, as well as countless awards and honours to his name, Fugard described the excitement of his first published and performed play – the Blood Knot. "I had found my voice, my watershed. It was a story set in the nitty gritty specifics of a small corner of the world. But I had told a story that only I could tell, in a way that only I could tell it."
"At that point English theatre in South Africa was largely a pale, anaemic copy of British theatre. The idea that South African stories belonged on a stage was not really known."
Occupying space, time and silence
He describes a play as "a complex time machine, a wind-up toy that scurries around, occupying space, time and silence". Space because there is a physical space to fill – the stage. Time – because "the audience can't stay sitting all night". And silence because "it has to be occupied".
"You can go anywhere you like – with an invitation from the blank page to surprise the reader and the audience."
"But you have to be determined not to be pigeonholed. That can end with the writer just imitating himself," he continued.
Fugard explained his use of notebooks, which date back to the 1960s and have been published, to record and describe incidents and moments from life to which he will return. "We have agreed to meet again in the future. Made an appointment."
"I take my appointment with my notebooks very seriously," he added. But he admits now that he does worry "Do I have enough time and energy left to keep that appointment?"
"Must I say farewell without having told their story? If I run out of time and can't keep that appointment, I will descend into my grave an unhappy man."
[In October 2014 Athol Fugard became the first African recipient of a Praemium Imperiale Award presented to him at a formal ceremony in Tokyo by HIH Prince Hitachi, honorary patron of the Japan Art Association – see Athol Fugard at the 26th Praemium Imperiale awards ceremony.]
Michelle Galloway: Part-time media officer at STIAS