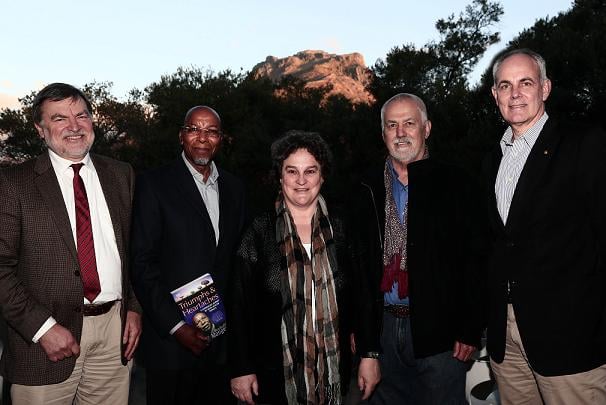 At the STIAS book launch and discussion of Triumphs and Heartaches: Prof. Hendrik Geyer (STIAS Director), Dr Mosibudi Mangena, Prof Marlene van Niekerk, Prof Peter Vale (Chair of the STIAS Academic Advisory Board) and Dr Morné du Plessis (Chair Designate of the STIAS Academic Advisory Board)
Photo credit: Hennie Rudman (SSFD)

"We have to educate – education is the great leveller – educating more people will mean we can tackle the issues of poverty and development," said Dr Mosibudi Mangena at the Stellenbosch launch of his book Triumphs and Heartaches, held at STIAS on 1 September. Dr Mangena is a STIAS fellow and wrote parts of the book during his residency at STIAS in 2013. It is his seventh book.
"We have to work to eradicate poverty and inequality, otherwise we can do nothing," he continued. "And we have to make people believe in themselves. Believe they can change their circumstances."
Dr Mangena was speaking in conversation with Prof. Marlene van Niekerk – author, poet and university professor, recently shortlisted for the Man Booker Prize, who is probably best known for her novels Triomf and Agaat.
"We are backsliding from our initial optimism and have lost a sense of going somewhere, of creating a society we can be proud of," said Dr Mangena. "There will be problems if we don't find solutions. You can't sustain a system that people see as unjust. There is a sense of disrespect for the state and its institutions, and that's a recipe for disaster. If we carry on like this, we will become another failed state".
"There is no perfect society but we have to work towards resolving our problems and focusing on the objective of taking the country forward," he continued.
Dr Mangena is the former President of the Azanian People's Organization (AZAPO) and served asMinister of Science and Technology from 2004 to 2009 under President Thabo Mbeki. He was detained in 1973 and sent to Robben Island for five years. In 1981 he went into exile returning in 1994.
Dr Mangena credited his parents with instilling a vision that education was the way to tackle poverty and move oneself forward. He is a strong advocate of mother-tongue education and recalled how relatives thought he was clever as a child because he could sing English nursery rhymes. "Barriers are put in the way of learning when you learn in a language that is not your own," he said.
Black consciousness movement
Describing the book as "doing many things", Prof. van Niekerk said: "It is not just an autobiography of an adventurous life; but also a political documentary of the black consciousness movement – its inception, formation, alliances and splits; as well as a diagnosis of the present situation in the country."
"Political consciousness was always there but in an undefined and uneducated way," said Dr Mangena. "It was when I met others – like Biko and Pityana, for example – that it came together. I also realised we had to understand the past to understand the present."
"Although I trained in the natural sciences," said Dr Mangena. "I had a passion to write creatively. Now I've reached a certain life stage and my experiences are synthesised in this book."
When asked about his experiences of serving as Minister whilst not being a member of the ruling ANC, Mangena said "There is a creative tension that comes from not belonging. The thing that brings you together is the work, your professional input." (During Dr Mangena's term as Science and Technology Minister a science and technology budget research and development spend of the immediate 1% target of national GDP in South Africa was achieved. Under his leadership, the National Institute for Theoretical Physics was established and the Square Kilometre Array Telescope project commenced.)
Dr Mangena pointed to exclusion as being a stumbling block at present. "We should be using all our talents. We can be better than we are," he said. "Imprisonment taught me the value of human solidarity. We succeed if we are together."
When asked about his feelings on state ownership of assets, Dr Mangena admitted that as a natural scientist he faced a quandary. "I'm trained in natural science," he said. "For something to hold, it must be proven to work. Marxism reads, speaks and writes very well but doesn't work well in real life. There is evidence of success in some countries in some aspects but not in all aspects."
"You can't hang the destiny of a people on an ideology. There is no perfect system in the world. We have to find our own path."
"I believe every society has its own characteristics," he continued. "Whether you follow the path of socialism or capitalism, you have to take into account the characteristics of your society. Imposed values seldom work. One of the reasons why development has been difficult and slow in Africa, is because it is generally imposed and tainted with the values of others."
Triumphs and Heartaches – A courageous journey by South African patriots is published by Picador Africa.
Michelle Galloway: Part-time media officer at STIAS