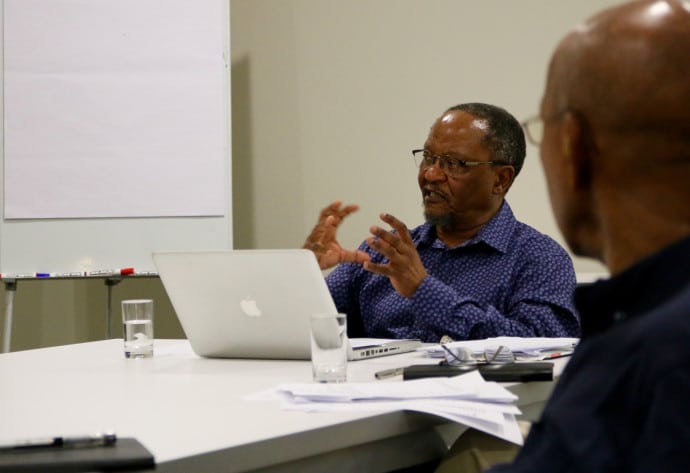 Why has Mdantsane, created in the 1960s as a labour reservoir of the city of East London, produced so many world and national boxing champions? What is it that makes boxers from this area so successful and what lessons are there to be learnt from this for social resuscitation and rebuilding in the larger South African society?
"Could this be a metaphor to stimulate our minds for the possibilities of the future of our society?" asked Prof. Njabulo Ndebele.
Prof. Ndebele was reflecting on his latest book in progress with the working title 'Behind sweaty windows' at a STIAS seminar. The book looks at three decades of boxing achievement in Mdantsane, and, in particular, at three boxers – Nkosana 'Happy Boy' Mgxaji (18/09/1949 – 27/01/2010), Vuyani 'The Beast' Bungu (26/02/1967 – ) and Nkosinathi 'Mabhere' Joyi (22/05/1983 – ).
"These three are the trigger for my reflections. First, the legend who gave impetus to a boxing movement and without whom the history of South African boxing cannot be told, Nkosana 'Happy Boy' Mgxaji. Second, the indomitable Vuyani 'The Beast' Bungu; and lastly, the innocent-looking, hard-hitter, Nkosinathi 'Mabhere' Joyi," said Prof. Ndebele, "They are but three of an extraordinary constellation of boxers."
Prof. Ndebele found himself fascinated by the fact that the suburb of Mdantsane with a population of just under 160,000 in 2011, in an area of 45,55 km2 within the Buffalo City Metropolitan Municipality had produced 23 world champions and 50 national champions between 1980 and 2010.
"This is an extraordinary record if we consider that the total number of South African world champions since boxing formally began in South Africa in the 1920s stood at 67 in 2011," said Prof. Ndebele. "This means Mdantsane accounts for some 33% of them."
Mdantsane was created from around 1964 as a labour reservoir for the economy of East London. People who had lived for several decades in the multiracial settlement known as East Bank were forcibly resettled about 20 kms away, becoming part of about 6,5 million black Africans forcibly moved across the country in this period with devastating individual and community consequences.
"But the people of East Bank did not move empty-handed. They carried away with them to their new home something that would make them distinctive," said Prof. Ndebele. "They took along with them their boxing, already well established by the time they were forced out of East London. Before long, they fired the imagination of South African sport. And then they took on the world."
This extraordinary history convinced Prof. Ndebele to take a closer look at some of the individuals who are part of the legend and at the potential lessons it highlights.
"Boxing is a street sport in Mdantsane," he said. "All the world champions started boxing from the streets, in the classrooms of Mdantsane's school."
For the young men boxing is "a field we ploughed with no skills and resources".
"It's part of the community culture, and entertainment. It has also given the community of Mdantsane a sense of communal identity."
Although each of the three boxers, who represent three generations through changing times in South Africa, had their distinctive style and personality – which Prof. Ndebele summarised as "flamboyance, tenacity and power", there are also unifying features.
"The pride in the training, the Spartan, almost-monastic conditions are all part of the legend," he said. "Despite basic facilities these fighters still beat American opponents who came from sophisticated gyms with access to the best nutrition."
"The edge seems to be that they start so young, as children. Almost born into it," he continued. "By the time they fight professionally the learned skills have become instinctive. Through many years of rigorous and dedicated training, they bring to the ring their thinking bodies and active minds. There is a sense that they did not need to up the game with scientific input."
"It's boxing as art. The money and adulation are important but not necessarily the intended outcome – in fact, a significant number of these champions died poor."
"What is also fascinating is to reflect on the contribution of boxing to one's moral compass and character. The values espoused in the ring. The restraint of power. The demonstration of discipline and self control. A code of conduct. These men have huge potential to injure but instead there is an instinct to protect – to win through technical skills, thought and the following of rules."
There are also the broader societal questions.
"Despite its enormous success in the Eastern Cape, boxing did not affect other parts of society. The boxers did not become heroic national figures. There is potential for boxing to become as iconic as rugby yet it hasn't."
"The community of Mdantsane just did it themselves – it's more of a community than an individual culture. And there are many such communities in South Africa," said Prof. Ndebele "which are successful and self sufficient from a grassroots level. They have the potential to be much bigger without being taken over but there is often a disconnect between the local and national."
It's Prof. Ndebele's hope that the work will provide more insight and understanding of such communities and individuals.
"My interviews with the three boxers drive a reflection, which weaves together human interest, social/political history, biography, narrative, and speculative essay to inform the perspective of a fiction and essay writer," he added, "who, along the way, also became a boxing enthusiast"
Michelle Galloway: Part-time media officer at STIAS
Photograph: Christoff Pauw