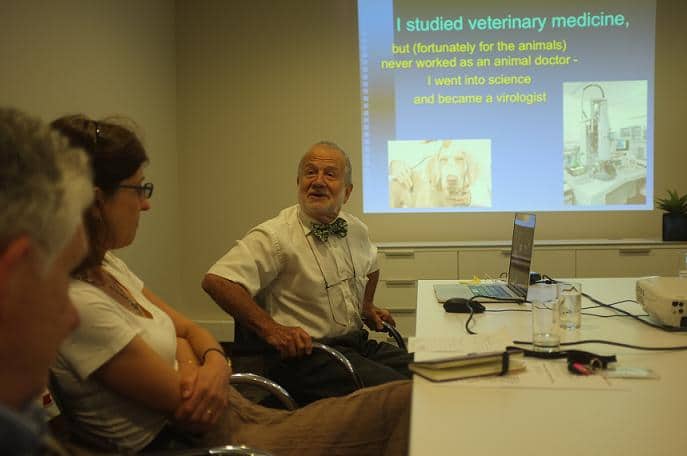 Dear Marian,
You were so enthusiastic  to tackle your next STIAS project on  Infectious Disease Prevention in Companion Animals, and we were so much looking forward to see you back at STIAS in 2017. And then came your devastating message in early June: "I am so sorry I cannot continue the rabies project . . . "
Your main message was so characteristically you: "Presently, I feel well, enjoy my friendships, reading, listening to music, cooking, watching the birds on the terrace from the garden room. And as you hopefully notice, I am not in a psychological turmoil. Being a scientist has some unexpected, additional advantages."
Now we know from Fritz that you "decided that last week, Thursday, was a good day to leave this world", and that  today is your funeral – "a very sad day for all of us, I am sure". We'll follow Fritz's example and open a bottle of wine and drink to your memory, agreeing with him that you would have loved that, expecting you to make a clever joke about it, or recite a short poem, or both.
The spontaneous outpouring of affection and appreciation by STIAS fellows who had the privilege to cross your path says it all – we will sorely miss you!
Your STIAS friends remember you in verse, as offered by Jane and Fritz  –  "in celebration of  Marian, and the doors he opened":
Go and open the door  
Miroslav Holub (1962)
Go and open the door.
Perhaps outside there is
a tree or a forest
or a garden
or an enchanted city.
Go and open the door.
If there was only
the ticking darkness
if there was only
the empty wind
or if there was
absolutely
nothing,
go and open the door.
Go and open the door.
Perhaps a dog is scraping there.
Perhaps a face is there,
or an eye,
or the image
of an image.
Go and open the door.
If there is mist there
it will clear away.
At least
there'll be
a draught.
A Toast
Grook by Piet Hein
The soul may be a mere pretense,
the mind makes very little sense.
So let us value the appeal
of that which we can taste and feel.
Thank you for enriching our lives in the special way you did.
Your friend
Hendrik
PS I wonder if you could still read my last message to you; if not, here it is again:
I trust this finds you in the good spirit you conveyed earlier. You are often in my thoughts, also when I looked at some recent photographs I took in the Kruger Park which we visited a few weeks ago. This year we were too early to catch the sunbirds on their favourite aloe flowers – full flowering was still a week or so away, but I thought you may enjoy the two sunbirds I captured on a previous visit: the short-billed one actually does not have a rufous head, but this one is covered in pollen which you can also see on its beak; the other is a scarlet-chested sunbird, and I especially like the patches of blue in the red which one can see with good resolution as here.