No longer only in the realm of science fiction, mobile technology is increasingly being used to diagnose and recommend treatment options for a variety of disease conditions. "The hand-held diagnostic devices seen on Star Trek and similar programmes are inspiring a host of medical add-ons for smartphones," said Lucie Laflamme quoting an article from the New York Times, 1 December 2012.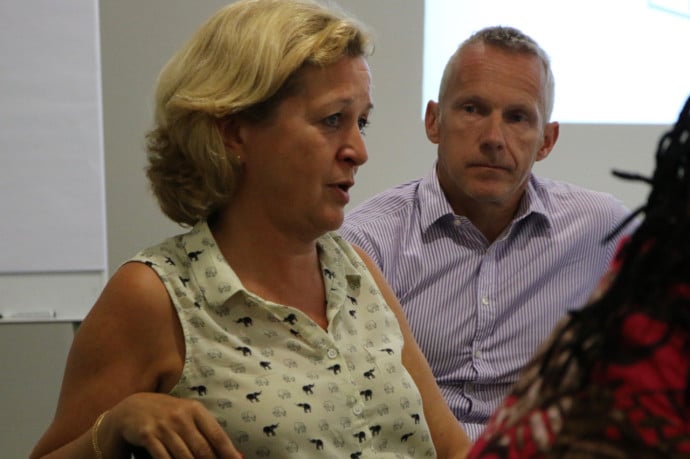 "It's about using technological developments to improve access to health care and equity in health. The overarching aim is to reduce mortality and morbidity, and to reduce social inequalities in access to care and health," she continued.
"Smartphone-based applications are currently being used for many diseases including infectious diseases, cardiovascular disease, mental health, trauma and injury, dermatology and oncology. Use of the technology is often not the challenge but rather the implementation and organisational aspects – including ethical issues and patient and data safety."
In the final STIAS fellows seminar for 2016, fellow Lucie Laflamme was joined by co-investigator Lee Wallis to present an update on their research project which looks at using a Smartphone-based app to assist in diagnosing burn injuries in resource-poor settings, as well as their plans for the STIAS Roundtable on mHealth to be held in February 2017.
Lucie Laflamme is Professor in the Department of Public Health Sciences, Karolinska Institutet, Sweden, while Lee Wallis is Head of Emergency Medicine for the Western Cape government, and Professor and Head of the Division of Emergency Medicine at the Universities of Cape Town and Stellenbosch. The multidisciplinary research team also includes Prof. Johan Lundin and Prof. Marie Hasselberg of the Department of Public Health Sciences, Karolinska Institutet. Several medical, masters and doctoral students are enrolled in the project.
"Issues of accessibility, capacity and costs faced by the health sector in many parts of the world can be minimised by cost-effective, context-relevant mobile telecommunication technologies," said Laflamme. "In particular, the need for diagnostic tools and the rapid developments in image-based telemedicine alone can help across a range of population health threats, from the diagnosis of infectious diseases to acute trauma care."
"Injuries in particular have high rates of mortality and morbidity," said Wallis. "About 5.2 million people are killed annually due to injuries and about 9% of overall injuries are burn injuries."
South Africa, in particular, suffers from a quadruple burden of disease with injuries, interpersonal violence and traffic-related deaths ranking alongside HIV/AIDS and tuberculosis, infectious diseases and a rising epidemic of non-communicable disease.
"The problem of burns in South Africa is very big and rising," said Wallis. "In our setting burn injuries are very much connected to shack fires as well as scalding linked to household chores. The winter months starting in April are 'burn season' for the emergency services."
"Burn injuries largely occur in and around the home and their assessment at the point-of-care is often inaccurate leading to inappropriate treatment and referral," continued Wallis.
The project, which was started in 2012 and has received funding from the Swedish International Development Cooperation Agency (SIDA), the Marianne and Marcus Wallenberg Foundation and the Swedish Scientific Council, uses a smartphone-based app to transmit images and other data from burn injuries for diagnostic, treatment and referral advice. In its most recent version, the burns component has been added to an existing app which is used for other disease conditions and is being tested in sites in the Western Cape in South Africa (to be expanded in January to encompass the whole province, sites in Durban, a number of sites in Tanzania and, eventually, Ethiopia). Besides using images, the app is frontloaded with drop-down questions which aid in diagnosis and treatment decisions. This information triggers an inbuilt management protocol consisting of general care advice, in addition to a link to an expert to provide case-specific advice.
The app has undergone ongoing adjustments in this period based on user feedback from both staff at point-of-care and burns experts.
"We initially assumed that access to smartphones and connectivity would be problematic. However, in South Africa there is 90% coverage and about 75% mobile ownership – so connectivity and mobile literacy is not an issue," said Laflamme.
"Some of the challenges have included comparing images from different phones and also ensuring that the quality of images from darker skins are as good as those from lighter skins," said Laflamme.
"The chat function, which has been added, has also made a substantial difference," she continued.
Studies on the acceptability of the app as well as comparing treatment outcomes with and without the app are being undertaken.
"What we have found is that the current version of the app is easy to use – as easy for most people as Whatsapp – and doesn't require extensive training, and that the resulting burn diagnoses are at least as good as those based on bedside diagnosis," said Wallis.
"From next year, thanks to another grant from the Swedish Scientific Council, we will also start investigating the possibility of machine-learning burn diagnostics and the creation of algorithms to eventually offer an automated diagnosis and treatment response," added Laflamme. "This is still a bit away and the technology changes rapidly but in the meantime we are continuously building a databank of images going back five years which will be used to develop this further."
"I believe it will eventually be possible to develop an automated diagnostic app," added Wallis. "If Google can recognise a face with or without glasses then it should be able to recognise a number of burns – hopefully eventually most of them."
"However, technology should supplement knowledge and is not a replacement for full consultation," continued Wallis.
Speaking more broadly about the role of technology in health care, Laflamme pointed out: "Beyond the obvious intention to improve patient management options and outcomes, secondary potential benefits like less referrals, reduced costs and time saved have been suggested. It can also assist in diminishing professional isolation and promoting recruitment and retention to rural areas. This, in turn, can contribute to more equitable systems in global health care through large-scale support in resource-poor settings in both high-income and low- and middle-income countries (LMICs)."
"Remoteness and lack of access is not only a problem in LMICs – in Sweden there are two small burn centres and it is a big country so the remote access is an attractive option."
With many mHealth projects the challenge seems to be initial adoption and sustained implementation in the health system; a lack of consideration for the perspective of the users; and, that the technologies are not used to their full potential. These are some of the challenges that will be addressed at the STIAS Roundtable in February 2017 for which Laflamme, Wallis and Hasselberg are part of the organising committee. The theme of the Roundtable is Image-based Mobile Technology for Diagnostics and Treatment to Improve Access and Equity in Health Care and the overarching aim is to provide a forum for various stakeholders to discuss the possibilities that current developments in image-based mobile health offer for timely, accurate and equitable health care delivery, and the challenges that their development and implementation may entail for all potential users and beneficiaries.
A special issue of the international journal Global Health Action is also planned for late April 2017 – based on contributions from the Roundtable and including a roadmap for future planning which will aim to focus on potential solutions to some of the challenges.
The STIAS Roundtable on Image-based Mobile Technology for Diagnostics and Treatment to Improve Access and Equity in Health Care will be held in Stellenbosch from 20 to 21 February 2017.
Michelle Galloway: Part-time media officer at STIAS
Photograph: Christoff Pauw