"Where does the money come from?" asked Prof. Ulf Engel of the Institute of African Studies, University of Leipzig. "How do regional security organisations like the African Union get their money? What are the political and administrative implications of this and how does this speak to power politics and regional relationships?"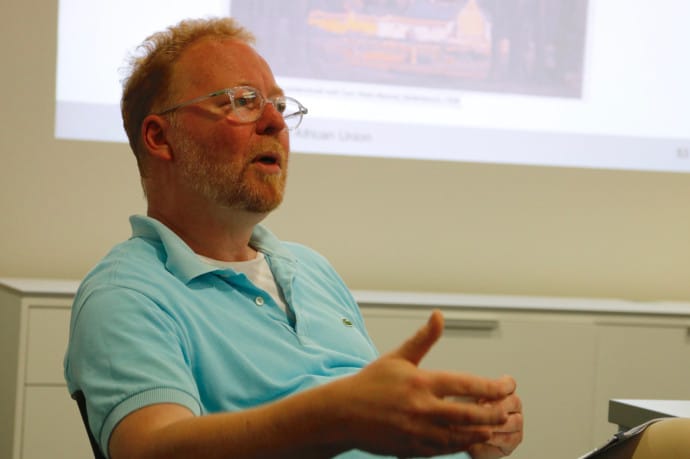 STIAS Fellow Ulf Engel during his seminar presentation on 11 April 2017
Prof. Engel pointed to the reshaping of international politics since the end of the Cold War and the emerging of a new world order. "There is a rise of new regionalisms and new rules after the Cold War."
"Within this complex process, regional organisations have started playing an increasing role," he continued. "This necessitates new approaches to the study of these organisations."
Engel emphasised the need for comparative (trans-)regional studies and highlighted that work on the political economy and finances of regional organisations in general and regional security organisations (RSOs) in particular is a policy field that is heavily understudied.
"Not many scholars are interested in the boring numbers!" he said.
"Recent debates about the role of regions in current processes of globalisation, RSOs from the global south in general, and their finances in particular, have not yet attracted academic attention. Research on northern regional organisations is based on specific assumptions about their nature and future direction. Implicitly these assumptions are universalised – an inbuilt conceptual Eurocentrism – so to speak."
"This project looks into the finances of southern RSOs – in Africa, Asia and Latin America – that are engaged in the field of peace and security," he continued. "And, based on an editorial workshop held at STIAS in April 2017, the project will try to develop a comparative research agenda on southern RSOs which will be published."
Some of the questions already identified for investigation include how RSOs source and manage their finances and what the consequences, particularly in terms of ownership and sovereignty, are of the increasing dependence on donor funding.
"What is the implication of the dependency on partners? Who are the donors and how do they change over time? What are the organisational hierarchies? And, consequently, how do the organisations relate to contemporary issues in globalisation, construction of the region, realignment and survival?", he asked.
Within this context, Prof. Engel is specifically looking at the African Union (AU) and the implementation of the African Peace and Security Architecture. He presented some details on his work thus far to STIAS fellows.
The AU was established in 2001 replacing the Organisation of African Unity and undertakes a wide range of activities, including mediation, preventive diplomacy, peace support operations, and conflict early warning in the region. The current staff complement is 1440 with 240 in the peace and security department. The AU has three sources of funding – compulsory contributions from member states, voluntary contributions and contributions from external partners or donors.
Engel discussed the AU's budgeting process, principles and practices; the evolution of the continental body's budget; its increasing dependence on donors; as well as the search for alternative funding sources.
He also pointed to the increase in violent conflicts in the region in this period. "Violent conflict (as opposed to war) – and as defined by the Heidelberg Conflict Barometer as situations resulting in at least 300 dead and 89 000 refugees – increased from 48 events in 2002 to 122 in 2014. In one year – 2010/11 – probably due to the so-called Arab Spring the number of fully fledged wars increased from two to 10. There has also been an increase in coups d'etats, electoral violence, terrorism, unconstitutional changes in government and non-traditional security issues caused by disease threats (like Ebola) and climate-change consequences (like El Niño)."
These have all substantially affected the activities and therefore budgeting and planning of organisations like the AU.
However, there is a substantial lack of information. "There have been no detailed financial reports," said Engel. "Generally only budget estimates are published, not real expenses and there has only been one published audited statement in this period."
"On average though it appears that only about two thirds of assessed contributions are collected, leaving a significant funding gap."
Various solutions have been sought to remedy the shortfalls.
"From 2007 five states in the region – Algeria, Egypt, Libya, Nigeria and South Africa – agreed to pay more. By 2016 Libya had dropped out. The remaining four states are now carrying 48% of the AU's budget which undoubtedly influences decisions – it would be important to understand the implications of this," he added.
"Originally the member states contributed most but now this is swinging to donors. Again it would give us major insights to understand exactly who the donors are and the influence they have on the organisation and therefore region."
Since 2013 additional funding sources have been proposed by a high-level panel – these have included introducing hospitality levies for tourists, levies on flights and taxes on text messaging. Most recently, this has been changed in favour of a 0.2 per cent levy on imports.
"The latest proposal will make a huge difference if it is possible to implement," said Engel.
"The AU has made huge progress," he continued. "It is now a much more professional and rules-based organisation. It is slowly improving as an institution but it still only managed to get its departments to report figures a few years ago."
"There is no doubt that Nkosazana Dlamini-Zuma in her role as Chairperson has improved governance of the AU to levels that were unseen before and has managed to cut down on unnecessary expenditure but there remain weak funding mechanisms, a lack of transparency, lack of management capacity, shortcomings in spending control, some 'creative' accounting and a failure to enforce compliance mechanisms."
"There is still also a slight sense of 'If you want us to do more, give us more money'," he continued.
"Understanding exactly who might give that money and why would give important insights into the organisational culture, what is driving the AU, and the implications this may have regionally and globally."