"The idea of coming together in a public space to talk and discuss is a feature of many African societies," said Uchenna Okeja. "I see it as something related to democratic practices. However, it has not been explored sufficiently and, only descriptively, not theoretically."
"Might it be a way to re-imagine traditional democratic practices?" he asked.
"I want to see how to re-integrate the practice in ways that are suitable for a modern African society."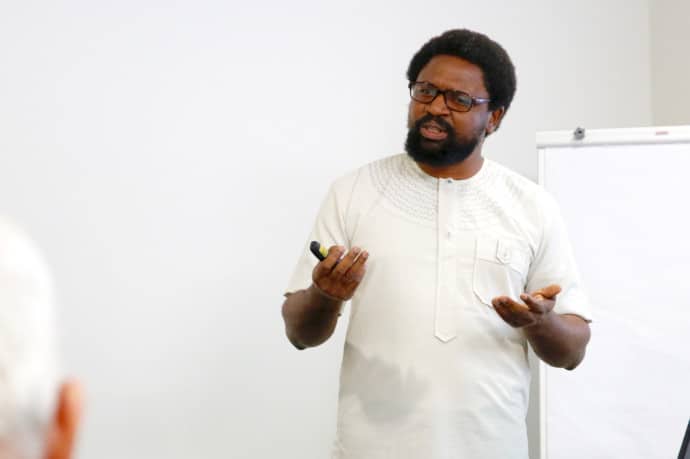 Okeja is from the Department of Philosophy at Rhodes University and is currently an Iso Lomso fellow at STIAS. He presented a seminar on his project which aims to contribute to the quest for a viable political philosophy for contemporary Africa. The goal is to develop alternative ways of making political ideas and values of traditional Africa relevant for modern times and specifically to critically reconstruct the ideas embedded in the conceptual metaphors for the public sphere in African political thought, namely, palaver and consensus.
The idea of coming together to discuss and negotiate in a public space is common across many African countries. Some concepts for palaver in African languages are Mbongi in Kikongo (Congo), Kgotla (singular) or dikgotla (plural) in Setswana (Botswana), Izu in Igbo (Nigeria) and Gacaca in Kinyarwanda (Rwanda).
"My aim is to study these practices in different African contexts and to demonstrate the possible understandings embedded in these practices that are instructive for democratic theory and practice," he said.
"There was a large-scale reconstruction of political practices in many African states after independence," he continued. "When some of these societies fell apart and one-party states were introduced, the question became not what is African Philosophy but does it even exist?"
"Some attempts have been made to reconceptualise indigenous political practices for modern times and perhaps as a vehicle to tackle the crisis of meaning on the continent today."
"However, Africa is still in search of a model of self-rule that is premised on a plausibly argued political philosophy. This is the goal to which my research aims to contribute."
Seeking solutions
"Palaver both refers to the space and practice of deliberation – including non-physical spaces of the mind. It is based on the belief in the human capacity to find a solution and solve problems, that a person is a person through other people and that there is a need to embrace all that humans are – both the good and bad. "
"Palaver also includes non-verbal communication – gestures and silence are detected and taken very seriously," he added.
These arenas for deliberation also take different forms – specifically irenic and agonistic. Irenic happening at moments of celebrating life – for instance, during marriage negotiations or sale of properties, and agonistic which happens in times of conflict.
To illustrate the difference and the range of types of public deliberation, Okeja highlighted the examples of the Gacaca Courts in Rwanda which dealt with the genocide and the Truth and Reconciliation Commission in South Africa which addressed the legacies of apartheid. He then contrasted these with the Sapeurs social movement in the Congo. "People come from all walks of life; they use clothing as a means of expression and as a tool for re-imagining who they are in the presence of poverty. It's a deliberative practice that has nothing to do with anything serious. It's about joie de vivre."
Knowing the present to understand the future
Okeja also identified the existence of misunderstandings of these practices in the works of political theorists.
"There have been unsubstantiated generalisations in Western Philosophy," he said. "We need to develop our own theories."
"In the literature, the focus has been on debating the possibility of appropriating and applying the ideas and values of traditional African political thought to modern Africa," he said. "These debates have not offered anything beyond unsystematic appropriation of aspects of traditional African thought or criticism of what has been appropriated. The aim in this project is to move beyond these approaches by tracing the provenance, dynamics and modifications needed to make these notions of the public sphere relevant for politics in modern Africa."
He also sees it as particularly important to consider the question of how justice is enacted in these practices.
"The idea seems to be not just restitution but also restoration of humanity."
"I believe that justice in African arenas for deliberation is better understood as embodied humanism. In this context, failure to care about others constitutes an impoverishment of humanity in general, hence, the need for restorative recompense not just to the victim but to the entire community whose humanity has been impoverished."
"Practices in Africa that are said to be traditional still exist," he continued, "But they have changed. They are not frozen in history. Realities have shaped what they are today."
"These structures do not replace civil society. It's important to point out the principles that emerge from these practices that are essential for accepted forms of democracy."
"My aim is to do philosophical fieldwork, not fieldwork for a philosophical argument. I believe we need to reach a more nuanced understanding and this analysis could serve as the basis for articulation of a well-founded political philosophy from an African perspective."
Words: Michelle Galloway, Part-time media officer at STIAS
Photograph: Christoff Pauw