"The management of groundwater resources in sub-Saharan Africa is deteriorating rather than improving," said Daniel Olago of the Institute for Climate Change Adaptation and the Department of Geology at the University of Nairobi. At a time when the Western Cape is experiencing extreme drought conditions, Olago's project looking at groundwater development, supply and governance in Kenya struck a strong chord in his presentation to STIAS fellows.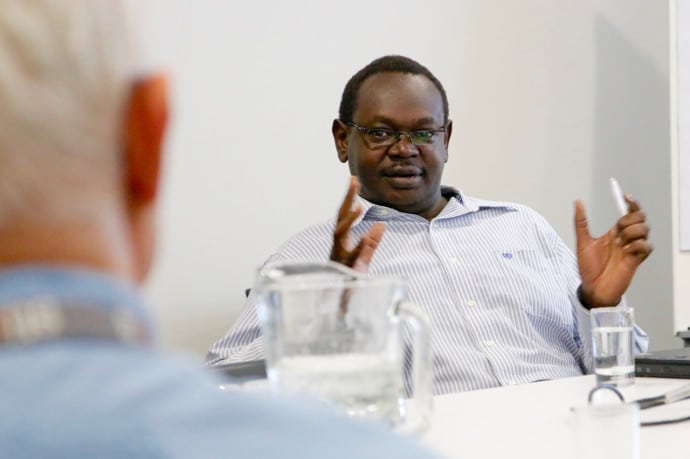 "The pace of development of the water infrastructure is unable to keep up with the growing demands of urbanisation," he continued.
Olago pointed out that the urban population of sub-Saharan Africa is growing at a faster rate than any other region of the world and that this, along with the effects of climate change and industrial development, is placing increasing pressure on ever-diminishing water supplies in the region.
"Urban growth is estimated at 30% in urban areas and will double by 2050. But it is differential – in a city like Nairobi in the informal areas population growth is probably two or three times higher than the city average," he said.
"Towns are occupied predominantly by low-income households, with generally more than 50% of the population categorised as poor. Recommended water consumption is 60 litres per capita per day – but it's unequal. Although the objective is piped water for all, in Kenya surface water is highly variable in time and space, and consequently there is substantial dependence upon groundwater resources, especially in semi-arid regions where alternative sources do not exist for much of the year."
"There are 12 different climatic zones in Kenya with huge variability in rainfall and increasingly unreliable rainy seasons. Eighty per cent of Kenya falls within arid and semi-arid zones," continued Olago. "As much as 80% of the population may not be able to access surface water sources."
Water-supply sources for town dwellers include boreholes, shallow wells, unprotected water springs, treated piped water (from reservoirs, lakes, rivers, deep boreholes, and springs), and water vendors (who sell water from all sources at different prices). This means that there is widely variable quality.
Water quality is not only affected by geology (e.g. fluoride in the rift system), but there is widespread contamination of urban and peri-urban water resources from pit latrines, as well as domestic, industrial and remote or peri-urban agricultural activities.
Quality is affected by both natural and human factors – including with human, animal and industrial waste. And different regions face different challenges with competing demands playing an important role – for example, both sugarcane farming and oil drilling are high water-usage activities. "You need 3 to 4 barrels of water for every barrel of oil produced. Producing one barrel of oil a day therefore meets the recommended minimum daily water requirements of eleven people."
"Demand for water is high among the urban poor but they often only have access to the most polluted sources causing health problems," said Olago.
"Ironically some of the towns that suffer from a shortage of clean water lie next to freshwater lakes and rivers, or close to groundwater sources."
"The problem is that there has been inadequate assessment and monitoring of groundwater resources which results in uncertainty as to the extent of these and whether or not the water is safe. This has resulted in poor attention being paid to groundwater planning at all levels."
"Lack of scientific information means that we don't fully understand the extent of the aquifer system or how much water is actually stored. We also don't know how much can be sustainably extracted while still maintaining aquifers."
Olago's project is based on using scientific data to inform policy and practice. Biophysical and socio-economic data are currently being collected for analysis in two study sites under two projects: the REACH Programme (www.reachwater.org.uk) and the AfriWatSan Project (www.afriwatsan.org).
"The county development plans don't or just cursorily mention groundwater. There are low knowledge levels of groundwater among county decision makers," he added. "Current water-supply models are not sustainable and there is inadequate financing for this area."
"There is a need for focused research to characterise the groundwater resources."
Adding to the problem is the fact that the full effects of climate change are also not completely understood. "There are climate-change models discussed in the National Response Strategy of 2010 but these need to be critiqued and global scenario models need to be contextualised."
"Groundwater has been given a low priority in government affairs. More than 90% of money goes to surface water. There is a need for personnel and resources to do the necessary fieldwork. It is do-able but requires political commitment."
Olago also noted that Kenya has committed itself to the United Nation's Sustainable Development Goals (SDGs) with an initial emphasis on health; agriculture and food security; employment and enterprise; universal education and gender; and, environment.
"Water is inextricably linked to all five areas and underpins health, agriculture and food security, as well as environment," he said.
"Up to 70% of people in urban areas are poor – if you don't focus on them you won't attain the SDGs," he continued.
"A pro-poor focus is needed."
"I believe we need to use transdisciplinary scientific evidence to develop new approaches to promote water security in fragile regions like Kenya's drylands including the sustainable use of groundwater in the context of complex hydrogeology, competing uses, socio-economic disparities and potential future shocks."
"It's our duty to protect and sustain the groundwater resources for present and future generations."
Words: Michelle Galloway, Part-time media officer at STIAS
Photograph: Christoff Pauw