"Few studies to determine the prevalence of dementia have been conducted in sub-Saharan Africa," said Prof. Carlos Ibanez. "and recent work suggest it's likely that we are seriously underestimating the problem."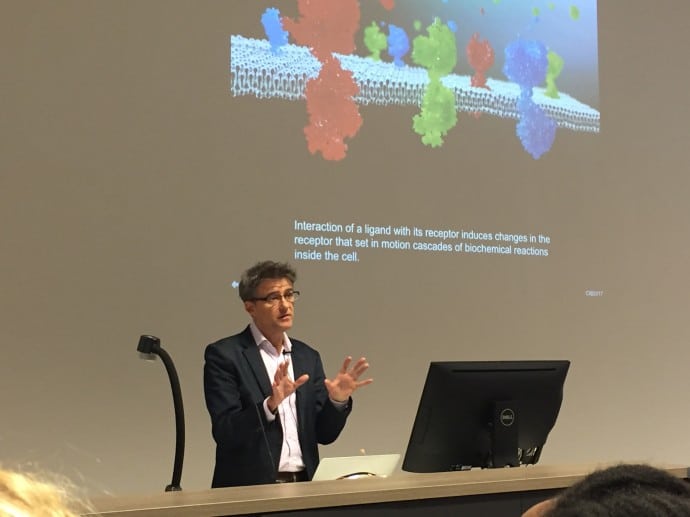 Ibanezwas presenting a STIAS public lecture at Stellenbosch University. He is a molecular biologist and holds double appointments as Professor in Neuroscience at the Karolinska Institute in Sweden and Professor in the Department of Physiology, Yong Loo Lin School of Medicine, National University of Singapore. Ibanez is also a member of the Nobel Assembly and Nobel Committee for Physiology and Medicine, member of the European Molecular Biology Organization and a Scholar of the Wallenberg Foundation.
Dementia is strongly associated with increasing age therefore the incidence increases as the proportion of older people increases. Incidence is therefore increasing globally with the World Alzheimer Association estimating that it will double every 20 years.
Recent research suggest that the prevalence of different types of dementias may be region-specific and thus different in different populations.
"In Africa in 2010 approximately 72 million people were 60 years old and above, and almost 2 million were diagnosed with dementia," said Ibanez. "The 2016 World Alzheimer report estimated that over 4% of the population aged over 60 has dementia."
"A systematic review of studies reporting the prevalence of dementia and cognitive impairment among older black Africans in sub-Saharan Africa countries was conducted in 2013 and found that prevalence varied widely between countries."
"However, there have been very few studies in South Africa," he continued. "The research group led by Marc Combrinck at the University of Cape Town have just published a paper in the Journal of Alzheimer's Disease. This is the largest study to date in the South African population involving 1400 individuals from a rural population in the Eastern Cape. It found a prevalence of 11% in that population based on a clinical diagnosis and some imaging. These researchers believe that we have drastically underestimated the problem."
It's an ongoing study and the researchers are now looking at stratifying cases according to severity and links to other conditions like HIV.
"There may be a number of reasons why the incidence is so high," continued Ibanez. "This includes genetic risk factors including the E4 variant of the APO (Apolipoprotein E)gene which is linked to an increased risk of Alzheimer's. In South Africans there is a very high incidence of this gene – up to 3 or 4 times higher than in other populations and you can inherit it from both your parents thereby doubling your risk."
"Another reason is the association with HIV. HIV-associated dementia affects up to 30% of untreated HIV-positive people. Because of the high HIV prevalence in South Africa it's likely that many dementia patients will also have HIV. HIV-associated dementia – unlike other forms of dementia – is reversible to some degree with antiretroviral therapy – although not curable. With HIV treatment many of the most aggressive symptoms will disappear."
"The proportion among women is also higher than men which is not unique to South Africa," added Ibanez. "Dementia also correlates negatively with level of education."
Not just natural ageing
But it's important to understand exactly what dementia is. "It's not just about remembering where you left your car keys," said Ibanez, "to be diagnosed with dementia it has to be severe enough to interfere with your social and occupational functioning."
"Dementia is a clinical syndrome. It is a disease not simply a condition that comes naturally with age. We will all experience a decline in cognitive functioning but dementia usually involves a decline in memory and at least something else – like attention, information processing, executive functioning and language."
Ibanez outlined some of the early warning signs and symptoms which include:
difficulty in learning and retaining information;
language problems – including difficulty in finding words;
difficulties handling complex tasks – e.g. cooking a meal;
alterations in behaviour – becoming more passive or more irritable;
loss of reasoning ability; and
loss of spatial ability and orientation which would include problems in driving and finding your way to familiar places.
"You would have to score highly in a number of these areas for dementia to be diagnosed."
People with these signs often don't have much insight into their condition and are brought to health services for testing by family members. It is also often misdiagnosed until the symptoms become severe.
Alzheimer's disease is the most common form associated with about 50% of dementia. It is neither preventable nor curable.
"There are an estimated 40 million people affected worldwide today."
"Alzheimer's is a progressive and irreversible brain disorder," said Ibanez. "It is fatal and usually causes death within 8 to 10 years. In the past 15 years there has been a 75% increase in deaths due to Alzheimer's in the United States making it the fourth leading cause of death amongst people over 65 in the US.
"Currently dementia, and particularly Alzheimer's, come at a much higher cost than cancer or diabetes and this will increase at a much higher pace."
Alzheimer's is widely thought to be driven by amyloid pathology, in which peptides of amyloid-β are generated in the brain and clump together into plaques.
"These plaques cause damage to the neurons and inflammation in the tissue," said Ibanez. "Another thing you see is the loss of synapses which is the structure that neurons use to communicate with each other. The strength of that communication may be what encodes memories. In Alzheimer's you are losing the physical structures where memories are stored. Eventually you lose the neurons – and once these are gone, they are gone."
"The amyloid plaques generally start to form very early – usually up to 15 years before any obvious symptoms. If we could get a therapy that removed the amyloid plaques before any cognitive impairment that would be ideal."
In the absence of a cure, symptomatic treatments are given which don't necessarily work in all patients.
"To facilitate a cure you would need to intervene much earlier with people who have no cognitive problems as yet. Such secondary prevention trials have been run but not with good results."
"The holy grail would be primary prevention – attacking the cause 15 to 25 years before it becomes symptomatic. A lot of the research in this field is to find biomarkers in the blood which would tell us that Alzheimer's disease will happen."
There is also some work on potential vaccines using amyloid plaques with the hope that the body will learn to defend itself against them.
Identifying the neuronal cell receptors and understanding the genetic mutations linked to Alzheimer's and how to manipulate these genes would be an important step forward and is the basis of the work being done in Ibanez's laboratory.
"We are doing ongoing preclinical research work using animal models of Alzheimer's disease to understand how several AD manifestations can be alleviated in these models by manipulation of genetic factors."
"Some of it is like Alzheimer's disease in a petri dish – testing receptors against plaques against neurons."
They are conducting genetic, electrophysiological and behaviour tests in mice models.
Using mice models they are able to determine the role of specific cell receptors linked to damage to the neurons; as well as changing or removing parts of mutant genes to see if this results in less production of the amyloid plaques.
"By blocking certain receptors or changing how they work we might be able to alleviate some of the symptoms of Alzheimer's."
The electrophysiological tests are an attempt to understand the function of synapses and how this is affected in Alzheimer's.
However, this is early work and it may be a long time before it is translatable to patients. In the meantime, it's important that we have more reliable information about the extent of the problem especially in countries like South Africa; the underlying risk factors and associated conditions; and, why different populations are affected differently. This means more collaborative research at the basic, translational and clinical levels.
"As with most degenerative diseases lifestyle factors play an important role. We can't do much about sex, age or genetics but we can educate people," said Ibanez.
Michelle Galloway, Part-time media officer at STIAS