At rush hour on 24 July 1964, a bomb exploded at Johannesburg's Park railway station, killing a grandmother, severely burning her granddaughter, and injuring several others. The bomb maker was John Harris, a member of a small sabotage group, the African Resistance Movement (ARM), whose members, till then, had been committed to not using violence against people. Harris was found guilty of murder and executed by hanging on 1 April 1965. Other members of the group served prison sentences of varying lengths.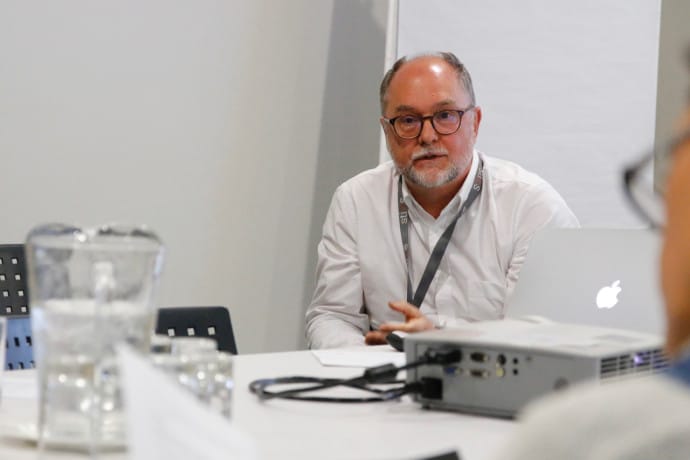 STIAS fellow David Attwell during his seminar presentation on 21 November 2017
"It was a human drama – full of daring, idealism, hope, betrayal and self-destruction," said David Attwell, Professor in the Department of English and Related Literature at the University of York. "I believe to some extent it highlights the massive ethical burden South Africa places on its citizens which can be both ennobling and self-destructive."
"In the late 1930s, the philosopher R. F. Hoernlé predicted that for liberals, South Africa would prove to be 'heartbreak house.' No event in the history of liberalism in South Africa illustrates that point quite as starkly as does the story of the ARM."
Attwell, who is a fellow of STIAS, was presenting a seminar on his book project which is a cultural history of the ARM.
This was a relatively 'small' incident within South Africa's tumultuous history "but the events, the individuals and the episode have spurred a rich cultural afterlife".
The ARM grew out of the National Committee for Liberation (NCL) and began operations in September 1961. Its original group were involved in civil disobedience before Sharpeville. After the Rivonia Trial, the organisation changed its name and stepped up its campaign. The new name gave the impression of a widespread movement, but in reality it involved a few dozen people.
"They were anti-fascists who formed an umbrella organisation for sabotage following the banning of the ANC and PAC."
"It was a group of fifty-eight mainly liberal, anti-communist idealists who formed an underground movement and embarked on a campaign of non-lethal sabotage aimed at government installations (mostly the electricity grid and the suburban railway system)," said Attwell.
"The idea was to cause systemic disruption to the white middle class in particular but without injury."
The group disbanded with the events of July 1964.
"The ARM was defeated by the apartheid government and leaves no obvious political legacy today. Nevertheless, the ARM's successes, and more particularly its failures, have been commuted into cultural memory, with a growing afterlife in fiction, theatre, biography, autobiography, prison writing, poetry and documentary film. ARM narratives have become a distinctive feature of South Africa's literature."
"To some extent the events illustrated the conflict between post-World War 2 liberalism and the realities of legal and political governance in the early years of the Republic," said Attwell. "Conditions for full revolution were unfavourable, but sabotage was seen as a form of moral and psychological warfare."
"The established view of the ARM is that they were naïve, had no real roots in mass politics, and that their actions were largely symbolic. This view falls short of the truth. Their actions were intentionally symbolic because they had no access to mass politics, and they weren't naïve so much as undone by the ruthlessness of 90-day detentions and the Sabotage Bill, which included draconian penalties."
"Despite being defeated, the human drama has kept the memory of the ARM alive."
That drama has attracted the attention of such literary luminaries as Nadine Gordimer, Alan Paton and Athol Fugard.
"ARM members felt protected by their whiteness, and by the global culture of Englishness in the wake of WW2, but it was not to be so," said Attwell.
The group was infiltrated after the arrest of a key figure, Adrian Leftwich, who knew too much and named his compatriots. Leftwich then turned state witness, giving evidence that led to prison sentences of three to 15 years. The longest sentence was handed down to Eddie Daniels, who as the only black member of the movement spent 15 years on Robben Island. The whites served their sentences of 3 to 10 years in Pretoria.
Harris was the last man standing after other members had fled or been arrested. The prosecution had to prove that he intended to kill, but the situation was not straightforward. When he placed his bomb on the station, he phoned the press and railway authorities to tell them to clear the concourse, but the warning was ignored. This could have been deliberate, but Harris left very little time for them to intervene, just 23 minutes. It was a tragic miscalculation.
"Some members of the group reconciled with Adrian Leftwich over the years, while others have not," continued Attwell.
"As recently as last week an essay was published on Leftwich's actions, so it's clear that what was stirred up in that period has not been settled."
Attwell's interdisciplinary book will include literary and cultural studies, political history and moral philosophy.
"I hope to explore the idea of sabotage as a cultural act, the precipitous history that made the outcomes inevitable, as well as the events and the literary narratives around them."
"The events have become part of a different type of discourse," said Attwell. "They include poignant, painful dimensions which are an integral part of the national story."
Michelle Galloway: Part-time media officer at STIAS
Photographs: Christoff Pauw