"Africa needs to seize the opportunity to develop its infrastructure systems in a sustainable manner," said STIAS fellow Getachew Assefa of the Faculty of Environmental Design, University of Calgary.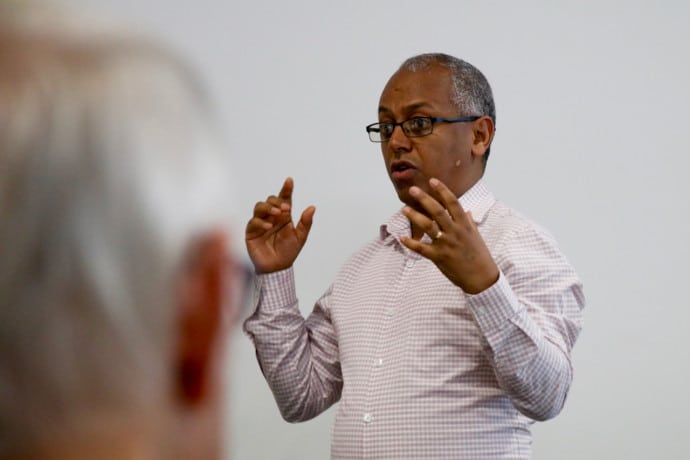 STIAS Fellow Gettachew Assefa during his seminar presentation on 25 January 2018
"The infrastructure deficit in Africa is estimated to be $130 – 170 billion per year according to newly revised figures from the African Development Bank. This gap is relative to 2025 targets for electrification, access to water supply and sanitation, ICT, and road and other transport sectors. While overcoming this deficit is a financial challenge, the type of infrastructure decides development strategies and the types of actions and interactions to be promoted."
Assefa's research will look at existing infrastructure development goals and commitments on the continent and globally, and specifically at the sustainability aspects of national and transnational infrastructure projects. It seeks to identify the challenges and opportunities of planning and development of infrastructure systems in Africa and will use the framework of life-cycle management and the associated analytical tools of material flow analysis and life-cycle sustainability assessment, to examine the current institutional architecture surrounding ongoing projects.
"There are currently multiple challenges and multiple commitments," said Assefa. "These include the Sustainable Development Goals, the African Union's Agenda 2063, the African Development Bank High Five Goals and the Paris Agreement on Climate Change."
"SDG 9 is specifically about infrastructure but it also falls under at least 10 of the other goals," he added. "The SDGs will fail or succeed due to infrastructure."
"Infrastructure determines economic activities and interactions. Infrastructure development is usually resource intensive and often there is a lock-in effect for years of sub-optimal development," he continued.
He highlighted PIDA – the Programme for Infrastructure Development in Africa – which was established in 2010 and includes 411 projects in the energy, ICT, transport and water fields. "It is a $68 billion programme. There are only two years left yet many projects remain at the project-definition phase. And we don't know the status of many others."
However, Assefa highlighted that the challenges in infrastructure development are enormous and include issues like discrepancies between project and product life cycles – often project bids are not based on full cost accounting and therefore the costs are limited to the project life cycle and not the full product life. "The real costs kick in after the contractor has gone," he said.
Other challenges include lack of co-ordination and harmonisation; lack of quality data and information; and multiple environmental and social assessment systems which are often dependant on where the funding comes from.
Triple bottom line
"Sustainable infrastructure should have low life-cycle environmental, economic and social impacts," said Assefa. "There is a need to shift to the triple bottom-line accounting."
"And, as an engineer, I believe if you can't measure, you can't manage."
"The aim of the project is to explore the application of life-cycle management with relevant analytical tools that capture risks and opportunities, and reduce relevant impacts across the infrastructure life cycle."
"For example, you want to achieve an environmental return on investment including looking at the impact on climate change, land use and water depletion."
"You need to develop reliable indicator sets for informing communication," he said.
Assefa will start by examining the literature and best practices in sustainable infrastructure development. He will be looking at two or three projects in detail.
The research is expected to assist in developing and selecting better projects. "It's hoped this will help in decisions about prioritisation – where do we start," said Assefa. As well as informing project specifications using environmental, economic and social performance indicators.
"This is also about Africa attracting more future investments in sustainable and resilient infrastructure," he added.
The research will be included as a chapter in a handbook on Retooling development pathways for sustainability transition in Africa to be edited by Mark Swilling and Desta Mebratu.
In discussion, Assefa addressed the issue of centralised planning for projects in Africa. "Transnational projects have been promoted as a good way to enhance trade within Africa as well as the mobility of people and resources," he said. "The idea is good but planning and implementation has generally fallen short. It's hoped that this project will provide robust analytical tools that assist in addressing some of these issues."
Michelle Galloway: Part-time media officer at STIAS
Photograph: Christoff Pauw